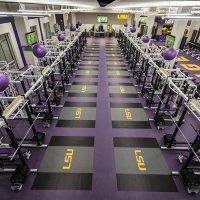 What Sports Use Rubber Flooring and Why?
Durable, resilient, and eco-friendly, rubber flooring is becoming more and more popular – and not only in commercial and educational establishments, but for various residential applications as well. Rubber flooring is most beneficial in facilities where occupant safety and comfort are of paramount importance – such as sports centers and gymnasiums.
It's essential that sports floors ensure stability, absorb shocks, resist traction, and deliver exuberance – they need to be sturdy, resilient, and safe in order to guarantee optimal performance, withstand heavy traffic and repeated bettering, and safeguard against injuries. Rubber floors meet all these requirements – they're extremely durable, offer excellent shock absorption and dimensional stability, and create a safe and comfortable environment for athletes and staff alike. It is no wonder then that rubber is the floor covering material of choice for sports facilities all over the world.
Benefits of Rubber Flooring
Rubber flooring is among the longest lasting, safest, and best-performing flooring options for a sports facility. It offers:
Natural resilience and shock absorption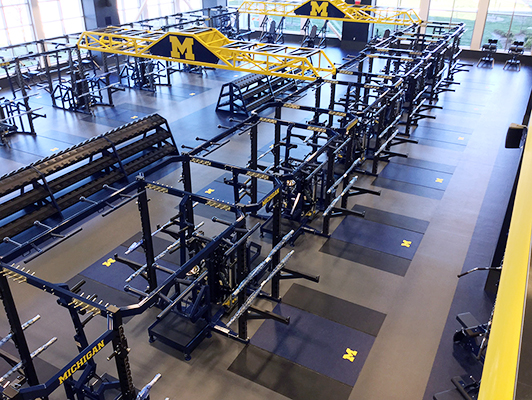 Rubber is one of the most resilient materials available on Earth. That is why rubber flooring feels so soft and comfortable underfoot.
In general, the thicker the flooring, the softer it is, so many types of rubber flooring are produced with added cushioning from fabric, cork, or foam-rubber backing that makes them thicker and softer and, therefore, helps reduce fatigue and foot injury. Vulcanized rubber flooring, in particular, is especially beneficial in this regard as it not only absorbs even the most violent impact, but also reduces muscle stress and supports leg exertion.
Resistance to heavy impact loads
Due to its resilience and high density, rubber flooring is sturdy enough to hold tons of weight without bending or breaking. Depending on the thickness of the covering, a rubber floor can withstand thousands of pounds of equipment, as well as high impact activity, without rips or tears. The rubber covering also offers cushioning to the equipment and protects the floor from damage and the apparatuses from breaking.
Water resistance and chemical resistance
Most rubber flooring products are resistant to moisture and chemical attacks, which makes them resilient against staining, mold, and mildew.
Great durability
All the above properties make rubber flooring strong, tough, and long lasting. When properly cared for, a rubber floor can last for several decades of daily use. What's more, rubber surfaces are hard to gouge, scuff, or scratch, so they will look good and perform great all that time.
Excellent slip resistance
Rubber provides a good grip, so rubberized flooring is non-slip and helps reduce the number of slip and fall accidents. (While it is true that smooth rubber can be slippery when wet, rubber flooring is usually made with raised studs or dimples which give it a non-slip finish. Some rubber floor mats, especially designed for wet environments, are even perforated to allow water to drain through and prevent slippage.)
Quality sports rubber flooring not only meets the minimum standard for allowed slippage, called the "coefficient of friction," but even exceeds it by 80 percent or more.
Safety
The soft and resilient rubber covering provides excellent protection to athletes and allows for superb shock-absorption and cushioning. It meets all the standards for traction, rotation, slip resistance, surface abrasion and stability, set by major sports leagues and federations around the world.
All these factors make rubber flooring one of the safest sports flooring options available on the market.
Sound absorbance
Rubber has the inherent ability to absorb sound and reduce noise, making it an ideal flooring option for high-traffic areas and cavernous spaces like gyms where sound bounces off the walls. Rubber flooring absorbs some of that sound and muffles the ambient noise, improving the efficiency and comfort of the environment.
High performance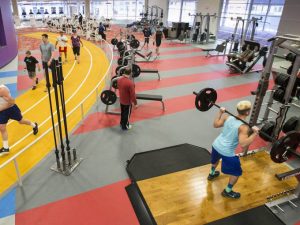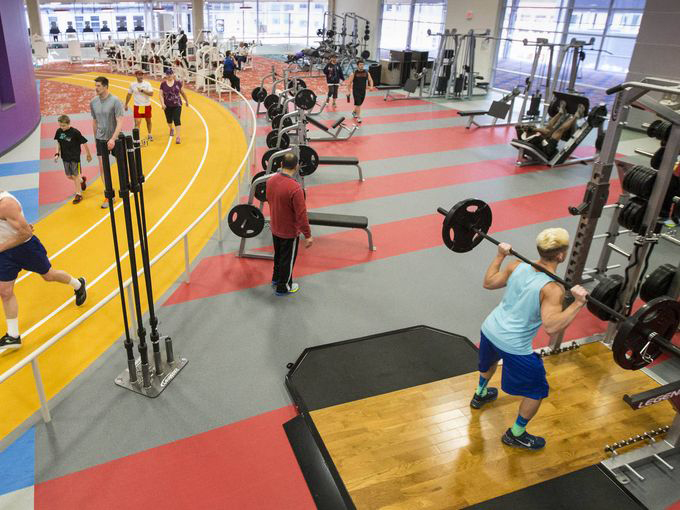 Rubber is soft to the touch, but firm enough for athletes to run on. It has excellent force reduction and ball rebound and provides a good grip for changes in direction. Rubber flooring guarantees dimensional stability and withstands high impact activity, so it ranks among the best performing sports surfaces in the world.
Ease of maintenance
Rubber flooring is resistant to most staining agents, so there are very few products that can mar or discolor its surface. Besides, rubber is water-resistant and invulnerable to mold and mildew. This makes cleaning rubber surfaces quite easy – all you need to keep the floor in pristine condition is a damp mop. (For a more thorough cleaning, make sure you use a pH neutral cleaner as strong detergents and abrasive cleaning liquids can be very harmful to the rubber surface.)
Keep in mind though that athletic floors need daily cleaning and don't forget to mop the rubber flooring in your sports facility every evening, after the activities are over.
Great diversity of style options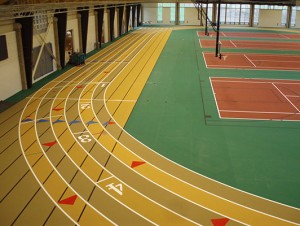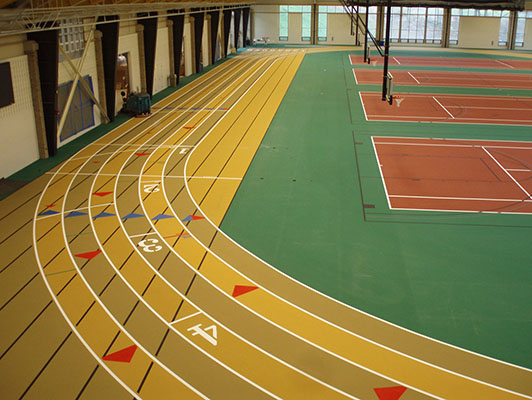 For many years, rubber flooring style options were limited to polished black and slate gray, but today you can choose from a wide variety of colors and textures. Contemporary rubber flooring comes in a stunning array of shades and styles, including coin, leaf, and diamond-plate textures. Many different patterns mimicking natural stone and wood are also available on the market.  You even have the option to create a custom color mixture that matches your team or corporate colors. Unlike other sports flooring options, custom logos and graphics are built into the rubber surface which makes them much more durable and long lasting. (Logos are custom designed and made with a state of the art water-jet cutting machine.)
The best part is that rubber flooring has consistent coloring and texture – it's a man-made product, so it has a homogeneous construction and color uniformity. This means that rubber floors can stand up to skates, cleats, and heavy weights with no visible surface wear.
What's more, rubber flooring is highly versatile and comes in a variety of formats – mats, tiles, and rolls. Rubber mats are the easiest to put into place and the most versatile of the three, as they can add extra cushioning or thickness even to very small areas. Rubber rolls, on the other hand, are the most economical choice and leave the fewest seams.
All rubber flooring products are available in pure black 100% recycled rubber and a wide range of pre-fabricated mixtures of recycled black rubber with varying concentrations of colorful EPDM flecks.
The rubber flooring can be molded to any configuration to match the layout of the sports facility and can be created in any color to perfectly complement the facility's interior décor.
Ease of installation
Rubber flooring is not only easy to maintain, but easy to install as well. It is commonly available in high density tiles that are made perfectly flat for simple installation – either in a precision cut interlocking format or square edge finish for glue down installation. The so-called puzzle rubber tiles don't need any adhesives – they click together, so you can install them by your own hand just by laying down and connecting pieces.
Keep in mind though that rubber floor tiles are designed to be installed as a permanent flooring solution. If you wish to put a rubber covering on the existing floor, you should opt for rubber rolls or sheets. Rubber rolls, however, can be a bit more difficult to put in place – you need someone to help you carry the heavy rolls and adhere them to the floor with double-sided floor tape or floor glue.
Environmentally-friendly flooring option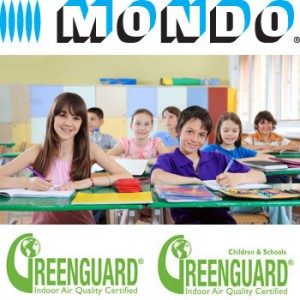 Rubber flooring offers a high-quality, green flooring option, both in terms of the flooring product and the installation process:
The durability and long life-cycle of rubber flooring reduces the need for frequent replacement and helps preserve natural resources;
Natural rubber is a rapidly renewable raw material extracted from the sap of the tropical rubber;
Most rubber flooring products are made from recycled rubber (usually from old car tires), thus reducing a tremendous amount of waste in the landfills;
According to EPA, recycled rubber products do not present any potential environmental or health concerns;
Rubber flooring has FloorScore certification for indoor air quality (FloorScore is a certification system that tests flooring products for compliance with LEED and other environmental programs. Recycled rubber flooring products have been certified by FloorScore for compliance with the volatile organic compound (VOC) emissions criteria of the most stringent US standards);
Rubber products are PVC-free, so no harmful halogens or dioxins will seep into the ground if old rubber flooring is disposed of in a landfill. The absence of PVCs in rubber products also guarantees that no hydrochloric gas will be produced in the event of a fire and there will be no corrosive hydrochloric acid resulting from the contact between the rubber and the water used to extinguish the fire;
Click-together tiles can be installed without any adhesives which makes the flooring 100% recyclable and prevents any off-gassing from the adhesive (a low to zero VOC adhesive is recommended for glue down rubber flooring products);
Rubber flooring can be recycled at the end of its life – old rubber floor coverings can be used as landing mats or industrial mats, cut into landscaping mulch, playground surfacing, or rubber crumb for athletic fields and other applications, or serve as a substitute fuel for gas or oil in thermal stations.
Rubber flooring provides superior comfort and safety. It is sustainable, high-performing, super shock-absorbent, easy to install, clean, and maintain, and incurs very low life cycle costs. Its attractive designs and patterns are compatible with today's architectural trends and can match any aesthetic style. More importantly, rubber flooring is durable, resilient, safe, and environmentally friendly – the perfect surface for an athletic flooring.
Rubber Flooring for Sports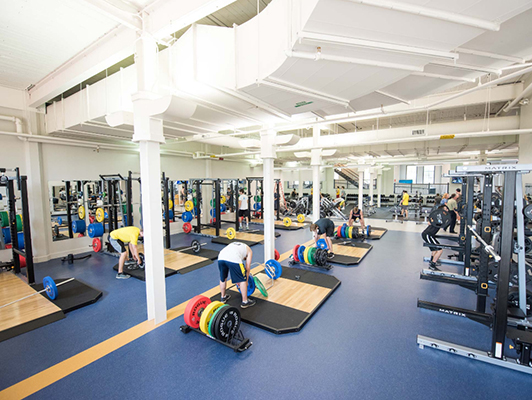 The numerous advantages of rubber flooring make it suitable for many different kinds of sports:
Weight training – A weightlifting platform has to be stable, uniform, and comfortable in order to provide efficient support at the moment of maximum effort. Rubber flooring is the perfect flooring option for a weight room as it is dense and sturdy enough to hold the extra weight without bending, breaking, or denting, and resilient enough to provide bounce back and cushioning for dropped weights. It's a uniform, weight-resistant flooring solution suitable even for the most intense training;
Fitness activities – Rubber flooring resists traction, lacerations, and heavy loads, so it is ideal for fitness centers – it is able to easily withstand the foot-traffic and the weight of heavy equipment. It is resilient and stable enough to ensure high performance and soft enough to prevent accidents and injuries. What's more, rubber flooring delivers energy and exuberance to any fitness application;
Running – Rubber flooring is ideal for jogging tracks as it is durable enough to withstand heavy foot traffic and resilient enough not to be punctured or torn by running spikes;
Aerobics – Aerobics exercises involve fast, powerful, and explosive movements, which create a hard impact upon landing. Therefore, the flooring has to allow for greater shock-absorption and cushioning, offer dimensional stability, and provide excellent grip for changes in direction – this makes rubber flooring the number one choice for aerobic centers;
Ice rinks – Rubber is the most common material for ice rink perimeters and bench areas, where people need to be able to walk safely with skates on. The rubber covering is safe (it is soft and provides a good grip), but also durable and sturdy enough not to be torn up by the skates;
Multi-purpose sports facilities – Ideal for intense sports activities, rubber flooring is the standard flooring material for any athletic facility. Basketball, soccer, volleyball, and many other sports can all be played on rubber floors, so rubber surfaces can be used as a general sports flooring. Therefore, rubber flooring is the perfect flooring solution for multi-purpose facilities that will be put to many different athletic uses.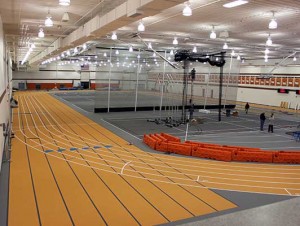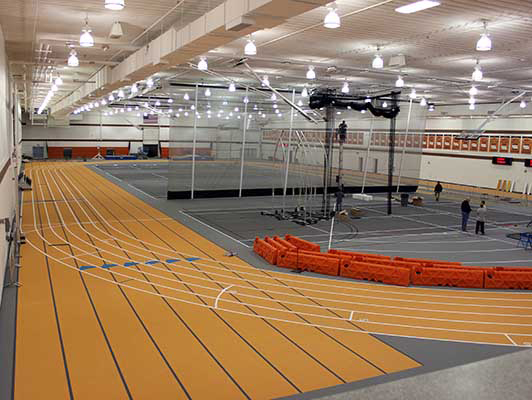 Rubber flooring is also a great choice for gymnasiums, tennis courts, yoga or pilates studios, children's playgrounds, and common areas. It yields too much friction for some sports, however, and is not suitable for dancing, martial arts, and other activities that require surfaces feet can turn on without grip.
Rubber flooring is very versatile and has many advantages, but you need to know your purpose when choosing a rubber sports floor. Not all activities have the same requirements: weight training needs different rubber thickness than aerobics; a busy college training facility requires greater durability and resistance to wear and tear than a small community center, even if the sports activity is the same; etc.
So, when looking for a rubber flooring for your facility, make sure you consult the specialists in order to make an informed decision. Professional installation may also be a good idea as it will guarantee the best possible results and will prolong the life of your sports flooring.
At KieferUSA, we'll be glad to help you sort through all the options and choose the thickness and style that will best suit your athletic flooring needs. In case you need help installing the sports floor, you can count on us too.