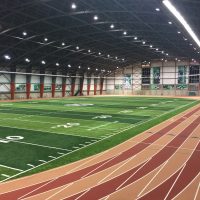 How to Choose the Best Track Surface
Choosing the type of surface is the most important decision to make when constructing a track. There are many available options and each of them comes with its own advantages and drawbacks. Which one will be best for your facility depends on a number of critical factors such as your financial resources, location, and maintenance capability, the intended frequency and use of the track, and many more.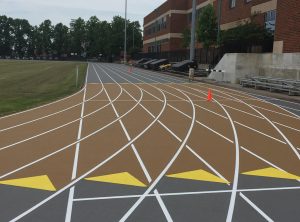 The type of surface can impact the speed, technique, and physical health of the runners, so you need to keep safety and performance in mind when making your choice. Cost-effectiveness and ease of maintenance should be among your top considerations as well.
To be able to make an informed decision, you need to be aware of the pros and cons of different types of running track surfaces and choose the one that best suits your budget and your purposes.
Natural Surfaces
Cinder and clay – and occasionally grass – are the most commonly used natural track surfaces.  They are comfortable to run on, relatively cheap to construct, and have a minimal force impact on runners' joints. These soft surfaces provide excellent cushioning and help reduce injuries.  They also create more resistance than other running track surface materials and make legs work harder, thus strengthening foot muscles and improving running techniques.
Despite their numerous benefits, however, natural track surfaces have two major disadvantages:
Weather often renders them unusable, as they become soggy after a rain;
Natural surfaces require constant and costly maintenance – leveling, addition of filler material, and re-marking the lanes (if the tracks are not well-kept, holes and irregularities in the surface may lead to serious injuries).
In recent years, natural surface tracks have been built with advanced technology, so they can hold water better and don't demand as much maintenance. Yet, the growing cost of transportation of the materials used in these tracks and the cost of incorporating the latest technology has considerably increased the price of natural surface tracks. Therefore, they are rarely constructed today.
All-Weather Surfaces
The first modern track surfacing systems – the so called all-weather surfaces – were invented in the late 1960s. They consist of a combination of asphalt with rubber or sand and are commonly referred to as "asphalt-bound" surfaces. These tracks are durable and relatively unaffected by the weather. They are very fast and allow runners to keep up a steady rhythm.
Although many asphalt-bound tracks are still in use, they are no longer commonly built because of material cost and surface unpredictability:
Asphalt-bound surfaces are affected by temperature – they become very soft in the summer heat and quite hard in the winter cold;
As asphalt ages, it becomes harder and loses its resilience. Older asphalt-bound tracks can wreak havoc on runners' joints and muscles, increasing the risks of injuries;
The cost of asphalt-bound tracks is quite high, as manufacturing the needed asphalt mix requires shutting the asphalt plant down, producing the special mix, cleaning the plant equipment, and restarting production of regular asphalt.
Synthetic Surfaces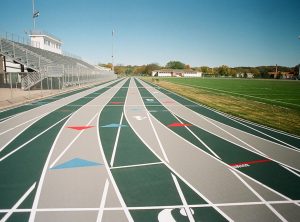 Today, most running tracks are built with synthetic rubber – rubber particles bound with latex or polyurethane. The latex or polyurethane surface is typically installed to a depth of about 1/2″ on top of an asphalt or concrete base. It is possible to construct the systems in layers and use different textures for the optimal amount of traction and best performance.
Latex running track surfaces
Latex-bound tracks provide great safety, performance, and durability. The springy surface is both very fast and very forgiving. What's more, it's often permeable, enabling water to easily drain from the track.
The basic system is black, but contemporary latex running surfaces come in three types of colored systems:
Colored binder with black rubber;
Colored rubber and colored binder in the top layers (over black rubber);
Full-depth color tracks in which the rubber and latex binder are colored throughout the surface.
Needless to say, the use of colored binder and colored rubber results in higher costs.
Polyurethane running track surfaces
Polyurethane surfaces come in four different types:
The basic polyurethane-bound system consists of rubber particles bound with polyurethane (the so-called base mat);
The porous polyurethane track consists of a base mat, covered by a porous layer coated in a texture spray. This type of surface is very soft and permeable;
A sandwich surface combines porous and solid polyurethane surfaces. The base mat is sealed and topped with a flood coat of polyurethane and rubber, creating a permeable, textured surface. This is the most commonly used track surface;
A full pour system is where each layer is mixed and poured in place. These surfaces are textured and impermeable.
Benefits of Synthetic Running Track Surfaces
A rubber running track surface has a number of considerable advantages over all other types of track surfaces:
It creates a very fast and high-performing track that helps improve runners' economy of action by 2-3%. The rubber surface acts like a springboard, giving athletes more energy in their next stride and increasing their speed;
A synthetic system provides superb shock absorption and cushioning, protecting athletes from injury and trauma. The soft, resilient surface is very forgiving on muscles and joints – it not only absorbs even the most violent impact, but also reduces muscle stress and supports leg exertion;
A synthetic track is extremely durable, lasting up to 20 years or more. It is almost impervious to weather and requires very little maintenance.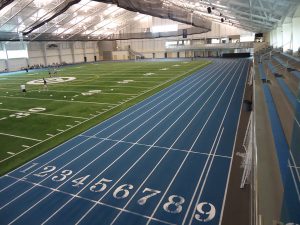 So, which track surface is right for your project? It shouldn't be too soft, nor should it be too hard (so runners don't hurt their ankles and knees). It should be very fast, but also provide proper traction and grip (so users don't stumble and fall). It should be durable and attractive, but it should be cost-efficient and easy to maintain, as well. Long distance running events may require a softer track surface which is easier on the legs and feet – and sprint events will benefit from a firmer, faster track.
With so many options available, you need to give a great deal of thought to choosing the best track surface for your installation. You need to consider your particular needs and purposes and take into account the initial cost of the track, its maintenance requirements, life expectancy, safety and performance characteristics, etc. when making your final decision.
The assistance of a sports flooring specialist may be extremely valuable in evaluating surfacing systems. If you're looking for professional advice, KieferUSA is here for you – we'll be glad to help you sort through the available options and choose the best running track surface for your project. If you need help installing and maintaining the track, you can count on us as well.