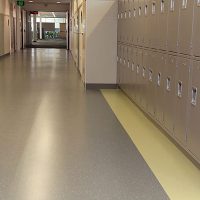 Advantages of Rubber Flooring
Rubber flooring is a flooring type that has become quite popular in a wide range of settings.  This type of flooring has already been used for sports flooring in gyms, fieldhouses, and weight rooms, and it is being used more in homes and commercial buildings.  Not only are rubber floors resilient, durable, and easy to maintain, but they are also available in many different colors and designs to fit the decor of any space.  Rubber floors have been commonly overlooked because they can be pricey and they have a reputation of being difficult to maintain.  However, rubber flooring is actually quite easy to maintain and while it may cost more than some flooring options, its durability makes it a great long-term investment.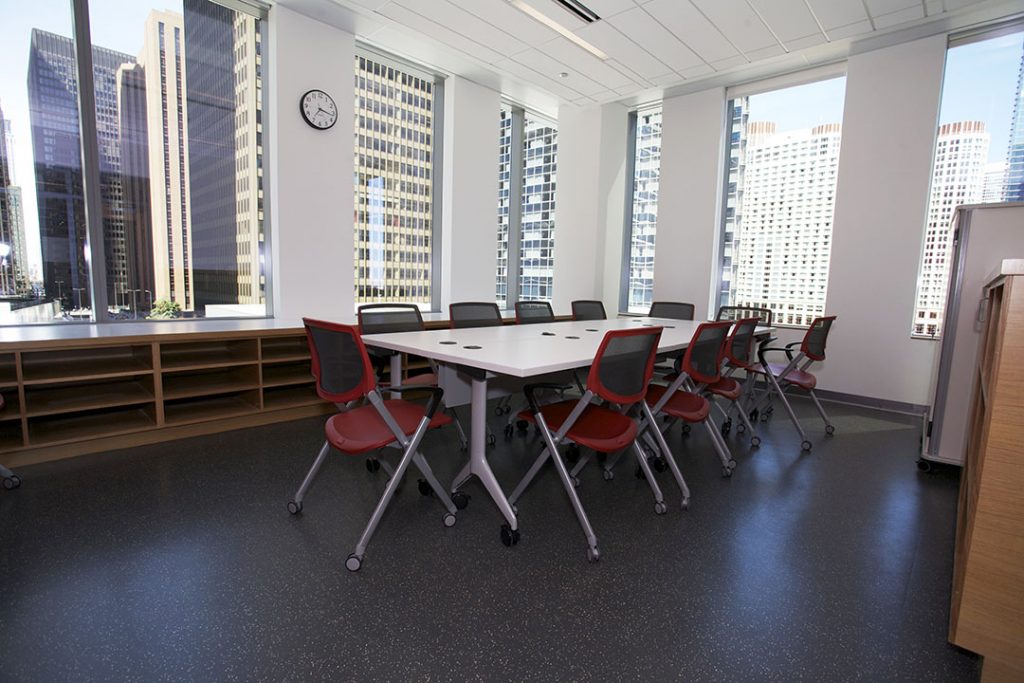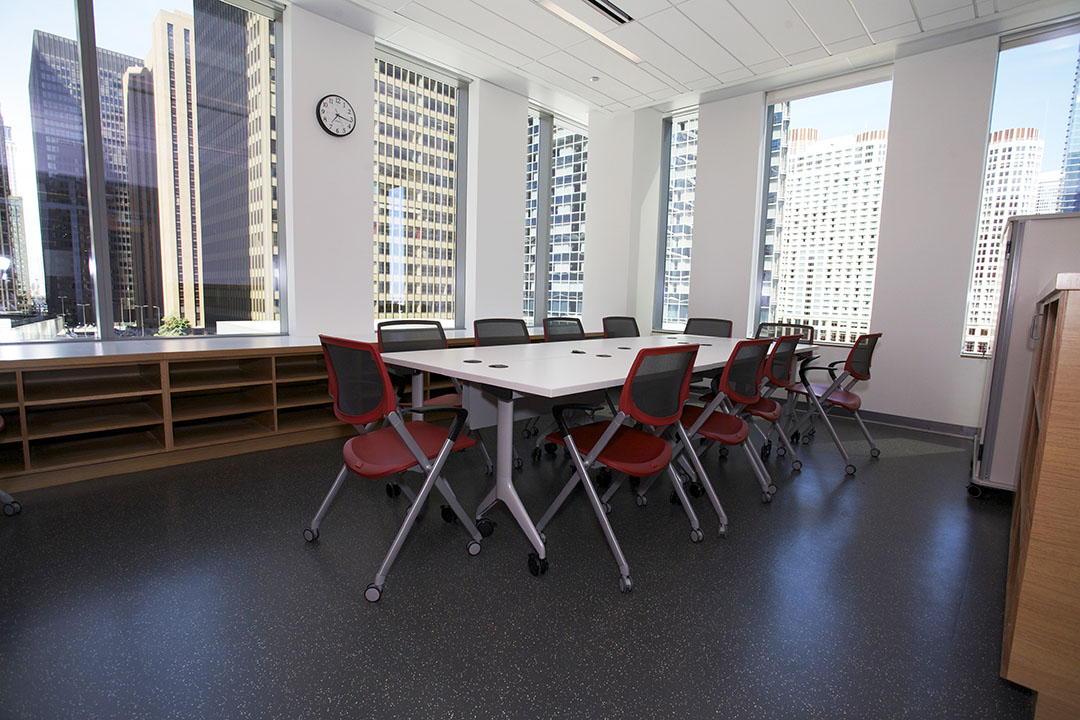 Advantages of Rubber Flooring
The following are the main advantages of installing rubber flooring in your home or business.
Durability and Resiliency
Rubber floors can withstand a high volume of foot traffic and they are also water resistant, so they won't be damaged by moisture or spills.  The natural elasticity of rubber is what makes these floors so durable and resilient.  They are great for absorbing impacts which is why they are popular in gyms and weight rooms.  The ability to absorb impacts also makes rubber flooring an excellent option for commercial settings in which people are constantly on their feet.  These floors provide more cushion than other flooring types which improves comfort and reduces injuries and fatigue.
The durability of rubber flooring comes from its density more than its thickness. The denser the rubber flooring is, the more resilient it is to tears and other damage.  The following are the most durable types of rubber flooring:
Vulcanized rubber: The vulcanization process compresses the rubber into a dense, durable, and non-porous surface.
Virgin rubber: Virgin rubber is the purest natural rubber, free of recycled materials, additives, and latex.
Absorbs Impact
Working out, lifting weights, and playing sports can be tough on the joints.  Rubber flooring is excellent at absorbing impact during these activities which reduces the stress on joints like knees, hips, and backs.  The ability to absorb heavy impacts lowers the risk of injuries.
Low Maintenance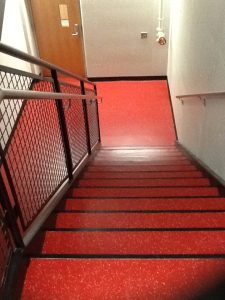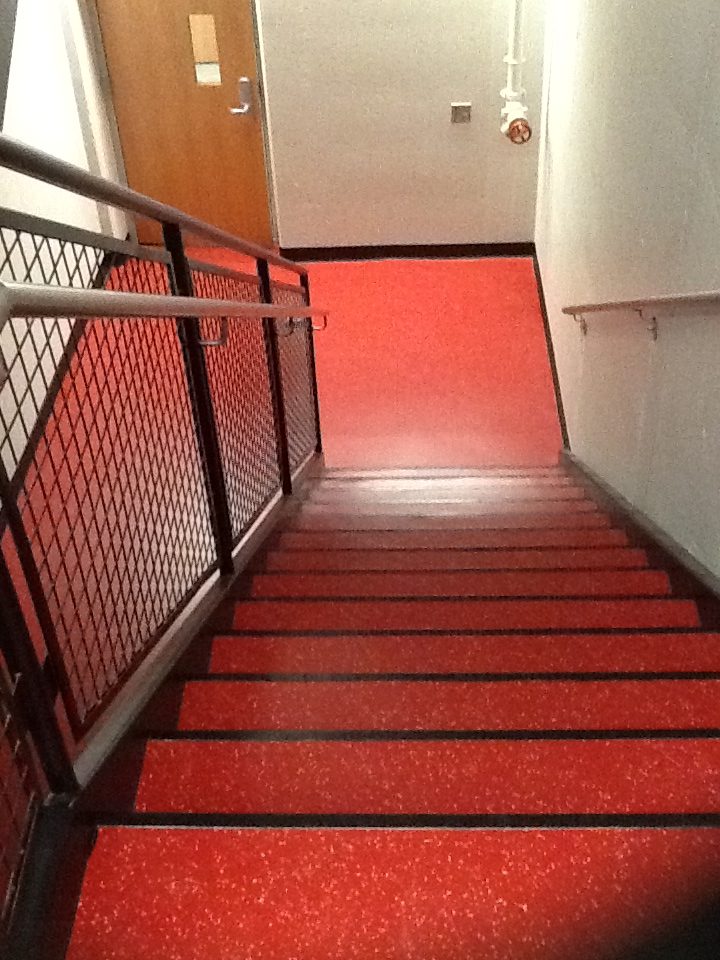 Contrary to what many people believe, rubber flooring is relatively easy to maintain.  All you need to do is vacuum the floor regularly because rubber floors accumulate dirt and debris, and mop the floor at least once per week using a mixture of water and a mild detergent.  You should never use harsh chemicals for rubber floor cleaning because they will damage the rubber.  Cleaning up spills quickly is also important for protecting rubber floors.
For more about rubber floor maintenance, check out Cleaning and Maintenance Tips for Rubber Flooring.
Good Slip Resistance
Rubber flooring has excellent slip resistance and typically far exceeds the minimum standard of the "coefficient of friction."  Rubber floors are commonly used as gym flooring for this reason and the high slip resistance also makes rubber floors an attractive option in healthcare facilities and nursing homes.
Unlike other flooring types, rubber flooring becomes more slip resistant as it gets wet.  Water from spills, sweat, or condensation will not increase the risk of injuries.  This also makes rubber flooring a great option for an outdoor workout space.
Good Water Resistance
Rubber flooring is quite water resistant as it becomes more slip resistant when wet.  When rubber flooring is finished with a floor finish and sealer, water will not be able to reach the subfloor.
Rubber is Eco-Friendly and Recyclable
Rubber is a natural raw material that comes from the sap of a rubber tree.  The sap is extracted in a way that does not harm the growth of the tree and it is highly renewable.  Rubber is also recyclable and it is regularly reused for a wide range of applications.  Recycled rubber flooring is cut up into small pieces which can be used for mulch and playground surfaces, as well as to create entirely new products.
Easy Installation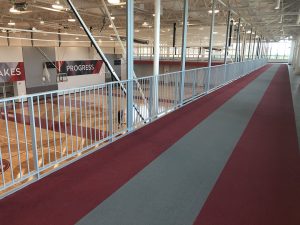 A major benefit of rubber flooring is that it is quick and easy to install.  Flooring types like rubber floor tiles, rubber rolls, and rubber gym mats can be installed in a gym within a single day.
Rubber floor tiles can be installed simply by piecing the tiles together like a big puzzle and the tiles are heavy enough that no adhesive is required.  Rubber flooring rolls can be installed simply by rolling them out.
Bonus Advantages of Rubber Flooring
Rubber floors maintain their original dimensions.
Free of PVC
Absorb sound and resist static
Water and moisture resistance
Heavy impact resistance
Resistance to scuff marks and scratches
Cigarette burn and chemical spill resistant
Resistance to stains, mold, and mildew
Uniform color
Disadvantages of Rubber Flooring
While there are many advantages to using rubber flooring in a range of sports and commercial facilities, there are also some disadvantages that you should consider before getting new rubber flooring.  The following are the main disadvantages of rubber floors:
Odor
Rubber floors have a distinct odor that comes from the rubber material and off-gassing from the glue that holds the floor together.  Not all rubber flooring products have a strong smell as virgin rubber flooring is virtually odorless.  The smell will depend on the raw materials and production process used for the flooring.
The odor is the strongest right after the installation, but the smell will become weaker within a few weeks.  You can also eliminate the odor by mopping the floor with mild soap and water and keeping the area well ventilated.
Lack of Style
Rubber flooring is not the most stylish option as they tend to be black, the natural color of rubber.  However, there are rubber flooring options available with EPDM color flecks and virgin rubber flooring can be made in full colors.  It is important to remember that colored rubber flooring is usually more expensive.
Cost
Rubber flooring tends to be an expensive option for gyms and weight rooms, but it is also extremely durable with features like shock absorbency and a non-slip surface that other flooring options do not have.  Given the positive characteristics of rubber flooring, the investment may be worth it long term.
Rubber Flooring from Kiefer USA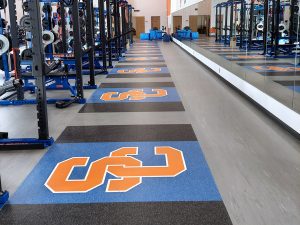 The advantages of rubber flooring make it a great option in a wide range of commercial and residential settings.  Rubber floors have already been in use in gyms, fieldhouses, educational facilities, healthcare facilities, and other commercial settings and they are being used more in homes for laundry rooms, exercise rooms, and more.  Kiefer USA is a leading provider and installer of Mondo rubber flooring and we have a wide range of Mondo products available for a variety of uses.  Contact Kiefer USA by calling 800-322-5448 for more information about our rubber flooring products for sports and commercial facilities.