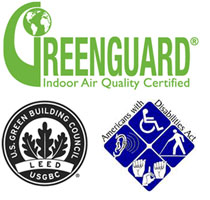 When you need flooring that will contribute to LEED scoring, exceed ADA requirements, be Green Guard Certified and excel at life cycle costing, look no further than Kiefer USA and Mondo Rubber.
Commercial flooring from Mondo, the world's oldest rubber flooring manufacturer, and Kiefer USA with an impressive 35-year history of successful flooring distribution, combine to bring you these attributes and more.
Our customers are more concerned about environmental issues than ever before. And, with operational costs continuing to spiral upward, everyone seeks a better solution to the age old problem of which floor covering will provide the best value.
With Mondo Rubber and Kiefer USA, long term partnerships will be built not just to solve your immediate problems, but to create solutions that will last for decades. Our no-wax products will improve life cycle costs, improve indoor air quality, enhance sound attenuation, provide ease of ambulation and look fantastic while performing. Say good-bye to most traditional maintenance methods and hello to Mondo Flooring.
Come and explore what makes Mondo products from Kiefer USA such a logical choice. Look at the patterns, the colors, the styles and then look at the technical data that separates this high quality product from traditional solutions. Be part of the revolution!
Mondo's commercial rubber floor products will exceed the most stringent requirements well into the future with no-wax, easy maintenance, bacteriostatic, anti-slip and LEED certifiable products. Additionally, frequent heavy rolling loads will not create problems for Mondo's rubber healthcare flooring. Learn more »
Mondo's commercial rubber flooring will allow for tremendous loads and easy cleaning, then spring back to life once deep cleaned. In addition, sound absorbing, comfort under foot and easy rolling loads help to make Mondo's rubber flooring for schools a great choice for educational environments. Learn more »
Commercial environments can range from delicate in-frequent usage, to heavy traffic and heavy soiling areas. Mondo's commercial rubber flooring will provide durability hard to equal with traditional surfaces. Ease of cleaning and fantastic life-cycle costing make Mondo a great choice for Commercial Environments. Learn more »
Retail shops require cutting edge appearance with easy maintenance and excellent life cycle cost. Mondo's retail flooring will provide your retail space with everything you need for your flooring selection. Check out the new IDEAcollection for never before seen patterns and color opportunities from Mondo's designer flooring. Learn more »
This industry experiences high soil, high traffic and high demands of performance. Flooring used here must be durable and safe above all else. Mondo's rubber transportation flooring is the perfect solution for years of confident, successful use. Learn more »
Whether mixing chemicals for pharmaceuticals or building sensitive electronic components Mondo's rubber lab flooring provides a high degree of sophisticated floor covering that will minimize risk and increase safety measures. Learn more »
Frequently these environments have volunteer and/or periodic maintenance. Yet they, too, must be cleaned and maintained. Mondo's durable rubber flooring offers long life and ease of maintenance so facilities with limited abilities can be assured their choice will be successful for many, many years. Learn more »
Hotels, health clubs, and community centers all rely on floor covering that will stand up to daily abuse and spills of every kind. Mondo's rubber hospitality flooring will not just tolerate the abuse, but look great while doing it. Learn more »
Reviews:
Review by Carrie Steuber, Associate Director of Facilities
University of Missouri Rec
Rating

"On behalf of MizzouRec, we want to recognize the superb work of your installation crew that has been involved with the track overlay. Richard and his team have been outstanding to work with in every way. Their focus on excellence was evident from the moment they set foot on campus until they carried the last load of tools out the door. Each team member has been unwaveringly courteous with a clear determination to leave a lasting positive impression. Professional and efficient, they have raised the bar and set a new and most excellent standard for quality installation and project execution. We look forward to working with this very same team again in the future with our upcoming projects. In a word, they were fantastic!"
---
Review by Matthew C. Whitis, Director of Physical Plant
Olivet Nazarene University
Rating

"Choosing the right Artificial Turf surface for use at Ward Field was crucial. It was important not only for our student athletes, but also because this is the home of the Chicago Bears training camp. Our decision to use Kiefer USA and UBU Sports became clear due to the superior technology inherent in the turf and their vast experience in NFL venues. We can't wait to get the surface installed this summer."