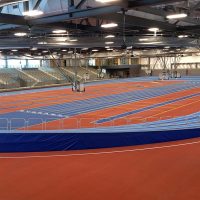 Steps for Cleaning Rubber Gym Flooring
Rubber floors feature durable, shock-absorbent materials, which make them extra comfortable when working out in the gym. Although rubber is an excellent material upon which to exercise, dirt can quickly build up. Follow these steps to clean rubber gym flooring and extend its lifespan.
Why is cleaning a rubber gym floor necessary?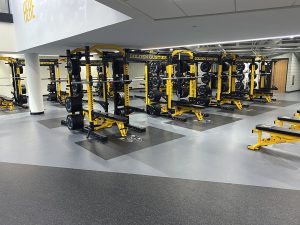 Fitness enthusiasts prize their time in the gym. These dedicated athletes spend hours exercising, working up a sweat and performing at their peak—and a clean rubber gym floor promotes an enjoyable workout. In fact, a clean gym floor is a top priority for gym goers.
Rubber gym floors are exceptionally durable and low-maintenance. Despite the practical benefits of being mold-, mildew- and stain-resistant, the rubber floors must be routinely cleaned to continue delivering a premium gym experience. Plus, clean rubber gym floors look their best.
How are rubber gym floors cleaned?
Now that the necessity of cleaning a rubber gym floor is apparent, the next step is to gather the cleaning equipment to perform the task. Many of these items are typically found in the maintenance room of any facility and can be accessed readily.
Gather equipment
The tools needed include a broom or vacuum, nylon or microfiber mop, bucket and soft bristle scrubbing brush. A buffing machine is optional for commercial facilities. A non-acidic cleansing agent, mild dish soap without bleach or oils, and a rubber floor finish or sealer round out the materials list.
Utilize a store-bought rubber floor cleaner for the best results. Dilution is unnecessary in a commercial product. Plus, the cleaners are available as low-odor and biodegradable degreasers. A gallon has the capacity to clean 3,000 square feet—enough to clean a standard-sized gym.
Vacuum and mop
Next, sweep or vacuum the rubber floor. Do not use the beater brush when opting to vacuum, as it can scratch the rubber surface. A vacuum with a high-performance suction picks up all the dust. Mop the rubber floor without soaking it excessively, as moisture can seep through the seams.
Floors in large facilities should be buffed with an automatic floor scrubber or a buffing machine. Using equipment that can handle large spaces makes cleaning the rubber floor on a daily basis faster and easier. Plus, the floor benefits from a heavy-duty cleaning.
Air dry the floor
For a streak-free finish, allow the newly cleaned rubber floor to air dry. Speed up the drying time by running a wet vacuum over it; performing this step immediately after mopping removes excess water right away. Give the floor time to air dry afterward.
How thick should gym flooring be?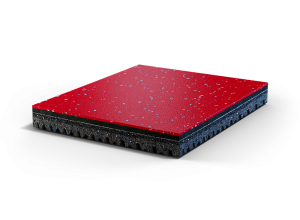 Creating the right environment for exercise requires that gym floors offer the right level of thickness. A one-size-fits-all answer does not exist, as an optimal thickness is dependent on the workout equipment and the exercises that will be performed on the rubber floor.
However, eight millimeters is a standard choice for today's commercial gym floors. This level of thickness is suitable due to it being light and economical. Rubber floors that are eight millimeters thick support activities, such as yoga, cheerleading, and dancing.
In facilities where heavy weights are lifted, a half-inch more is advised to ensure safety. Thicker floors consisting of a half to one inch are appropriate for use with squat racks and utility benches. When athletes aim to lift heavier weights, invest in thicker floors so future upgrades are unnecessary.
How are rubber gym floor mats cleaned?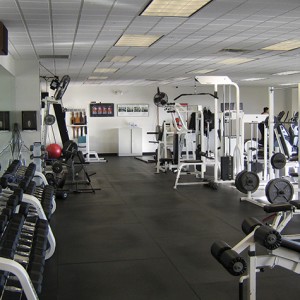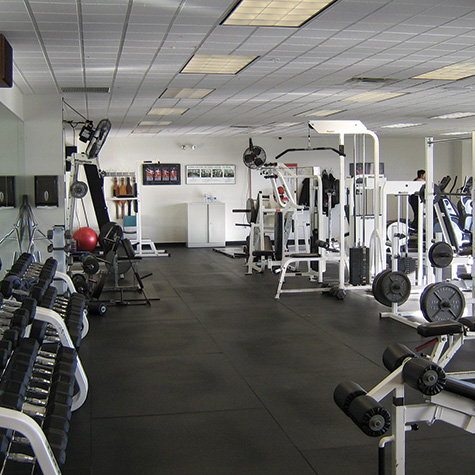 Cleaning rubber gym floor mats requires the same tools and equipment needed to clean the facility floor. A neutral pH cleaner is recommended since rubber is sensitive to harsh products. Plus, the pH product offers a clean that meets professional standards.
As in cleaning the entire floor, sweep or vacuum the mats. Clean the floors using a mophead without loose cotton fibers, since the fibers can stick to the surface of the mats. Mops with nylon or microfiber ends are ideal to prevent loose fibers from straying. Change the mop water often.
Disinfect the mats with a cleansing agent. Use a minimal amount of disinfectant to prevent a buildup of soap on the surfaces. Disinfecting is crucial to killing germs and bacteria lingering on the mats. Increase the ventilation in the gym space so that the mats dry thoroughly.
How often should rubber gym floor mats be cleaned?
The frequency of cleaning the rubber gym floor mats is key to maintaining their lifespans. Mats that undergo high foot traffic or those upon which debris regularly builds up require more frequent cleanings. Daily vacuuming or weekly cleanings are sufficient.
A good rule of thumb is to perform an annual deep clean every spring. Dust and dirt can accumulate underneath the rubber mats, so flip them over to ensure a thorough clean. A deep clean once a year keeps the rubber gym floor mats in good condition.
Rubber Gym Flooring from Kiefer USA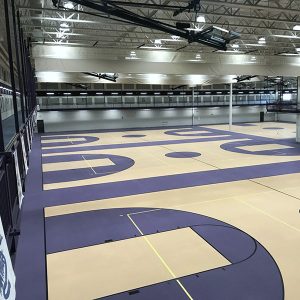 While anyone can clean a rubber gym floor, only one flooring company can provide your facility with premium rubber flooring products: Kiefer USA. We offer a wide selection of gym flooring options ideal for various sports and activities, such as volleyball, tennis, and track.
Our rubber flooring products are from Mondo, which is an official supplier of the Olympic games. When you work with the experts at Kiefer USA, you can expect a high level of personalized service that takes you from the initial concept to the professional installation of the gym floor.
Rubber gym floors from Kiefer USA are easy to maintain and require no coatings. Our floors are highly durable and designed to withstand heavy foot traffic. The outstanding shock absorption is appreciated by athletes—and facility managers value our products' life-cycle cost savings.
Join the legions of high schools, universities, and recreation centers that have made an investment in their athletes by choosing Kiefer USA for premium sports flooring. Contact our Gurnee, Illinois, office, or any of our friendly representatives located across the country to discuss the best flooring options.