Our Green Initiative
We love nature. That is why we strive to provide floorings that are environmentally safe throughout their life-cycle. Our aim is to drastically reduce environmental impact and, where possible, eliminate the use of dangerous chemicals. We are committed to searching for sustainable solutions in collaborations with environmental experts and organizations. Kiefer's staff includes certified LEED AP professionals to aid in our ongoing initiatives to make a greener planet.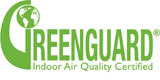 What is Greenguard?
The GREENGUARD Environmental Institute is an industry independent, not-for-profit organization that provides and implements voluntary third-party certification programs for products and buildings. The product certifications programs qualify low-emitting, non-toxic products for GREENGUARD Certification through rigorous testing and ongoing verification. The building construction program certifies commercial new construction and extensive renovation projects that follow best practice guidelines for preventing moisture intrusion during the design, construction, and operations.

What is LEED?
LEED is an internationally recognized green building certification system,  providing third-party verification that a building or community was designed and built using strategies aimed at improving performance across all the metrics that matter most: energy savings, water efficiency, CO2 emissions reduction, improved indoor environmental quality, and stewardship of resources and sensitivity to their impacts. Developed by the U.S. Green Building Council (USGBC), LEED provides building owners and operators a concise framework for identifying and implementing practical and measurable green building design, construction, operations and maintenance solutions.

Mondo
Mondo is proud to announce that Greenguard Environmental Institute has awarded the Greenguard Indoor Air Quality Certification to most of its sport and commercial rubber surfaces.
Mondo's rubber flooring products:
Compliant with California Indoor Air Quality (IAQ) requirement section 01350
Free of halogen, CFCs, plasticizers, chlorine, heavy metals, and asbestos
Do not require the addition of toxic synthetic components
Do not require the use of permanent waxes, stripping chemicals, and harsh cleaners
Feature an extended life-cycle that conserves resources and reduces waste

Connor Sports Flooring
Connor Sport Court is proud to be the only ZeroWaste company in the sports flooring industry. Recycling, avoiding waste, innovative technology and a strong environmental consciousness are a major part of our corporate policy. As a ZeroWaste company, less than 1% of all our waste is sent to a landfill. We continue to explore options that will result in an even further reduction of waste reaching a landfill as a result of our business operations. Our commitment to the environment has resulted in leading products using recycled material.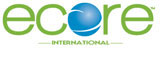 ECORE
ECORE is North America's largest user of scrap tire rubber. Each year, they recycle 80 million pounds of scrap tire rubber, helping to conserve more than one million barrels of oil in the process to convert pliable treads into durable products for the construction, consumer, commercial, industrial, and sports and leisure markets.