Artificial Field Turf FAQ
Artificial athletic fields are hardy, as they repeatedly withstand multiple tournaments and daily practice. Baseball, soccer, flag football, field hockey and badminton are just a few of the many sports played on synthetic grass. Colleges, recreational facilities and even professional teams are increasingly seeing the myriad of benefits of artificial field turfs.
Are artificial turfs usable in all types of weather?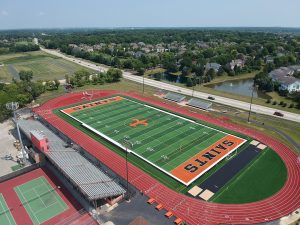 Unlike natural grass, artificial turf conditions remain consistent despite the weather. Rainy days do not transform artificial grass into sludge piles. Even moderate to heavy rainfalls have zero effect on artificial fields. Why? Artificial grass features all-weather properties, making it ideal for every season.
Players who run, stumble and kick on a natural grass field after a rain shower cause significant damage to the grass. Artificial field turfs, however, remain intact despite athletes playing on them after rainstorms. As a result, artificial turfs eliminate the need for replacement during off seasons.
How much can artificial turfs endure?
Artificial turfs can sustain well over 500 hours of athletic play. In comparison, natural grass can only withstand approximately 100 hours of use. Manufactured to endure heavy use, artificial field turfs provide minimum recovery periods between games—an invaluable benefit.
Natural turf requires a period of rest, which means event organizers will have to factor in this downtime when scheduling games. Artificial turf rarely requires respite. With synthetic fields being immediately available, large sports tournaments can be scheduled at any given time.
What types of maintenance do artificial turfs require?
With minimal upkeep, artificial fields can last up to eight years. The primary maintenance tasks required for artificial turfs include brushing and watering. Fertilizing to control pests is also necessary. Given the low care needs, artificial field turfs are more economical to maintain than natural grass.
Do artificial turfs require cleaning?
Cleaning is a part of standard turf maintenance. Athletic players spit gum, sweat and introduce dirt to the turf while wearing cleats muddied from walking on natural grass. In addition, sports drinks spill all over the field. To ensure their maximum lifespan, artificial turfs have to be regularly cleaned.
How does artificial turf promote fair play?
Artificial grass is manufactured for consistency, meaning each section is the same as those elsewhere on the field. Consistent textures and evenness throughout the artificial turf ensure that each player's footing is the same whether it is near the goal line or across the 15-yard line.
Are artificial turfs environmentally friendly?
Given the limited amount of harmful pesticides and fertilizers necessary to upkeep the artificial turf, these fields are deemed safe for the environment. Since artificial fields require no mowing, noxious pollutants (which are emitted from mowers) are not produced or released into the atmosphere.
How does heat affect artificial turfs?
Synthetic fibers retain heat from direct sunlight. Consequently, artificial turf surface temperatures can soar to levels above what is common for natural fields. The high temperatures are rarely a safety issue for players; rather high heat is often considered an issue of comfort for athletic participants.
Coaches circumvent the issue of high surface temperatures by scheduling games and practices during cooler hours. Watering the synthetic field helps to provide a cooling effect. Misting the athletes and ensuring they remain hydrated soothes the uncomfortable effects of playing on hot surfaces.
What is the injury rate on artificial fields?
Players' injury risks on artificial turf are no different than those associated with playing on natural grass. Rates of ankle sprains, MCL tears, concussions and fractures occur just as frequently on artificial fields as on natural ones, according to long-term studies done on soccer players.
How cost-effective are artificial turfs?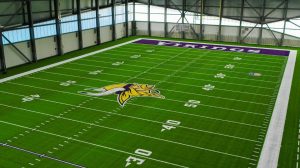 Considering the low maintenance requirements, decreased need for pesticides, chemicals, fertilizers, and minimum watering and mowing, artificial fields are less costly per athletic event than natural turf. Synthetic fields have a high initial price; but, over three to four years, they pay for themselves.
What are approximate costs of artificial field turfs?
A soccer field or football field is 80,000 square feet. Conservatively, installing an artificial field turf costs approximately $4.75 per square feet. A second cost is the drainage base, which averages $4 per square foot. At a minimum, field managers should budget $700,000 to install a new artificial field turf.
Do artificial turfs fade?
Fibers in synthetic turfs gradually fade after exposure to direct sunlight. However, artificial turfs are UV stabilized, which prevents fading for a set number of years. Upon significant and prolonged exposure to intense sunlight, the lifespan of the fibers tends to decrease.
How long does it take to install an artificial field?
A new artificial soccer field or football turf field will require several days to install. The installation process from start to finish may take approximately 60 days. Installation is tailored to meet the unique needs of individual customers. Weather conditions, too, affect installation time.
Who plays on artificial turf?
Artificial fields are gaining popularity in high schools, colleges and recreational facilities. High profile sports teams also play on artificial fields. NFL teams, like the New England Patriots and Seattle Seahawks, and NCAA baseball teams, like Illinois Fighting Illini and Louisville Cardinals, play on synthetic turf.
How to buy artificial turf for your sports facility?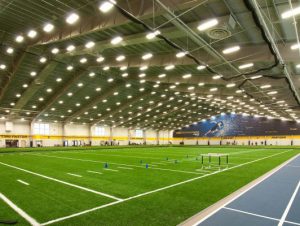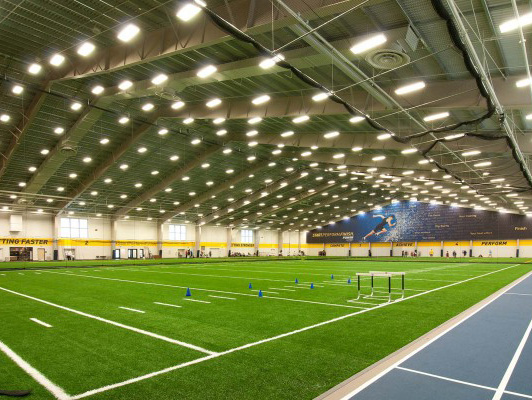 When planning to install brand-new outdoor artificial field turf, consult the best—Kiefer USA. Our outdoor artificial turf systems are found in several high schools across the country. Athletes from Mundelein High School, Warren High School, Rockford High School (Michigan) and more play on Kiefer USA turfs.
Kiefer USA products are comprehensive and meet the rigorous demands of coaches and players. We offer 100 percent recyclable Mondo 4Nx Monofilament fibers, classic rubber turf fill for durability, Mondo Ecofill Turf Infill that resembles natural grass and Mondo FTS Turf Underlayment for premium shock absorption.
Take team sportsmanship and competition to new levels when you consult Kiefer USA for your outdoor or indoor synthetic turf needs. Kiefer USA representatives are available to answer all questions and offer the most economical alternative to natural grass fields.