Athletic surface design and installation for different facilities
Kiefer USA athletic surface design and installation company is your one destination for rubber, synthetic, turf, and wood surfaces for track, multi-purpose, gymnasium, basketball, football, soccer, weight room, locker room, and commercial facilities.
Whether it's a basketball game or concert, a soccer match or track meet, Kiefer USA has the right solution for your fieldhouse. These multipurpose facilities can host a variety of events and your floor should not limit these opportunities. Learn more »
Not only do the track and field surface solutions from Kiefer USA offer the highest level of performance, they are also engineered to be a friend to the athlete and facility manager. Learn more »
Artificial Turf Field
Artificial turf surfaces have come a long way from the green carpet we've all seen in the past. With newly engineered fibers, infill, and backing, Mondo's turf products are the closest thing to natural grass ever made.
Indoor Artificial Turf
Outdoor Artificial Turf
A truly renewable and recyclable material, maple wood surfaces have a long history of being a preferred solution for indoor courts. With endless possibilities for graphics and wood grades, maple is a great choice for both specialty and multipurpose facilities.
Gymnasium Synthethic
Gymnasium Wood
Weight room surfaces receive a considerable amount of use and abuse. With a variety of colors and almost unlimited customization options, Kiefer USA can give you the weight room facility that will stand up to years of blood, sweat, and tears. Learn more »
Kiefer USA offers a wide array of high performance contract commercial rubber flooring. Learn more »
With surfaces from Mondo and Pro-Dek, Kiefer USA can create a locker room that is custom-tailored to your needs. These products allow for a unique look to your locker room and stand up to repeated use and abuse. Learn more »
High impact meets high tech. For the most demanding areas, there are multiple options that Kiefer can offer. Our products have established the industrys' standards across the board for performance, durability, safety, and aesthetics.   Learn more »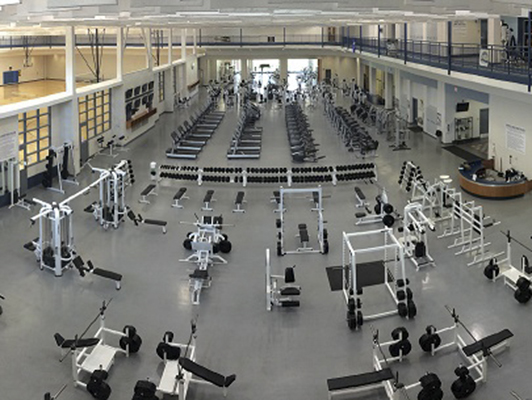 Health clubs offer a variety of equipment and activities and Kiefer USA offers a variety of surface solutions to accommodate those activities. All of our products stand up to the daily use from health club patrons and can be tailored to fit your individual facility. Learn more »
Health clubs offer a variety of equipment and activities and Kiefer USA offers a variety of exercise flooring solutions to accommodate those activities. Learn more »
Kiefer USA has surface solutions for a variety of indoor sports applications. Learn more »
Kiefer USA offers a wide array of commercial flooring options. With surfaces from Mondo, you can create a custom look for your healthcare, assisted living, educational, industrial, municipal, or church facilities. Learn more »
Reviews:
Review by Matt Greteman, Insurance Agent
Greteman & Associates
Rating

"I wanted to compliment you on your installers. Proficient, competent, and knowledgeable are a few words I would use to describe them. They did a great job for us. Thanks again!"
---
Review by Bill Finn, Athletic Director
Moraine Valley Community College
Rating

"We could not be more pleased with our new wood floor. Kiefer's attention to detail during the installation process is second to none. I would have no hesitation in recommending Kiefer USA to anyone who is considering a new wood floor."