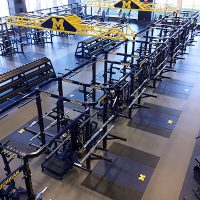 How to Choose Flooring for a School Weight Room
The popularity of weightlifting in schools is rising. Both girls and boys are becoming increasingly interested in the sport, making it essential that coaches provide the appropriate environment for safe lifting. The flooring in a school weight room is one particular area that deserves attention.
Facility managers know that every dollar counts when choosing the flooring for a school weight room. The ideal flooring offers good value per square foot. It should also provide superior durability and thickness to withstand the rigors of dropped free weights and stationary weight training equipment.
Rubber flooring meets the criteria needed to sustain a long-term athletics program in weight training. Strong and flexible, rubber floors are common throughout school weight rooms. When you are in the process of choosing the best gym flooring, consider the following advantages of rubber floors.
Rubber Floors Support Heavy Equipment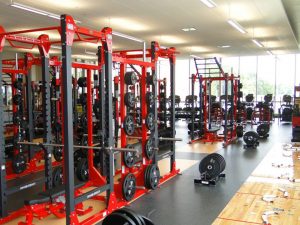 While foam and plastic flooring are available for school weight rooms, these materials require laborious care. The foam will indent under the pressure of dropped free weights. PVC plastic flooring is designed to withstand heavy weight equipment but lacks extended warranties.
On the other hand, rubber flooring is built to support the heaviness of all types of free weights without indenting. The durable rubber flooring materials also protect the cement subfloor underneath from bulky weight training equipment and an assortment of machines.
Rubber flooring's impact absorption qualities protect the subfloor. This durable flooring material also reduces vibration and significantly reduces the noise from weight room machines and free weights. Rubber floors have a solid reputation for withstanding the heavy foot traffic in schools.
Rubber Floors are Easy to Clean
Especially in the coronavirus era, cleaning and disinfecting the school weight room floors are critical. Rubber floors, fortunately, are easy to clean and disinfect. Facility manager can quickly clean, disinfect and sanitize the rubber floors in between school classes and weight room hours.
Rubber is water-resistant, which gives facility managers the freedom to use cleaners that kill viruses, bacteria, microorganisms and fungi. Disinfectant cleaners act as powerful direct germicides on the rubber floors. Detergent cleaners help to improve safety and hygiene in the school weight rooms.
The school weight room is often a multipurpose one. Gym classes are held during the day. After school, sports specific workouts may be scheduled. On weekends, weight rooms may be open to students and faculty. Preventing the spread of infection is easily done by frequently disinfecting the rubber floors.
Rubber Floors Offer Design Options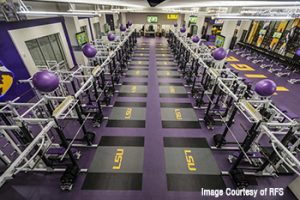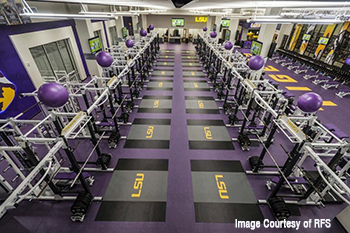 Rubber floors offer several design choices. Given the many coverage options, facility managers can select the ideal size for their school weight room space. Rolls, mats and tiles are the three primary options, any of which may be best suited for small or large flooring areas.
Rubber flooring rolls are intended to cover a large weight room space quickly. The rubber rolls are heavy, and require significant manpower to position them into place. The benefit of rubber rolls is that they offer exceptional value per square foot of coverage.
Rubber mats are perfect for small spaces in schools, such as under free weight stations or beneath the weight machines. The mats are designed to be very thick, so students can drop free weights without fear of causing damage to the subflooring.
Tiles are ideal for any size weight room, but especially those that are irregularly shaped. Each tile is a manageable size, which helps to simplify installation. Offered in a range of thicknesses, the tiles feature interlocking edges; even when under stress, the connected tiles remain securely in place.
Rubber Floors Come in Varied Thicknesses
Whether thick or thin, rubber flooring is exceptionally durable. Weight room floors are commonly fitted with rubber floors in thicknesses of 1/4, 3/8, 1/2, 5/8 and 3/4 inches. Rubber tiles and mats are also available in specialty thicknesses, ranging from 1 to 2.75 inches.
Facility managers who choose rubber flooring benefit from the included warranties ranging between 5 and 15 years. Long-term warranties are ideal for schools that require products that are able to withstand the constant and regular use by students and athletes over the years.
Rubber Floors Promote Safety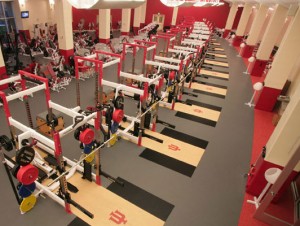 While rubber flooring is not 100 percent soft, the material does slightly give way when students walk on it. Since rubber floors gently yield with pressure, they help young weightlifters' ankle and knee joints. Student weightlifters can also be confident about having sure footing on the slip-resistant rubber floors.
When choosing rubber flooring for the school weight room, consider that the material quality will affect the students' experiences. Rubber floors that are low-cost and low-quality have the tendency to degrade rapidly, break up and reduce protections to the subfloor beneath.
Recycled rubber floors are often the least expensive option, making them attractive; however, given that they are subject to the aforementioned issues, they are a costly choice for the long-term. The recycled rubber floors, once they start to wear, will have to be regularly replaced.
Kiefer USA Sports Flooring Options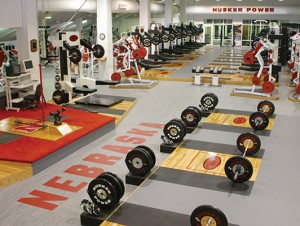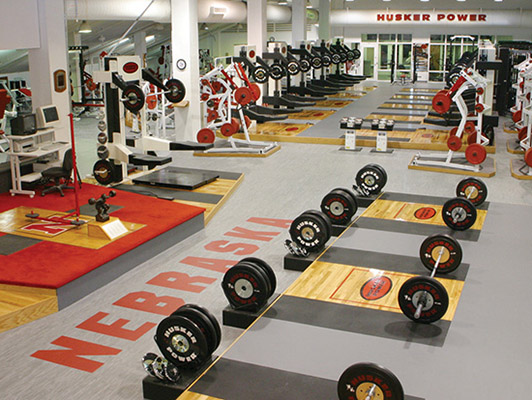 Whether you are considering new flooring for the weight room in a high school or university, you have a range of high-quality options when you work with Kiefer USA. We provide gym and weight room flooring that promote performance, durability, safety and aesthetics.
Our weight room flooring solutions, like Mondo Sport Impact and Mondo Ramflex, include anti-bacterial properties. These options also do not require coatings. Our Tuff-Roll & Tuff-Lock option is odorless and stain resistant. Plus, our expert installation prevents mold and bacterial growth.
Kiefer USA has fitted premium weight room flooring in numerous high schools and universities. Our satisfied customers include Middle Tennessee State University, University of Dayton-Ohio, Fort Campbell, Missouri State University, Wayzata High School and Fishers High School, among countless others.
We offer a wide range of state-of-the-art gym floors that will fully meet the needs of various school athletics, including indoor sports, like weightlifting. Kiefer USA is ready to take your school weight room floor to new levels. Contact our friendly representatives to get started.