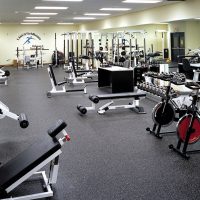 Buying Guide for Fitness Flooring
A fitness center has to provide the ideal experience for each and every user – safe and pleasant exercise environment, fun and effective workouts, etc. Athletes should be able to build their strength and enjoy their time in the sports facility without worrying about falling or getting injured from repetitive impact on an unforgiving floor. The fitness room flooring must, therefore, provide superb cushioning and shock absorption to ensure the safety and comfort of the users. It also has to be durable enough to hold up to heavy equipment and high-impact activity without breaking or losing its performance characteristics.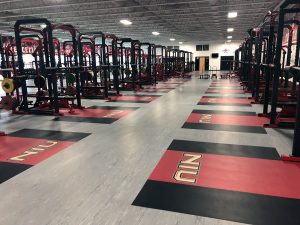 Fitness centers and weight rooms require durable flooring that can withstand tough challenges such as extreme dead-weight loads, repetitive heavy impact, and high traffic. The sports surface needs to be resilient, long-lasting, good-looking, and easy-to-maintain. Choosing a suitable fitness flooring system will make your athletic facility safer, more comfortable, and more enjoyable.
Here is what you need to know in order to select the right flooring for your fitness center.
Fitness Room Flooring Options
Fitness flooring is not intended as a competitive sports surface – it is meant to accommodate heavy equipment and facilitate physical training, so it has to withstand great weight and be suitable for high-impact activities. In other words, it needs to be high impact flooring. Rubber high-impact flooring is specially engineered to absorb shock, hold up to extreme pounding and repeated battering, and protect athletes' joints during high-intensity movements.
Rubber fitness room flooring rated for high impact use comes in tiles, rolls, and mats.
Rubber Fitness Tiles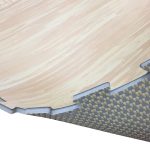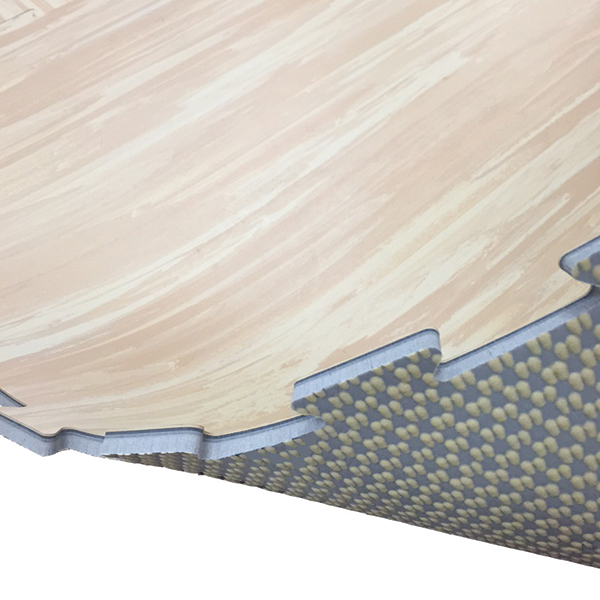 High impact rubber tiles are durable, affordable, and easy to install – they have puzzle-style interlocking edges that come together very easily and allow for quick and simple DIY installation.
Rubber tile thickness options vary, but when it comes to weight room flooring, thicker high-impact tiles are the best choice – with their shock-absorbing waffle backing and ultra-durable top wear layer, they can handle anything, from extreme functional training to dropped dumbbells.
If you're considering rubber tiles for your fitness center flooring, keep in mind that covering a large space with tiles is very time-consuming and the flooring won't be quite as seamless as rolled rubber flooring.
Rubber Floor Rolls
High impact rubber rolls are great for covering large areas. They're very economical and extremely durable and create an elegant seamless appearance.
Rubber rolls are available in a variety of thickness options and are the optimal choice for fitness centers as they're especially designed to protect athletes' joints during high-intensity movements.
Rolled rubber flooring is ultra-durable and provides a permanent flooring solution, suitable even for the toughest workouts.
The only considerable disadvantage of rubber rolls is their great weight that makes installation more difficult.
Fitness Floor Mats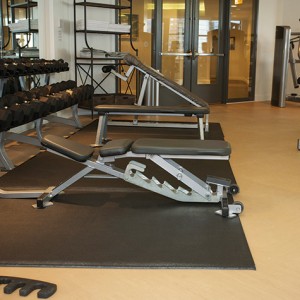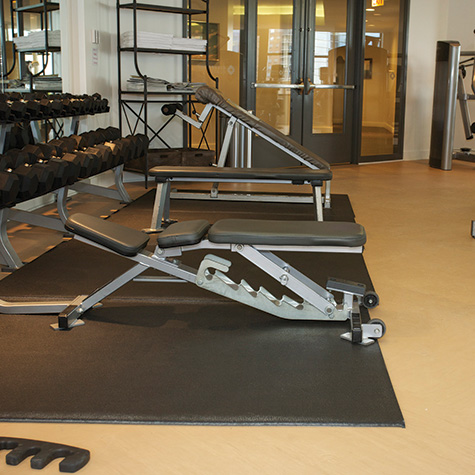 Fitness rubber mats offer the best high-impact flooring solution for small spaces like weightlifting areas and cardio areas. They add extra cushioning and thickness to the flooring and work perfectly in weight rooms and under heavy equipment.
You can choose from a variety of thicknesses – from thin mats for bodyweight exercises to thicker mats that are specially designed to handle the impact of heavy weightlifting and dumbbell exercises.
All rubber fitness flooring products may have cork, fabric, or foam backings to make the flooring even softer, safer, and more comfortable.
Advantages of Rubber Fitness Flooring
Rubber flooring makes a comfortable and forgiving sports surface and acts as a protective shield for the sub-floor.
All rubber fitness flooring products offer supreme shock absorbance and excellent protection to the athletes – the resilient material keeps joints, muscles, and bones safer during repetitive impact and helps reduce fatigue. The elastic, flexible rubber surface "catches" falling weights and reduces bounce-back, minimizing the chance for injury all around.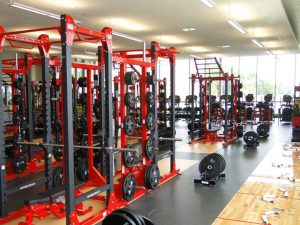 Heavy equipment and dropped weights can easily damage many common types of gym flooring. Due to its natural elasticity, rubber provides a high degree of padding that cushions fallen weights and protects the floor from impact. When a dropped barbell lands on the soft rubber surface, the resilient materials absorb the force of the impact, greatly reducing the risk of damage to the floor.
Aside from being extremely durable and long-lasting, rubber flooring is also very easy to clean and maintain in excellent condition, as it is anti-microbial, water resistant, and invulnerable to mold and mildew.
Rubber fitness flooring has a sleek, seamless appearance and allows for custom colors and unique logos and designs. It helps make the exercise environment more appealing and enjoyable. As an added bonus, rubber absorbs sound and muffles ambient noise, so everyone at the fitness center can concentrate on their workouts without disruptions.
Last but not least, rubber flooring is a green flooring option that comes at an affordable price.
All these benefits make rubber the best fitness center flooring material.
How to Choose and Buy the Best Fitness Flooring for Your Needs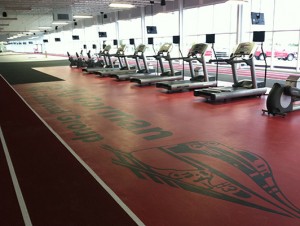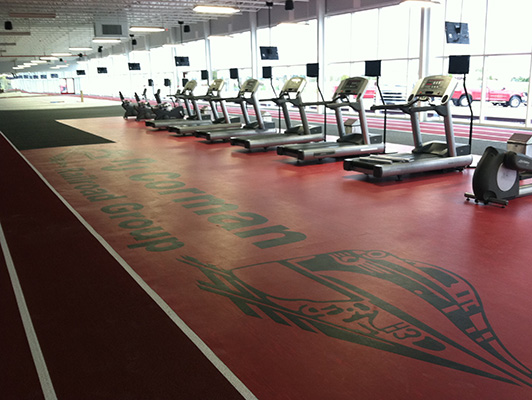 Now that you know your fitness flooring options, you need to assess your available resources, specific needs, and personal preferences in order to find the best flooring solution for your sports facility.
Consider the size and shape of the flooring area, the amount of traffic you expect in your fitness center, the type of installation you prefer, the maintenance you can provide, your aesthetic preferences, and your project budget. Once you know exactly what type, thickness, and style of rubber flooring is most appropriate for your project, you can start researching the fitness flooring market.
Make sure you read the provided descriptions to find out as much information as possible about a product's installation process, durability and performance, maintenance and cost;
Check out customer reviews and look for photos of completed projects to see what the specific type of flooring looks like after installation;
Ask for flooring samples prior to making an order to see how the product actually looks in your fitness center;
Discuss the installation specifics and maintenance requirements of your chosen fitness flooring with the sports flooring company.
Fitness centers, weight rooms, and other strength training areas require a quality flooring that provides high performance, great durability, utmost safety, and aesthetic appeal. Kiefer USA offers a wide variety of fitness flooring products that meet these important criteria. Rubber flooring should be non-porous, thus helping to prevent moisture related issues along with ease of maintenance. The vulcanized nature of rubber floors provides even more advantages.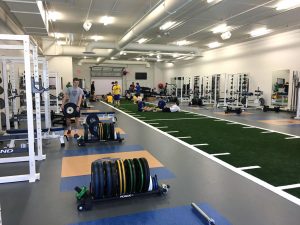 Our team of athletic flooring experts is ready to assist you in every way possible – we'll answer all your questions and help you assess your situation and narrow down your search. Whether you need a rolled rubber floor or a modular tile floor, whether you prefer standard colors or want a custom created seamless floor in your team or corporate colors, you can count on us to meet your requirements, ensure that you make the right choice for your sports facility, help you with the installation (if necessary), and give you a warranty to ensure your peace of mind (if a fitness flooring product needs to be repaired or replaced, Kiefer USA will be there to assist you and restore the damage in a quick and efficient manner).
You can consult with our specialists and order products online or over the phone at 800-322-5448. Contact us today to get the perfect flooring for your fitness center or weight room!