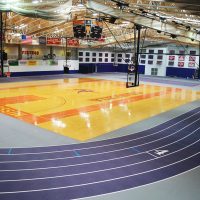 A lot of consideration must go into purchasing a gym floor for an elementary school, university, or recreational facility. Several variables affect the cost of sports flooring. It's best to estimate the cost by weighing the following factors before speaking to a gym flooring contractor and getting the ball rolling.
Installing a gym floor is a far more monumental task than simply adding a new sports surface to a home garage. In the latter case, plenty of information regarding cost is available upon doing a preliminary search online. Multiple vendors will pop up, making it easy to determine the cost.
On the other hand, installing a new sports floor in a school volleyball court or a recreational facility's basketball court requires significantly more exploration. Facility managers must evaluate several factors to arrive at an estimate even before contacting a sports flooring contractor.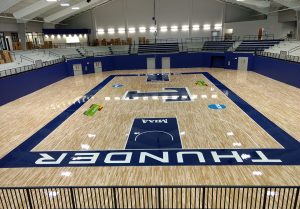 However, a ballpark figure can be provided to give facility managers a basic understanding of how far their dollars will go. Per square foot, the cost of a hardwood gym floor ranges from $12 to $26. A synthetic floor system is slightly lower, at $10 to $22 per square foot.
Consulting a gym floor contractor will consistently provide managers with the best and lowest cost estimate. Regardless, it is best to enter the consultation with ample information about the potential costs for a specific type of gym floor to confirm the feasibility of the project.
The various factors that must be considered when attempting to estimate the cost of a gym floor include the type of floor system, where and when the gym floor will be installed, local labor costs, how much the existing floor must be prepped, and any graphic additions.
Type of Floor System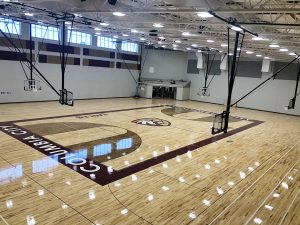 The most obvious factor that impacts cost is the type of gym flooring. The cost for hardwood gym floors varies widely based on whether it is a basic or high-performance floor. Depending on the size of the court, installing a maple hardwood floor can cost between $58K and $184K.
In the case of hardwood floors, it is impossible to predict the price of the hardwood itself. The cost of wood fluctuates widely, depending on global factors, such as supply and demand, the logistics of harvesting the materials, and the transport of the wood.
The shape of the court also affects the price. Flooring costs are higher in gyms built with curves or complex designs. Plus, installing a gym floor in a small elementary school gym will be less expensive than installing flooring in a collegiate facility built with multiple courts.
Local Labor Rates
Labor costs differ widely across the United States. Labor rates in one geographic location may be higher or lower than in another. Installing a gym floor is a labor-intensive process that requires specialized contractors, so local labor costs will significantly impact the overall cost of the gym floor.
Without calculating local labor costs, the installation of the gym floor can go over budget. Knowing the area's cost of living, including wages for laborers, will help the facility manager understand if completing the project is a practical financial move for the facility.
Projected Timeline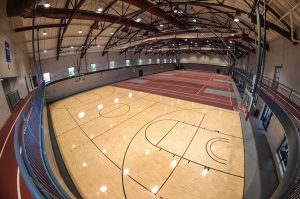 The projected timeline for the installation of the new gym floor can push the cost up or down. Typically, facility managers save money when they schedule the project far in advance. This allows contractors to acquire materials in their usual time frame without rushing their installation schedules.
Gym flooring contractors will also be better able to source materials from their trusted suppliers when given a wide window for installation. The right suppliers are those who specialize in specific materials and who are able to lend invaluable experience to the installation process.
Floor Preparation
Properly installing a gym floor requires sufficient preparation of the concrete slab underneath. An existing gym floor may need to be demolished in order to allow for the new floor. Disposal costs for the old gym floor material are also factored in.
The overall cost of a gym floor varies dramatically, as can be seen. While the cost of a new floor is important, so is its lifespan. A well-maintained maple hardwood floor can last around 40 to 50 years, making the initial investment in the flooring a worthwhile cost.
When looking to equip a sports facility with a new gym floor, determine whether the space will be multi-functional or one that will primarily be used for a specific sport, such as volleyball or basketball. The gym floor should match the use of the most frequently played sport.
The surface of the gym floor is also significant, with common options being maple hardwood, sports vinyl, sports linoleum, vulcanized rubber, and combination systems. Installing the gym floor will be less expensive when done in future years rather than expedited to the current year.
How Kiefer USA Can Help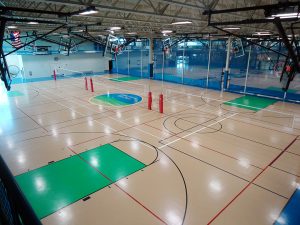 Upon weighing these diverse factors and arriving at a potential cost estimate for the gym floor, speak with a sports flooring professional from Kiefer USA. We deliver optimal sports flooring results to our long list of satisfied customers, whether they are elementary schools, high schools, or the NBA.
You'll receive the expert guidance from our team of hardwood flooring experts. We'll help you navigate the different scenarios and options that impact the overall price of the gym floor. After speaking with us, you'll have the details you need to make an informed decision for your sports facility.
Our sports flooring product offerings are diverse, including rubber sports flooring, fixed subfloor systems, floating subfloor systems, maple flooring, and portable systems. Sports flooring solutions from Kiefer USA deliver enhanced resiliency and stability, improving the performance and safety of athletes.
When you aim to give your athletes a world-class sports facility built with premium flooring products, choose Kiefer USA. Our teams deliver the highest-level of customer service and ensure your satisfaction. Contact one of our representatives across the US and see firsthand how we will elevate your athletes' experience.