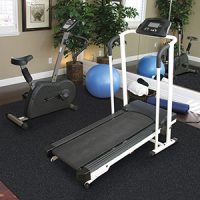 Home Gym Flooring Options and FAQ
Outfitting a home gym with the right type of flooring is crucial to preserving one's joints as well as the subfloor during exercise. Workout enthusiasts have plenty of options when it comes to choosing a gym floor. The choice of materials abounds and are outlined here along with FAQs.
Rubber, foam, turf, vinyl flooring and carpeting are the most sought-after materials for use in home gyms. These five popular types of gym flooring materials have different pros and cons. Learning about the benefits of each makes it easier to pick the right one for your home gym.
Rubber Gym Floors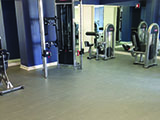 Rubber flooring is prevalent in most gyms, making this versatile material ideal for the rigors of a home gym. Heavy weights dropped onto a rubber floor do little damage to the subfloor. The thickness of rubber flooring varies based on whether you choose rolls, tiles or mats.
Rubber tiles may be interlocked, allowing for easy installation in any sized home gym. Choose thicker rubber tiles when dropping heavy weights, like 100-pound dumbbells. Price varies too. Rubber tiles may be purchased for as little as $2 per square foot all the way to $18 per square foot.
Fit less elaborate home gyms with rubber floor mats. Cover smaller areas with rubber mats for durability and portability. Rubber mats are perfect for under the treadmill or a weightlifting station. Mats range from ¼ inch to ¾ inch with costs from $40 to $150 per square foot.
---
Check out these Kiefer Home products:
FitZone Home Interlocking Tiles
FitZone Premium Home – Free Weight
---
Foam Gym Floors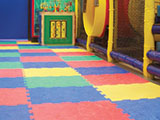 Lightweight and affordable, foam tiles are more suitable for children's activities. Unlike heavy rubber tiles, soft foam tiles are easy to lift. Simply interlock the tiles, and the home gym is ready for use. Foam tiles vary in thickness and can be purchased for under $1 per square foot to $4 per square foot.
Child home gyms are ideal spaces for foam tiles, given that users will not be using heavy equipment. Those who anticipate heavier workouts should opt for premium versions of the foam tiles, which are made from high-density foam, making them both soft and strong.
Carpet Tile Gym Floors
Low-pile carpet is thin, inexpensive, easy to maintain and comfortable. These factors make carpet tile flooring the most popular choice for gym floors. Gym users might opt for commercial-grade carpets or easy-to-install interlocking carpet tiles. Prices range from $1.50 per square foot to $10 per square foot.
Home gym users who expect their gym flooring to last should choose carpet tile gym floors for their noteworthy durability. Consisting of carpet materials, cleaning and maintaining the carpet tile gym floor is already a familiar process to most homeowners.
Turf Gym Floors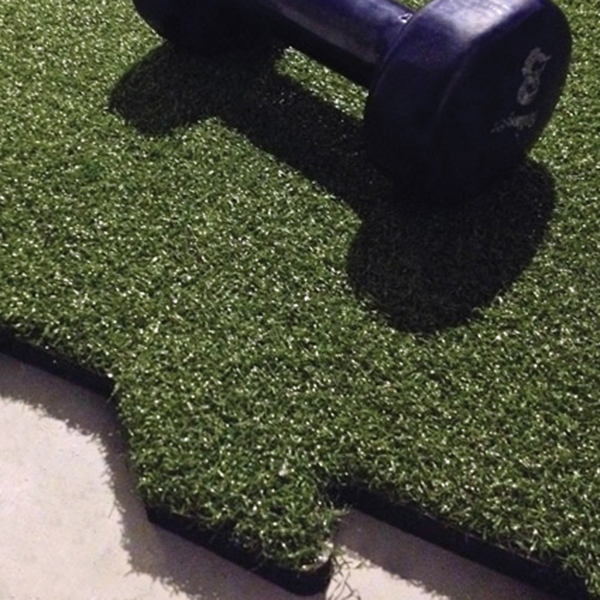 Artificial grass is another popular choice for home gym flooring. Resilient and safe, turf gym floors are ideal for numerous activities, like yoga, strength training and stretching. Runners enjoy practicing speedwork on a low-impact turf gym floor because it helps prevent injuries.
Since turf gym floors are good enough for commercial gyms, they are equally suited for home gyms. However, artificial turf gym floors have a higher price point than other options. Affordable options run just under $2 per square foot and spike to over $7 per square foot.
---
Check out these Kiefer Home products:
---
Vinyl Gym Floors
Ultra-durable, vinyl gym floors are ideal for heavy lifters. Dura-Flex Rebound rolls look like real wood and outperform foam backed vinyl as it relates to point loads.
Superior protection against bleacher related issues
Hygienic because of heat-welded installation
Sound and shock absorbent
Ergonomic
Low maintenance due to protective wear layer
Can paint lines on surface
Fade resistant/wears well
Easy to clean
For more information, contact Kiefer USA.
---
Answers to Home Gym FAQs
Home gym enthusiasts have several flooring material options, leading to a handful of common questions:
Q:What is the ideal home gym floor material and thickness?
A: Rubber tile by far is the number one choice for home gym users, due to its affordability, easy DIY installation, and durability. Homeowners should aim for 8mm thickness when workouts are standard. Heavy lifting of kettlebells or weighty dumbbells requires thicknesses of 3/8 inch or 1/2 inch.
Q: Over what materials can home gym flooring be installed?
A: Materials, like vinyl tiles, can be installed in a home gym located in the garage and effectively serve its purpose. Most types of flooring can be installed over concrete or plywood subfloors or any type of hard surface.
Q: How do homeowners maintain gym flooring?
A: Each type of gym flooring material comes with its own set of cleaning and maintenance instructions. Rubber floors can be cleaned with a neutral pH detergent. Vinyl floors are the easiest to clean with soap and water. Carpet tiles are also simple to maintain and clean, given the prevalence of carpeting in most homes.
Q: Are gym floors easy to install?
A: Most gym flooring installations are DIY projects. Carpet tiles may be glued down or kept in place with tape. Similarly, foam tiles can be secured with double-sided tape. The most difficult installation process occurs with artificial turf gym floors, which requires the professional assistance of experts.
Kiefer USA Gym Flooring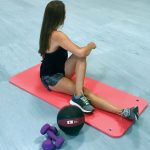 The right choice of a gym floor will enhance your workout experience. When you are in the market for gym flooring products, turn to the nation's most trusted gym flooring experts, Kiefer USA. Our gym floors are recognized for durability, safety, performance and aesthetics.
Kiefer USA products are engineered to withstand the heaviest sports equipment and free weight platforms. We offer flooring that is skate resistant, 100 percent recyclable and anti-bacterial. Athletes experience exceptional comfort and foot stability on all Kiefer USA gym floors.
Whether you plan to do a complete overhaul of your existing gym floor or newly install the best in gym flooring materials in your workout space, consult the most reputable name in gym flooring, Kiefer USA. Our friendly representatives are ready to take your gym floor to the next level.