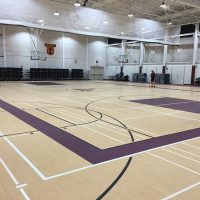 Athletic Rubber Flooring FAQ
Durable, safe, and easy-to-maintain, rubber flooring has long been the flooring option of choice for sports facilities around the world. It ensures stability, absorbs shocks, resists traction, and performs great. What's more, athletic rubber flooring provides a green, versatile, cost-effective sports flooring solution that allows for diverse design options and unparalleled aesthetic freedom.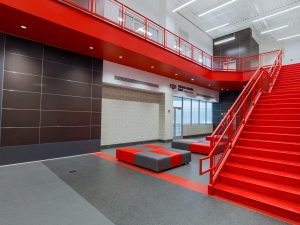 So, when planning a new athletic facility or renovating an existing one, you'll be probably considering rubber flooring for your project as well. And you'll be right to do so because rubber surfaces are ideal for any sports application – they guarantee optimal performance, withstand heavy traffic, heavy loads, and heavy workouts, and safeguard against injuries.
Before you commit to a floor, however, you need to be well informed, so you can pick the best flooring solution for your facility.
Here are the top ten most frequently asked questions about rubber flooring – and their answers – to provide you with some useful information and help you make the right choice for your sports flooring project.
1. Is Rubber Flooring Durable?
Quick Answer: Yes, rubber flooring is extremely durable and can last for decades when properly cared for.
Rubber flooring is strong and tough – it is specially designed to stand up to high traffic and high impact activities. Rubber floors can hold tons of weight without bending or breaking and withstand repeated battering without ripping or tearing.  What's more, rubber surfaces are hard to gouge, scuff, or scratch, so they will look good and perform great for many years.
Keep in mind though that durability is all about density. The denser the rubber, the tougher it is (low-density rubber can be ripped apart with your bare hands). Vulcanized and virgin rubber floors are the most durable rubber flooring options available on the market.
---
Good to know: The thickness of rubber flooring is also related to its durability – a thicker material does not mean higher durability, but a thicker rubber floor is likely to last longer and perform better. (It will better protect the subfloor from heavier weights, will be softer underfoot, and will provide better cushioning, shock absorption, and sound absorption.)
Weight rooms, fitness centers, and commercial gyms that house heavy equipment require greater rubber thickness, as the floor has to be sturdy and dense enough to hold the extra weight, withstand the heavy beating from dropped weights and high impact activities, and provide good resistance to wear and tear.
---
2. Is Rubber Flooring Safe for Athletes?
Quick Answer: Yes, rubber flooring is one of the safest sports flooring options.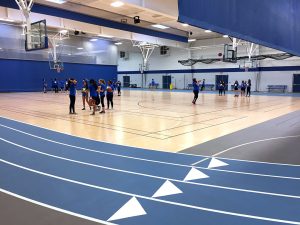 Rubber is extremely resilient, so it feels soft and comfortable underfoot and easily absorbs shocks. This means that rubber flooring provides superb cushioning and helps reduce muscle stress and foot injury, ensuring excellent protection to athletes.
What's more, rubber provides a good grip, making rubber surfaces non-slip and safe for players. (Quality sports rubber flooring exceeds the "coefficient of friction" – the minimum standard for allowed slippage – by more than 80%.) Flat and smooth rubber floors, however, can become very slippery when wet, so athletic rubber flooring is usually made with raised studs or dimples which give it a non-slip finish.
3. Is Rubber Flooring Waterproof?
Quick Answer: Yes, rubber flooring is water-resistant.
Rubber does not absorb moisture, so it is resilient to staining, mold, and mildew.
To be 100% sure that water cannot reach the subfloor, you can use a seam sealer where the rubber tiles interlock or the rubber rolls meet.
4. Is Rubber Flooring Eco-Friendly?
Quick Answer: Yes, rubber flooring is a green and environmentally-friendly flooring option.
While natural rubber itself is a rapidly renewable raw material, most rubber flooring products are made from recycled rubber (thus reducing a tremendous amount of waste in the landfills). They're PVC-free and do not present any potential environmental or health concerns. Many rubber flooring options have FloorScore certification for indoor air quality as well (since they have very low volatile organic compound (VOC) emissions).
Even the installation process is environmentally-friendly – all rubber flooring products are heavy enough to naturally stay in place without any adhesives and a low to zero VOC adhesive is used for glue down installations.
What's more, rubber flooring can be fully recycled at the end of its life. Rubber floors, however, have a very long life-cycle and don't need to be replaced frequently, which helps preserve natural resources and reduces the carbon footprint on the environment.
5. What Types of Rubber Flooring Are There?
Quick Answer: Rubber flooring products come in three different types – rubber mats, rubber tiles, and rubber rolls.
1) Rubber floor mats
Rubber mats are extremely versatile. They come in many different sizes – from 3"x6" to 4"x10" – to fit any space and suit any need and can be laid on any hard, flat surface to add extra cushioning or thickness to the flooring.
Rubber floor mats can be used independently or can be placed next to one another to cover larger surfaces. They are ideal for small spaces and areas subjected to heavy impact (as rubber mats are specially designed to hold up to heavy weights).
2) Rubber floor tiles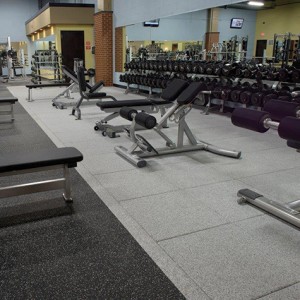 Rubber tiles are very convenient and practical. They're typically available in 12"x12", 18"x"18", and 36"x36" squares, but can be easily cut into different shapes and sizes to fit the layout of the space.
Most rubber tiles have interlocking edges that allow for quick and easy installation – they click together like puzzle pieces and do not require adhesives.
Rubber tile flooring is perfect for fitness centers, weight rooms, and areas with heavy equipment.
3) Rubber floor rolls
Rubber rolls are great for covering bigger areas – they come in large sheets (four feet wide and twenty to fifty feet long) and create an elegant seamless look in the sports facility. Besides, rubber floor rolls are the most economical rubber flooring option available on the market. Their size and weight, however, makes them more difficult to install than other rubber flooring products.
6. What Colors and Designs Is Rubber Flooring Available In?
Quick Answer: Rubber flooring comes in a wide array of colors and styles and can mimic the look of natural stone and wood.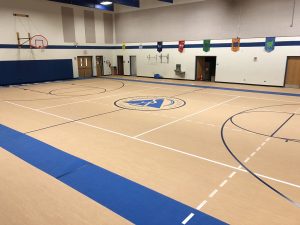 Rubber flooring is a man-made product, so the style options are virtually limitless:
All kinds of colors and patterns can be printed onto rubber products during the manufacturing process, so manufacturers can create custom color mixtures and custom sized color speckles. They can also print company and team logos on the flooring (custom logos and graphics are built into the rubber surface with a water-jet cutting, so they're very durable);
Rubber products can be textured during the manufacturing process – style options include faux wood grain, rivets and studs, coin textures, leaf textures, dimpled textures, diamond-plate textures, smooth surfaces, and even low-pile carpet textures;
As a manufactured product, rubber flooring has consistent coloring and texture – due to their homogeneous construction and color uniformity, rubber floors can stand up to skates, cleats, and heavy weights with no visible surface wear;
Rubber flooring usually comes with a matte finish, but can also be polished with a water soluble wax emulsion to give the surface a beautiful shine and to make it more durable and stain resistant.
Rubber flooring looks very sleek and elegant and adds character to a sports facility.
7. How Much Does Rubber Flooring Cost?
Quick Answer: The most widely used rubber flooring systems cost about $2.50-$3.50/sq.ft.
Athletic rubber flooring ranges in price from under $1.50 to over $18 per square foot. The cost depends on the thickness and style of the rubber flooring, as well as on the format of the rubber flooring products and the materials they're made of (natural rubber or recycled rubber).
All in all, rubber flooring is quite an affordable option – not only does it come at a lower cost than wood flooring, but it also has smaller maintenance costs and doesn't need to be frequently replaced.
8. How to Install Rubber Flooring?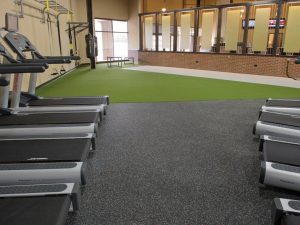 Quick Answer: Rubber flooring is easy to install.
When it comes to rolled rubber flooring, it's best to contact a professional, as the installation is more complex – rubber rolls are large and heavy and are usually glued down to ensure that there will be no movement and no curling up at the edges.
Rubber flooring can be installed over concrete, intact ceramic tile or VCT, or wood underlayment. The subfloor surface must be level and any cracks or seams must be filled with a suitable leveling compound before the rubber flooring can be installed.
---
Good to know:
Can rubber flooring be installed over carpet? – Yes, thick rubber flooring can be installed over carpet, but only if it is a low, tight-pile carpet. It is, however, recommendable to remove the carpet before installing rubber rolls or thinner tiles. If you can't rip up the carpet, you should lay plywood over it and install the rubber flooring over the plywood.
It is always better to install sports rubber flooring over a hard surface, such as concrete or wood.
Can rubber flooring be sealed? – Yes, it can – you can use a specialized rubber floor finish and sealer over interlocks and seams to keep liquids from seeping to the subfloor.
---
9. How to Clean Rubber Flooring?
Quick Answer: Rubber flooring requires very little maintenance.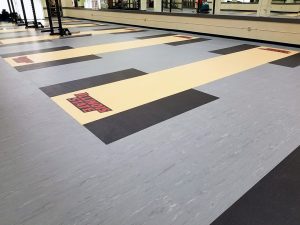 Rubber flooring is anti-microbial, resistant to most staining agents, and invulnerable to mold and mildew, so it is very easy to clean and maintain in pristine condition – all you need to do is vacuum the rubber floor on a regular basis and mop it with a mild soap and water cleaning solution (make sure you use a pH neutral cleaner as strong detergents, solvents, oil-based cleaners, and abrasive cleaning liquids can damage the rubber surface).
Good to remember: Athletic floors need daily cleaning, so be sure to mop the rubber flooring in your sports facility every evening, after the activities are over.
10. Does Rubber Flooring Smell?
Quick Answer: Yes, rubber flooring has a characteristic rubber smell.
Rubber has a distinct odor that many people find unpleasant. Some rubber flooring products smell stronger than others, depending on the type of raw material used and how the flooring was made. The odor is more pronounced with natural rubber products than with synthetic rubber flooring.
The smell is the strongest immediately after installation and gradually dissipates over the next few weeks. Once the rubber flooring has fully aired out, the rubber scent won't be noticeable unless you bend down to the floor.
---
Good to know: How to get rid of rubber smell? – Letting the rubber air out is the best way to reduce the rubber smell. You can also wash the floor with a mild soap and water cleaning solution to help alleviate some of the odor. Sealing the rubber flooring will also help get rid of the smell.
---
If you have any further questions about athletic rubber flooring or need additional professional advice, KieferUSA is here for you – our sports flooring experts have the rich experience and professional knowledge to answer all your questions, assess your needs, and help you narrow down your options and choose the right rubber floor product for your project. We will not only provide you with the best rubber flooring solution at the best possible price, but will also install your chosen flooring for you, if you prefer professional installation. Call us at 800-322-5448 today!