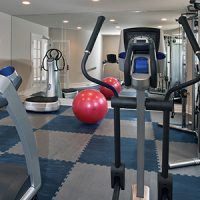 Best Flooring Options for a Home Gym
When people think about installing a home gym, they usually think about weights, bikes, and other equipment. It's equally important to give serious thought to the kind of home gym flooring that's best for your situation. Depending on your home and preferred type of exercise, there are many different flooring options. Here are four options, with the benefits and drawbacks of each.
Carpet. It's the most popular type of floor covering in the United States, and for many good reasons. It's inexpensive, easy for the average person to maintain, and durable. Choose a low pile over shag or better yet, commercial grade, for use in a home gym. Interlocking carpet tiles snap together, so anyone can easily install a floor. Carpeting has a few drawbacks. Unless you use tiles, it will need professional installation. Many people have home gyms in their basements, which can be susceptible to flooding that will ruin carpeting. It needs professional cleaning every few years and can hold moisture from spills, like water bottles.
Rubber flooring. This type of flooring is easy to install by anyone and is extremely durable. Its antimicrobial qualities cause it to resist mold growth and it doesn't absorb water so it can be rolled up in case of a flood in the basement. It's excellent for weight lifting or cardio areas and is an excellent sound insulator. Rubber flooring can be heavy and hard to move, so many people prefer to use rubber flooring tiles. Rubber doesn't offer insulation against temperature extremes and can be expensive if you want any color other than black.
Foam flooring. This type of flooring is inexpensive and offers a cushioned surface for people who do a great deal of floor work, like Pilates, yoga, or P90x. The tiles come in a variety of colors and can be combined to make a customized design. They can be used to create a temporary workout space in a living room or bedroom. Foam flooring isn't recommended for use under heavy equipment like weights because they can become compressed over time and won't spring back. They can also be cut easily with sharp objects, such as high heels.
Vinyl flooring. Vinyl tiles are easy to install because they interlock, like foam tiles. They come in a wide variety of colors and are flexible, similar to rubber tile flooring. Vinyl floors are also easy to clean with sweeping and mopping and they are naturally resistant to mold and moisture. The main disadvantage to vinyl tiles is that they're not as shock absorbent as rubber or foam tiles. Once they've been installed, they feel like your kitchen floor, not a cushy gym floor.
Ultimately, the best home gym flooring is whatever works for your home, your budget, and your preferred type of exercise. When you're ready for new flooring in your exercise area, call the experts at Kiefer USA. We offer a variety of flooring products suitable for different workout needs. Whether you lift weights, do cardio, or are installing a basketball court, we have the right flooring solution to fit your requirements.
Learn more about home gym flooring options at kieferhome.com