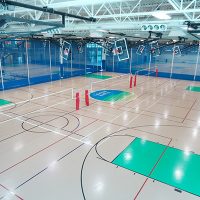 What Qualities Make a Gym Great?
A gym is a place where people go to train and exercise, but also to unwind, socialize, and recharge. Therefore, a good gym is a facility that promotes physical activity, provides a safe, functional, and comfortable workout environment, and creates a pleasant and enjoyable atmosphere for recreation and socialization.
So, what makes a great gym? The practicality and flexibility of its design, the quality of the equipment, the safety and comfort of the gym environment, the availability of modern amenities, the aesthetic appeal of the facility, the proper maintenance of the premises, the competence and friendly attitude of the staff members? All of these factors – and many others – contribute to the "greatness" of a gym, motivate people to exercise harder, and make them want to come back to the facility.
Here are the most important qualities of a good gym to consider when designing a sports complex:
Gym – Space, Design, and Layout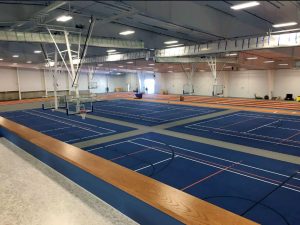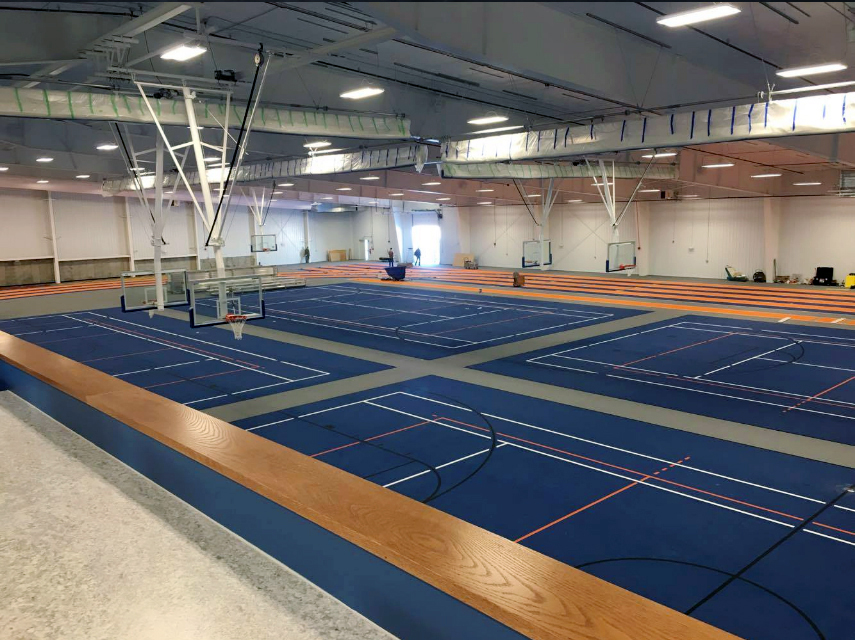 To perform well, a gym has to be designed with a lot of thought and care – the facility has to be spacious, well structured, and properly organized to be able to accommodate a lot of users and various types of exercises at the same time:
The design of the sports facility must be creative and artistic in order to attract people and spark their motivation to exercise harder and longer – spectacular facades, varying color themes, and other appealing design features all work great in that regard;
There must be sufficient lighting in the gym (plenty of diffused natural light, high-intensity fluorescent lights, etc.) and adequate indoor climate control, so users can exercise comfortably at any time of the day or the year;
There must be enough space in the gym and enough room in between equipment so people can use the gear and move around without bothering other patrons in the facility. Everyone should be comfortable doing their exercises and must not feel crowded in any way;
The available space must be efficiently utilized – the gym needs to be set up in a clear structure, so people can easily find the piece of equipment they're looking for. It is, therefore, a good idea to have the equipment categorized by type – there can be specific sections dedicated to cardio exercising, weightlifting, stretching, etc.
The equipment must be laid out with ease of use in mind – it is only logical to put all the cardio machines together, keep the dumbbells close to the free weight machines, etc. Treadmills should face towards the weight lifting area of the gym. Mirrors must be incorporated in the weightlifting section (they're very important for lifting properly and avoiding injuries), etc.
Quality Gym Flooring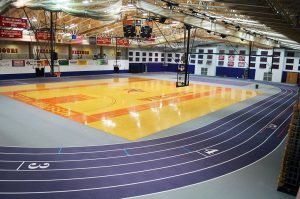 A good gym must have a good floor. Quality flooring is key for a safe, attractive, and high-performing sports facility – it must provide users with the right conditions for practicing their favorite sport and make them feel comfortable and welcome in the gym. The floor has to be resilient enough for weightlifting and aerobic exercises, must provide superb shock absorption and cushioning to ensure the safety of the athletes, and needs to have excellent resistance to heavy impact load (so it can withstand thousands of pounds of fitness equipment).
With the need for a sports surface to meet so many different requirements, synthetic flooring is becoming more and more popular in gyms across the country. Synthetic floors provide an advantageous and cost-effective alternative to wood flooring products – they are durable, safe, high-performing, resilient, shock-absorbent, easy to install and maintain, and offer a great deal of versatility. Synthetic flooring is especially beneficial in areas like weight rooms and running tracks that require superb cushioning and energy return, but see a lot of wear and tear.
There are three basic synthetic sports surfaces – urethane, rubber, and vinyl:
Urethane floor systems are characterized by great elasticity, tensile strength, and tear strength. They're very durable, easy to clean, and appropriate for a variety of athletic activities;
Rubber gym flooring is particularly suitable for weight rooms, fitness centers, aerobics studios, and multipurpose sports facilities. It is very easy to install and maintain, can last for decades of daily use, and looks and performs great. Rubber flooring products come in two different formats (rolls and tiles) and a wide range of colors and styles;
Vinyl gym flooring is ideal for applications that require great flexibility and ease of maintenance. It is the most economical gym flooring option available on the market.
KieferUSA provides top quality gym flooring options to meet every need and demand. We have the professional knowledge and rich experience to help you pick the best athletic surface for your gym, install the floor, and maintain it in excellent condition.
State-Of-The-Art Equipment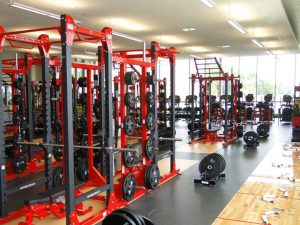 After the right training environment (safe, high-performing, comfortable, and motivating), the next most important thing for a good gym is the right equipment. There needs to be a wide variety of fitness machines and exercise accessories (so that the gym attracts users of various interests and abilities) and enough of the "popular" machines (like treadmills), so there is no need for time limits on specific equipment. A good gym should have both cutting edge and traditional equipment, fancier and simpler machines:
Weightlifting equipment – There needs to be a mix of equipment so users can vary their workout routines and train all their muscles:
free weights – dumbbells, kettlebells, barbells, bumper plates, etc. (of different weights);
high-end machines with different options that can be changed to put the emphasis of the lift on a certain phase of the exercise (for example, the concentric (shorting of the muscle) phase) – such as weight benches that allow for deadlifts, shrugs, squats, rows, and more;
power cages and racks that offer a wide range of workouts – squats, rack pulls, rack lockouts, and many others;
padded platforms and plates for deadlifting, etc.;
Cardio machines – In addition to treadmills and exercise bikes, there should also be elliptical trainers, rowing machines, stair mills, spin bikes, and other state-of-the-art cardio equipment;
Stretching areas – A good gym should have a large space for stretching and plenty of stretching mats.
Pull-up bars and rings, dip bars and abdominal benches, and many other types of workout equipment should also be available in the gym.
Cleanness and Maintenance
Needless to say, there won't be much point in having quality equipment and quality gym flooring if they're not properly maintained. Pristine condition of the facility and perfect working order of the equipment are of paramount importance for the quality of a gym.
The gym floor must be swept and mopped on a daily basis and thoroughly cleaned at least once a week;
Damage to the flooring must be repaired in a timely and efficient manner;
Sports floors should be recoated once a year;
The entire facility (including bathrooms, locker rooms, etc.) must be kept spotless and ready for use at all times;
The equipment should be inspected regularly and repaired/replaced as necessary.
Competent and Helpful Staff
The "human factor" is another of the important qualities of a good gym. Every member of the gym staff, regardless of their position, should be friendly, helpful, and properly qualified.  They need to understand what is important to the users and must be able to help whenever necessary – people don't go to the gym just to use some specialized equipment they don't have at home, they join because they want personalized, intense exercise assistance:
A good gym needs good fitness trainers – dedicated and knowledgeable full-time professionals. There should be specialists for anything – from yoga to boxing and weightlifting. They should have certifications pertaining to their program and should be able to provide the answers customers need. The trainers are there to teach and help – they should have complete knowledge on the different types of workouts and should be able to create the most appropriate training program for every individual customer;
The staff should be available at all times – they should walk around to offer help with the equipment and should be able to answer in a competent, friendly manner (or find someone who knows the answer if they don't), if a member has a question or concern.
Is this what makes a gym great? The above factors are just a part of it – other important factors include location, accessibility, amenities (such as saunas, steam rooms, spacious showers and changing rooms, etc.), the availability of parking spaces during busy hours, and many others. When building a gym in your facility, think of the visitors and what they are looking for. And don't forget – KieferUSA is here to help you succeed with your gym flooring project!