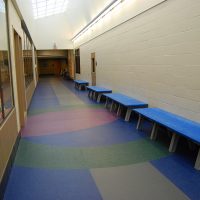 The Pros and Cons of Rubber Flooring Tiles and Rolls
If you're considering new rubber flooring for your home or business, you'll be faced with an important decision – whether to choose rubber tiles or rubber rolls for your project.
Interlocking tiles and basic rolls are the two main types of rubber flooring used in residential and commercial applications. They're very similar in their properties and characteristics, but have some significant differences as well – each product serves a specific purpose and is preferable over the other in certain applications. Knowing the difference between the two will help you make the right choice and purchase the best product for your needs.
To make an informed decision between tiles and rolls for your flooring, first you need to understand the advantages and drawbacks of rubber floor tiles and rubber floor rolls. So, let's take a look at the pros and cons of the two rubber flooring products:
Pros and Cons of Rubber Flooring Tiles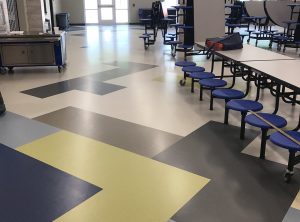 Long-lasting, affordable, and easy to install, rubber flooring tiles are great for a wide variety of applications and ideal for almost any workout environment. Clicking in together like puzzle pieces, they're very easy to put together, can fit any space, and can be added at any time. Besides, they perform great and look great:
Rubber is very durable and extremely resilient – it guarantees stability, provides a good grip, withstands heavy loads and high impact activity, feels soft and comfortable underfoot, and offers superb cushioning and shock absorption;
Rubber floor tiles come in a variety of textures and color options so you can choose the perfect hues and shades to match your interior design, add some flair to the space with different colors and patterns, or keep it simple with solid colors. The most widely used rubber floor tiles are black with confetti-looking color flecks throughout.
Rubber flooring tiles can be made from a virgin rubber material, synthetic rubber material, or recycled rubber material. They are typically available in squares, but can be easily cut into different sizes and shapes to perfectly fit your space. Seams are very tight so the floor will look sleek and cohesive, with no edges to trip over.
You can choose from varying thickness and densities as well. The most common rubber tile thickness is 8 mm. Fitness centers and weight rooms need thicker flooring to provide better protection to the subfloor from heavy equipment and dropped dumbbells or other weights.
All things considered, interlocking rubber tiles have many important benefits and make a great flooring option.
Pros of Rubber Flooring Tiles
In addition to the inherent advantages of rubber flooring (strength, resilience, shock and sound absorption, ease of maintenance, aesthetic appeal, eco-friendliness, etc.), rubber tiles have a number of specific benefits as well:
Resistance to tough workouts and heavy traffic
Numerous style options
Perfect fit for your space
Quick and easy installation due to their interlocking design and light weight
No adhesives required
If damage occurs, only one piece needs to be replaced rather than the whole floor
Easy to remove, store, and reuse in another location
Rubber floor tiles provide a safe, durable, high-performing, good-looking, easy-to-clean surface that's suitable for hard-wearing environments. These advantages, however, are balanced by some drawbacks you need to understand before making a final decision about your flooring.
Cons of Rubber Flooring Tiles
The biggest disadvantages of rubber tiles include:
Installation in larger spaces is very time-consuming
The floor may not appear completely seamless
Seams can let water through to the subfloor
Smooth, untextured rubber tiles become slippery when wet
Rubbery smell in the first couple of months after installation
As practical as rubber flooring tiles may be, rubber rolls could be even more appropriate for your flooring needs.
Pros and Cons of Rubber Flooring Rolls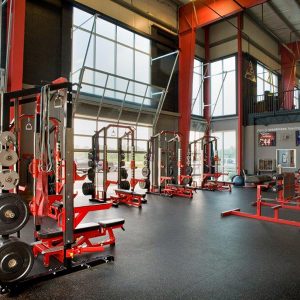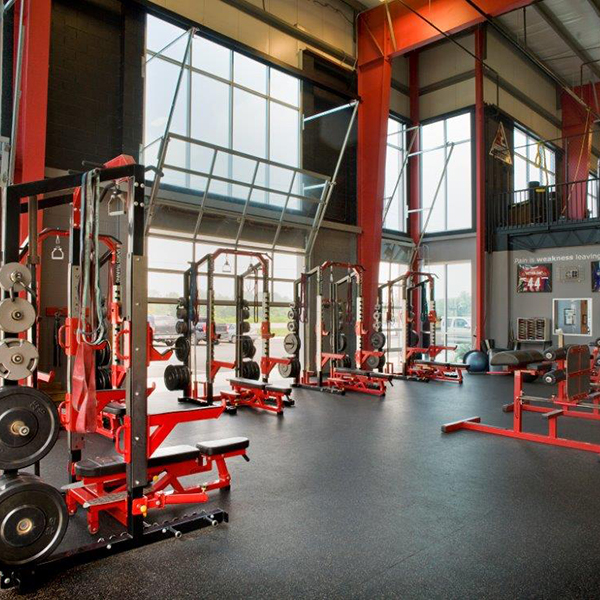 Rubber rolls are the flooring option of choice for commercial gyms. Extremely durable and very economical, they're perfect for high traffic areas and large spaces that see a lot of activity. Rolled rubber flooring offers an elegant seamless appearance (when installed correctly, it is nearly impossible to see where one roll ends and another begins) and can perfectly complement the theme of the sports facility. Most rubber rolls come with a black base and color flecks, but you can choose from a variety of designer options for a more unique and trendy appearance.
Rubber rolls come in sheets that are four feet wide and can be fifteen to fifty feet in length. They're available in different thicknesses to better suit different needs and requirements – thin rubber rolls can hold up to bodyweight exercises, medium thickness is great for universal gyms, and thicker rolls are perfect for CrossFit, powerlifting, and other high impact activities (high-impact rubber rolls are especially designed to protect both the athletes' joints and the subfloor).
Rubber floor rolls are large and heavy and typically need a glue or tape-down installation to create a safe workout surface. They create a more permanent flooring option than rubber tiles.
Pros of Rubber Flooring Rolls
Rubber rolls have all the above-mentioned benefits of rubber flooring products and offer a few specific advantages as well:
Ultra-durable and suitable for high impact activities
Easier installation in large spaces (a large area can be completely covered with just a couple of rolls);
Secure fit (the glued-down flooring system is locked in place)
Seamless appearance
Greater water resistance
Affordable price
Safe, strong, and easy to maintain, rolled rubber flooring is ideal for high-intensity gyms and heavy traffic areas.
Cons of Rubber Flooring Rolls
Despite their numerous advantages, rubber rolls have some considerable drawbacks as well:
Heavy and more difficult to install than interlocking rubber tiles (professional installation is recommended for best results)
Slippery when wet
Distinct odor (though it usually goes away with time)
Fire issues (the adhesives used in the installation process are susceptible to fire)
Furthermore, color fleck rubber products (both tiles and rolls) are not UV-stable and need to be kept away from direct sunlight.
How to Choose Between Rubber Flooring Rolls and Tiles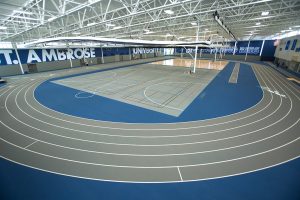 Now that you know the pros and cons of rubber flooring tiles and rolls, it should be easy to make the right choice for your flooring needs.
If you need rubber flooring for a small space, you should opt for tiles. Known for their simplicity and versatility, interlocking rubber tiles are perfect for home gyms, small fitness studios, weight rooms, locker rooms, and any situations where portable gym flooring is required.
If you're looking for a more permanent flooring solution for a larger space, rubber rolls are your better option. They're ideal for commercial gyms and high-traffic areas that require durable, resilient flooring.
---
Good to know: Versatile, durable, safe, high-performing, and easy to maintain, turf rolls also make a great surface for weightlifting and high-intensity workouts – you may want to consider them for your project if you're not sure that rubber is the best flooring material for your needs.
---
If you're still wondering whether to choose rubber flooring rolls or tiles for your athletic facility or have any questions about the different types of flooring products, do not hesitate to contact KieferUSA – our sports flooring experts will provide you with all the information you need and will help you find the best flooring solution for your project. If you wish, we will install your chosen gym flooring for you, as well. You can find us at 800-322-5448 for professional advice and affordable, high-quality flooring solutions.