What is the Best Sports Flooring for Schools?
Sports flooring is an integral part of any type of physical activity. Basketball, running, tennis and other athletics require a flooring that promotes comfort while preventing injury. Here's an in-depth look at how the best sports flooring impacts young athletes in a school environment.
What are common features of the best sports flooring?
Shock Absorption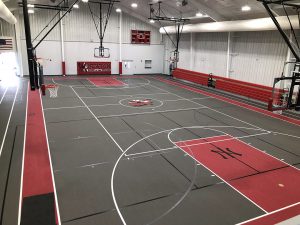 Firstly, it's important to know what features make up the ideal sports flooring. Shock absorption is a benefit to athletes since it improves playability and comfort underfoot. A sports floor with optimum shock absorption helps protect the joints of athletes' lower extremities.
Fatigue is reduced when athletes practice, compete, or otherwise play on sports floors with sufficient shock absorption. Poor shock absorption can result in sore knees and ankles. The level of shock absorption should be appropriate for the specific use of the sports flooring.
For example, a flooring on which basketball is played will have a specific level of shock absorption, while a sports floor on which aerobics are performed will have a different level. Playing basketball on a floor designed for aerobics leads to athletes experiencing fatigue much quicker and vice versa.
Traction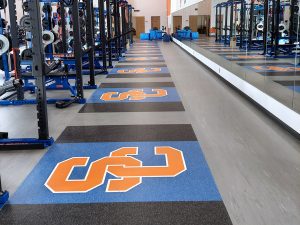 Traction is equally important in a school's sports floor. The right amount of traction will enhance athletes' peak performance and reduce slips, falls, and subsequent injuries. Here, too, the sports flooring should be designed with the sport in mind in order to deliver the ideal level of traction.
Consider that recycled rubber floors offer a different level of traction than maple or synthetic sports flooring. Rubber floors are ideal for use in weight rooms. On the other hand, maple or synthetic floors are suitable for school sports, like basketball and volleyball.
Vertical Deformation
Vertical deformation (the amount and impact of an athlete's downward movement on a floor) is important for certain sports, like basketball, volleyball, and dance. Vertical deformation (aka vertical deflection) promotes foot stability. Excessive vertical deformation can make the floor feel unstable to an athlete.
Area Deflection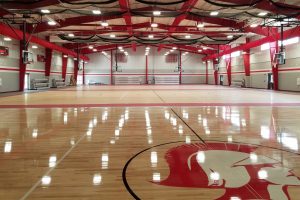 Area deflection, which measures how energy is dispersed throughout a floor system, is also key in sports flooring. This feature calculates how well a floor contains the deflected area under the athlete's impact. Hardwood courts built with a subfloor system generally provide a larger area of deflection.
Ball Rebound
A basketball bounces differently on a sports floor system than a concrete one. Ball rebound measures this difference. A soft floor, for instance, will yield a low vertical ball rebound. A basketball court will ideally provide a ball rebound measurement of at least 93 percent.
What flooring products provide these features?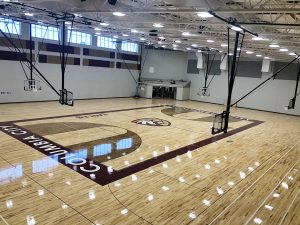 Hardwood sports flooring systems are used for basketball, volleyball, and dance. Connor products, like its fixed and floating subfloor systems, are well-suited for school environments. Performance testing involving the abovementioned five key features results in rankings in the top tiers.
Connor sports flooring products, including its Connor Maple Flooring and Connor Portable Systems, rate highly for shock absorption, vertical deflection, area deflection, and ball rebound. Well-reputed in the sports flooring market, these products are found in high schools and sports complexes.
The best sports flooring for schools encourages pride via bright school colors and logos emblazoned across the centers. Facility mangers have the option to design custom floors painted with the school's logo, encouraging student athletes' school pride when competing and practicing.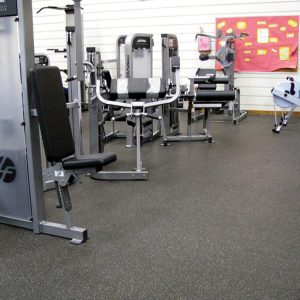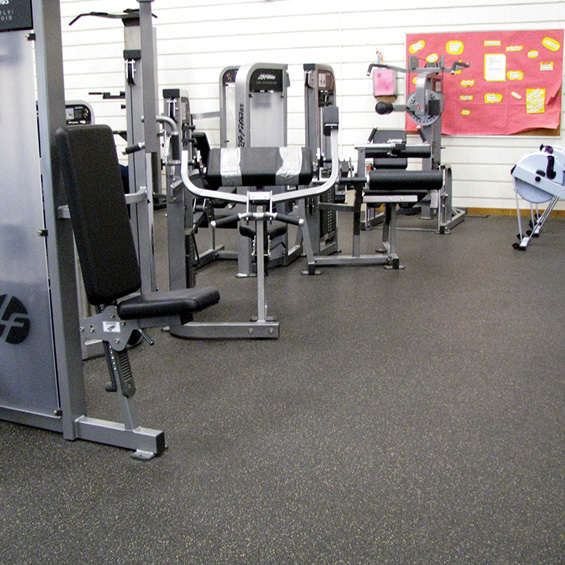 Rubber is also ideal as school sports flooring when it is designed for a particular use. Schools are demanding settings, requiring floors that can withstand continual foot traffic, distracting noise, and high maintenance needs. Mondo Educational Flooring meets these rigorous demands.
Rubber floors offer slip resistant properties, which help keep young students safe. Rubber floors absorb sound, including the noisy chatter in hallways and cafeterias. A quiet educational space contributes to better communication between teachers and students and enhances learning.
Teachers and students who are on their feet for hours during school days experience greater comfort with rubber floors. Featuring an elastic construction, rubber floors offer maximum underfoot cushioning. Rubber floors from KieferUSA are also easy and cost-effective to maintain.
Kiefer USA Premium Sports Flooring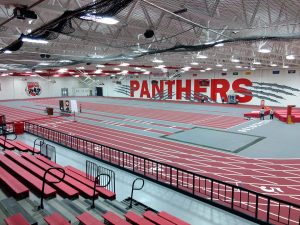 Outfit your school with the premium sports flooring that can be found at Kiefer USA. Since we offer Connor, Mondo and Kiefer flooring products, all your sports flooring needs will be met. We'll design and install your sports floor, whether you choose rubber, synthetic, wood, or turf surfaces.
Indoor sports flooring is another Kiefer USA area of specialty. Our products include Mondo Advance, Mondotrack, Fitzone and more. Install our Synthetic Turf Systems to maximize player safety. Facility managers can even customize their sports flooring with our ColorFlex Custom Flooring.
Kiefer USA has installed high quality floors in colleges and universities, like Missouri Valley College and Northern Illinois University, and high schools, like Niles West High School and North Montgomery High School. We can design and install the best in sports flooring in your facility, too.
While Kiefer USA is a leader in school gym flooring, we also install floors in locker rooms, training rooms, recreation centers, and health clubs. Our extensive reach in the flooring market includes commercial rubber floors in healthcare centers, municipal centers, and industrial settings.
Whether you plan to upgrade your school's existing sports flooring or aim to build a new one, choose Kiefer USA. Our friendly representatives will guide you through the process from start to finish. When you want a sports floor that elevates your student athletes' performance, contact Kiefer USA.