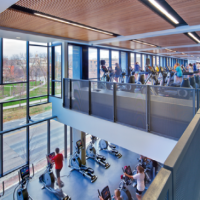 High Praise for Mondo Flooring at Iowa!
University of Iowa Campus Recreation and Wellness Center
Since it opened in 2010, the University of Iowa's Campus Recreation and Wellness Center has served the university's students and staff, and the Iowa City community.
Mondo's rubber flooring. Its three-story fitness space, one of the building's most heavily used areas, spans 20,000 square feet and features more than 200 pieces of equipment. The first floor has strength-training equipment, and the second and third floors have cardiovascular, functional training and TRX equipment. All three floors have Mondo's Sport Impact rubber flooring.
The facility boasts more than 30,000 square feet of
Mondo Sport Impact flooring in its corridors and changing areas, and Mondo's Sportflex M track surface on its indoor jogging track.
The rec center also has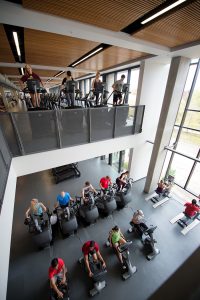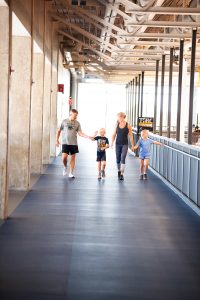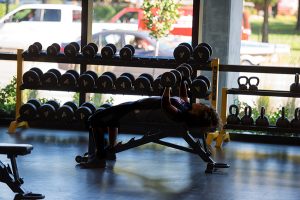 Selecting Mondo Flooring
During the facility's construction phase, University of Iowa officials chose Mondo flooring because of its reputation for durability and the knowledge that it would be easy to care for and maintain, particularly considering how heavily used the building would be.
"We wanted something that would stand the test of time and withstand the heavy traffic the building would have. I've been very pleased with how our Mondo flooring has held up."
That decision has proven to be a good one, according to JT Timmons, Iowa's director of recreational services.
Mondo and Recruiting
The Recreation and Wellness Center is an important stop on campus tours for prospective students and their parents and guardians, and Timmons said it "absolutely" plays a critical role in the campus's ability to recruit students.
"The quality of recreational facilities is one of the determining factors for students choosing where they want to go to college," he said. "So it's our responsibility to show them, from the time they step on campus for their first tour, that we have a clean, functional, high-quality facility. Our Mondo flooring plays a key role in that."
Timmons noted that the venue's strength-training area, which is located on the first floor just past the building's entrance, is one of the first places visitors can see. "So having that Mondo floor maintain its aesthetics and like-new appearance, and having it resist wear — that's important because it might be one of the first visual impressions students get before they even choose to enroll at Iowa and become a Hawkeye."
Making an Impression
High school seniors aren't the only guests Iowa stands to impress with the look and feel of the rec center's Mondo flooring.
"Each year, thousands of people from the community use our facility — many of them youth athletes from around our region who are possible future Hawkeyes," Timmons said.
"We want them to be thinking, 'We want to come back to that facility!'" Timmons said.
In addition, he said Mondo contributes to the overall impression the facility makes when officials from the NCAA and other universities visit for swimming and diving meets that are held in the rec center's competition pool.
Flexible and Easy to Maintain
Mondo's durability has already had a benefit that facility managers might not have anticipated when the building opened: It gave them the flexibility to repurpose one of the building's key fitness spaces knowing that the flooring could stand up to the change.
"If we originally had chosen different flooring, we might not have had the flexibility to make that kind of change as fitness trends changed," Timmons said. "Mondo has given us flexibility to adapt how we use our space."
In the three-story fitness area, a third-floor catwalk was originally home to a mix of cardio machines. A few years after the building opened, staff decided to convert that space to focus on functional training and TRX equipment.
Timmons also said the rec center's Mondo flooring is easy to maintain, which is why it has maintained a like-new look and retained its original coloring, even years after its installation. In part, that's thanks to Mondo representatives sharing their guidance on the optimal frequency for cleaning the flooring and the proper products to use.
A Relationship for the Long Haul
As impressive as Mondo's durability and reliability has been, Timmons said the relationship with Mondo representatives has been one of the most important factors in Iowa's satisfaction with the decision to install Mondo.
"When we choose products or equipment for our facility, part of our decision is based on the relationships we have with our vendors — from the time we express interest, through installation and maintenance until it's time to replace the product," he said. "Mondo has been great to work with. They're always interested in our needs, they've always been responsive when questions arise, and they want to make sure we know the best ways to maintain our Mondo flooring."
"That really speaks to Mondo's commitment to their products. They're not just interested in getting the product installed, but they're focused on the ongoing maintenance and product upkeep, and in maintaining a good relationship with the customer."
Timmons said it's Mondo's ongoing support that sets the company apart.
Areas with Mondo Rubber Flooring
Fitness Space
The fitness space, one of the building's most heavily used sections, features Mondo Sport Impact flooring. It spans 20,000 square feet on three levels and boasts more than 200 pieces of cardiovascular equipment, most with built-in TV screens. Other offerings include cable and plate-loaded strength-training machines, free weights ranging from 5 to 120 lbs, balance balls, exercise bands, exercise mats, stretching areas and weighted medicine balls. Users also can work with personal trainers here.
Indoor Jogging Track

On the third-floor mezzanine, suspended above four basketball courts, is an indoor jogging track with Mondo's Sportflex M track surface in two shades of blue. The two color tones help to visually designate a single walking/jogging lane and a wider passing lane without the need for painted lane stripes or track striping on the flooring surface.
Mondo Products Installed at the University of Iowa Campus Recreation and Wellness Center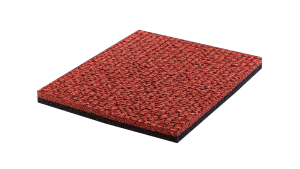 Plus, Mondo flooring is nonporous, antibacterial and microbial resistant throughout, providing the highest level of protection.
No matter what your students' fitness goals are, there's a Mondo product that will help crush them.