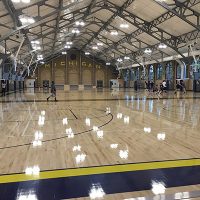 Questions to Ask Before Installing a New Hardwood Sports Floor
When buying new flooring for your sports facility – whether it is a public arena or a high school gymnasium – you most likely want it to be long-lasting, high-performing, and good-looking. There are many different materials and designs to choose from and each of them comes with its own specific characteristics, challenges, and benefits.
If you have decided on a hardwood floor, you can be certain that you're getting a durable, resilient, safe, and attractive play surface, ideally suited for basketball, volleyball, and various other athletic activities.
Yet, purchasing a new sports floor is a big investment and you have to make sure that your project will turn out the way you want it to. To be able to do so, you need to be well informed and well aware of what goes into choosing the right hardwood flooring for your purposes.
There are several important questions to ask yourself and the floor installer before making your final choice:
What Activities Will Take Place on the Floor?
The intended use of your sports facility is the most important thing to consider when selecting a hardwood gym floor as the new athletic flooring has to meet the standards for resilience, traction, slip resistance, shock absorption, uniformity, ball bounce, etc. required for the specific sports that will be regularly played on it.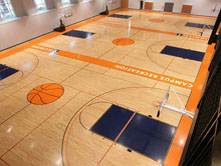 Hardwood is perfectly suited for basketball and volleyball, so it is the traditional surface of choice for a gymnasium floor. What's more, most maple hardwood floor systems are appropriate for multi-purpose use and you can also find specific floor designs intended for special uses – recreation centers, dance studios, racquetball courts, etc.
Apart from the sports activities that will take place on the floor, you also need to think about what equipment will be needed and where it will be installed. Larger bleachers typically used in competition gymnasiums and portable backstops that have to be rolled across the floor and locked into position, for example, require greater support, so you need to be sure that the floor will be able to withstand the extra weight.
---
Good to remember: You should consider not only what sports will be played on the new flooring, but also who will be using the facility – different user groups have different needs and priorities (based on age, proficiency level, etc.). The right type of flooring will help the athletes improve their performance, avoid injuries, and enjoy their game.
---
What Kind of Floor System Is Most Appropriate for Your Facility?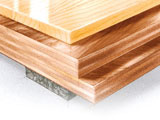 Next, you need to determine what type of floor system will work best in your facility – a traditional floating floor or an anchored-resilient system. Both options are very practical and widespread, with various innovative twists and useful functionalities.
Anchored resilient floors are mechanically fastened to the concrete slab underneath. Some configurations incorporate steel and synthetic materials such as pins, channels, or clips to provide better dimensional stability, while still allowing the floor to naturally expand and contract.
Floating floors have no fasteners and do not "connect" to the substrate – strips of maple are nailed to a layer of stapled plywood, placed over evenly spaced rubber pads that separate the flooring from the substrate. This type of subfloor configuration is your more economical choice.
---
Good to know: For venues like stadiums and convention centers, you can opt for a portable flooring system – a type of floating floor designed to be removed and replaced when necessary.
---
What Is the Environment Like in the Building?
Wood is vulnerable to moisture, so hardwood sports floors are greatly affected by humidity levels (Maple absorbs moisture from the atmosphere and expands when the humidity level is high. When the air is dry, wood releases moisture back into the atmosphere and contracts).
Depending on the geographic location and the air conditioning systems in the building, there could be substantial swings in the relative humidity inside a sports facility. Your new hardwood floor needs to be installed to account for the expansion and contraction of the wood caused by changes in the humidity level.
---
Good to remember: If you're replacing the gym floor because it suffered from water damage, make sure you find the source of the problem and fix it before the new hardwood flooring is installed.
---
What Sustainability Requirements Do You Have to Meet?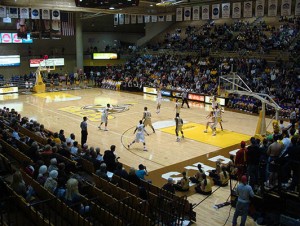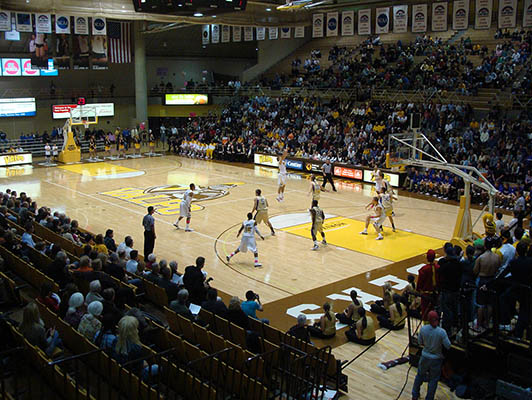 Hardwood flooring comes from a renewable, biodegradable resource, so it is a sustainable, eco-friendly material. Even the subfloor systems can be made – partially or entirely – of recycled materials to fit into the green trend.
Yet, you may have to fulfill certain LEED requirements when installing the sports floor. If so, make sure you inform the gym floor contractor well ahead of time, so that they use only sustainable products and appropriate installation techniques. And even if you don't need LEED certification, you may still want to make a good environmental choice.
Either way, at KieferUSA, we'll be glad to help you – we are FloorScore® certified (meaning our systems meet the necessary indoor air quality standards) and use the best sustainable practices in the sports flooring industry.
What Grade of Maple Do You Want?
The grade of wood won't affect the performance of the sports flooring, so it is mainly an aesthetic choice:
First-grade maple has a monochromatic appearance, as the boards are hand selected to minimize character variations. The clear surface and lighter colors provide better light reflection and make it easier for players to see game lines during a competition, so first-grade is considered to be the best option for professional sports facilities;
Second-grade maple exhibits slightly more variation in colors and patterns. It is the most popular choice for a sports floor, used in about 70% of all gymnasiums in the country;
Third-grade maple has a more rustic look with occasional knots and mineral staining. It is slightly cheaper than the other grades of hardwood flooring.
What Kind of Finish Will Work Best For the New Floor?
There are two types of finishes for hardwood sports floors you can choose from – oil based and water based. Depending on the location of your facility, however, there may not be a choice – VOC regulations in some areas essentially rule out the use of oil-based finishes (except for some oil-modified urethane (OMU) wood floor finishing systems that have a low VOC option and can be used even in parts of the country where there are regulations concerning the use of oil-based products).
Water based finishes emit almost no VOCs but can cause an issue known as panelization – maple strips bonding together so that the floor is unable to adjust when the wood is expanding or contracting because of the change in humidity levels. This may result in significant gaps through the floor and completely ruin it. The risk of panelization decreases with every water-based finish application, as the floor gets a chance to acclimate and stabilize.
In addition to the above considerations, it's your aesthetic preferences that will determine your choice of flooring finish – oil based finishes give the floor a slight amber appearance over time, while water based finishes have a clean, clear look.
What Game Lines, Logos, and Other Graphics Do You Want on the Floor?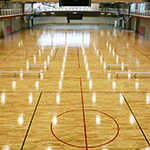 When you know what activities will take place on the floor, you will know what game markings will be needed as well. Make sure you have the game lines (as well as any team symbols, sponsor logos, and any other desired graphics) painted on the floor upon installation – this will allow a protective coat of finish to be applied over them to keep the colors from fading and getting dull too quickly.
---
Good to know: Taping a sports floor and/or using temporary decals poses a risk of injury to athletes (as it creates slippery areas) and can also damage the floor finish upon removal, so it is not recommended.
---
What Are the Maintenance Requirements of the Floor?
One of the most important things to know before installing wood floors is that proper maintenance is crucial for the durability and good looks of the floor. Daily dust mopping and regular cleaning with a solution recommended by the finish manufacturer are a must for keeping your new sports floor in good condition. What's more, the wood surface should be screened and recoated once a year in order to perform and look its best.
---
Good to know: It is recommended that a hardwood gym floor be sanded down, resealed, repainted, and refinished every 10 to 15 years.
---
Who Will Install the Floor?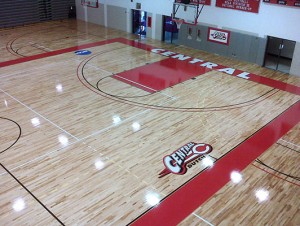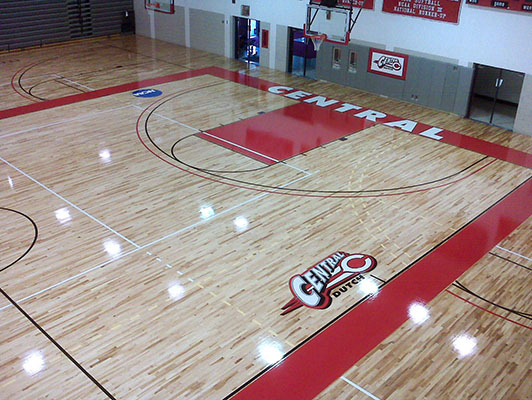 Proper installation is of paramount importance for the longevity and functionality of a sports floor, so it's crucial that you select a good flooring contractor for your project. You'll want someone with expert skills and rich experience, a qualified professional you can trust to do the job right.
If you happen to know a good flooring installer (or if a friend or a trusted colleague can recommend one), you can put your mind at ease. If not, you need to research sports flooring providers in your area and find a reliable contractor to work with.
Here are the most important questions to ask hardwood floor installers in order to choose the best people for your project:
Are they properly licensed and fully insured?
What technical training and accreditation do they have? Are they a member of the National Wood Flooring Association?
Can they provide references and show recommendations?
What kind of warranty do they offer?
Is the flooring material properly acclimated to your region?
How long will the job take?
How are they going to protect your property during the installation process?
What maintenance schedules, cleaning products, and care instructions would they recommend?
What may incur extra charges (that are not included in the cost estimate you were provided with)?
The hardwood flooring specialists at KieferUSA have the profound knowledge and extensive practice to guide you through the entire process – from design to installation – and guarantee the best possible outcome of your project. We offer the best performing hardwood flooring solutions available on the market and have the necessary certification, specialized equipment, and technical know-how to do the job in a quick and efficient manner. Your hardwood gym surface will look and perform just the way you wanted it to. All you need to do is contact us!