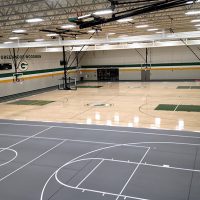 Healthier Schools – Air Quality and Sports Flooring
Children spend the majority of their time within the walls of schools – from kindergarten through grade school, junior high school, and high school, to college. It is, therefore, of primary importance that schools are functional, engaging, and safe places, where children can grow, study, and play in a healthy and motivating environment.
To achieve this, school leaders and architects working on K-12 school construction projects strive for healthy buildings that will help protect students, boost their interest in different kinds of scientific, artistic, and physical activities, and ensure their well-being. Among other things, healthier schools feature better lighting, construction with non-toxic building materials, design that encourages physical activity, and higher indoor air quality.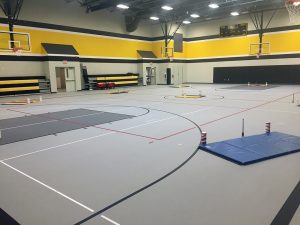 Indoor air quality (IAQ) in schools, in particular, is extremely important for the health and wellness of children – contaminated school air can lead to headaches, difficulty concentrating, respiratory problems, and allergies. Healthy building practices make the indoor school environment safer by reducing air pollutants such as volatile organic compounds (VOCs) that may worsen symptoms of allergies and asthma in children. And one of the best ways to reduce the emission of VOCs in school air is to choose safe flooring that has a water-based, non-toxic top coat with low volatile organic compounds.
The Importance of Indoor Air Quality in Schools
The energy-efficient construction and design of modern buildings and window systems means that rooms are practically "sealed" – almost airtight. Therefore, air exchange due to circulation that would otherwise take place is lacking and if the premises has been outfitted using building materials that emit pollutants, the released toxins will accumulate in increased concentrations and pose serious health hazards to the occupants of the building.
So, if a school is constructed with unsafe building materials, the air in the building is likely to contain a lot of volatile organic compounds and have a very bad impact on the students' health:
Short-term exposure to high levels of VOCs can lead to irritation of the eyes and nose, headaches, dizziness, and fatigue;
Long-term exposure to high levels of VOCs has been linked to serious respiratory diseases and even cancer.
Studies also indicate that VOCs can trigger an asthma attack in someone who suffers from asthma and lead to the development of asthma in someone who doesn't have it (asthma alone is responsible for 10.5 million school absences per year).
Poor indoor air quality most often results in the so called sick building syndrome – a condition affecting people who spend a lot of time indoors (such as office workers and students), typically characterized by headaches and respiratory problems caused by unhealthy factors in the indoor environment. Since children are more vulnerable to air pollutants than adults (because, per pound of body weight, they inhale more air and, therefore – more pollutants) and absorb contaminants more readily, it is extremely important that air quality in schools should be as good as possible.
School flooring – one of the most abundant finishes in the indoor educational environment – offers a great opportunity to positively impact IAQ in schools and protect the health of the students.
Health Considerations in Choosing School Flooring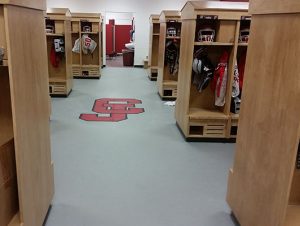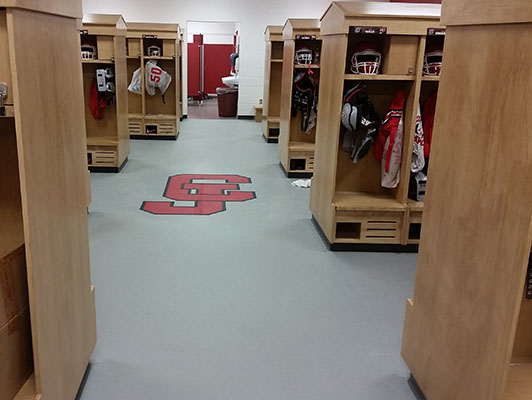 Flooring can affect IAQ through the type and amount of pollutants emitted from the flooring products, the adhesives used to install them, and the chemicals used for their maintenance:
Allergens that can cause different allergic symptoms;
Irritants that can trigger asthma and result in other respiratory problems;
Toxic chemicals that can lead to serious health problems.
Harmful VOCs may be emitted during the floor installation process, as well as during the regular maintenance procedures (though in different amounts).
Air quality can be affected not only by the flooring material itself, but also by the adhesives used to attach the floor, the surface coatings, and some maintenance compounds such as waxes and strippers. So, when choosing floor materials and associated products, schools should look for low-VOC products and flooring surfaces that are less likely to harbor mold and other allergens.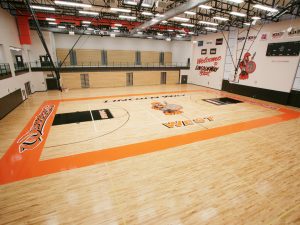 When it comes to gym flooring, the play surface has to be durable, resilient, high-performing, and SAFE. So, whether it is a hardwood sports floor (traditional for college gymnasiums) or a synthetic floor (more suitable for elementary and middle schools that use their gyms for multiple purposes), the athletic flooring should:
provide good stability, shock absorption, slip resistance, and ball rebound;
meet the necessary standards for resilience, traction, rotation, and surface abrasion;
require the use of non-toxic, low-VOC, water-based adhesives and coating compounds;
emit little or no odor;
be easy to clean and maintain;
not be susceptible to moisture damage that can result in mold growth.
Benefits of High Quality Sports Flooring in Schools 
A healthier school building that features a high quality, low-VOC sports flooring could help promote students' health in more than one way:
An up-to-date athletic facility will boost interest and participation in school sports and physical activities in general (which can help children maintain a healthy weight and encourage them to make healthy decisions such as not smoking and not drinking);
A quality gym floor will ensure high performance, enhancing the physical education experience and boosting students' self-confidence, encouraging them to work hard towards achieving their goals;
A safe, resilient sports floor will help prevent injuries during athletic competitions and training;
A low-VOC flooring will help improve the air quality in schools and prevent all related health issues;
A green sports flooring made of sustainable, renewable, and/or recycled materials will help protect the environment.
To sum it up – high-quality sports flooring is one of the most important elements in a healthier school construction project. And a healthier indoor school environment results in considerable reduction in absenteeism and remarkable increase in academic performance as well.
Healthy School Gym Flooring by a Trustworthy Sports Flooring Partner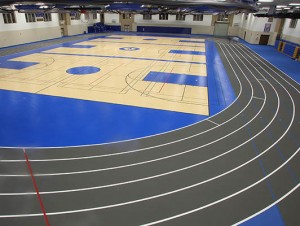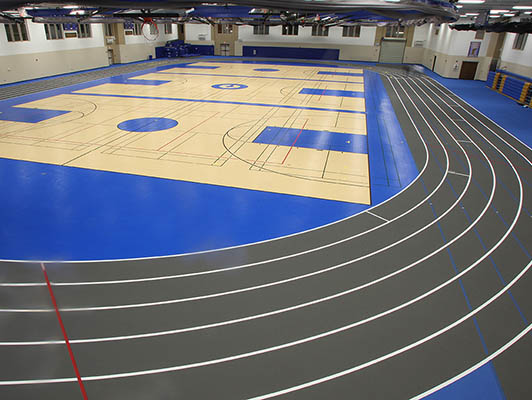 To make sure that they're working with trustworthy green flooring manufacturers and installing healthy flooring in their educational facility, school leaders need to look for third-party certification:
FloorScore® certification is proof of compliance with the California Section 01350 standard for VOC emissions (the most stringent air quality regulation in the US). The FloorScore® certification is issued by SCS Global Services after extensive testing of the flooring products and continual audits of manufacturing;
GREENGUARD GOLD certification provides assurance that a product designed for use in indoor spaces meets the required chemical emissions limits. It is issued by the GREENGUARD Environmental Institute after rigorous testing (chemical emissions are measured during product testing to simulate actual use) and ongoing verification.
Kiefer is proud to announce that most of our commercial and sports flooring products are FloorScore® certified and/or have the Greenguard Indoor Air Quality Certification. All our synthetic floors have low VOC content and conform to the requirements of the strictest indoor air quality standards in the country.
Kiefer USA's Mondo Rubber, in particular, makes an excellent choice for a school sports flooring. It offers a long-lasting, high-performing, good-looking, and cost-effective gym flooring solution, that also helps protect students' health and contributes to improved indoor air quality in the school:
Mondo Rubber is a safe flooring product, compliant with the California Indoor Air Quality Requirements and free of halogen, CFCs, chlorine, plasticizers, heavy metals, and asbestos;
It does not require the addition of toxic synthetic components or the use of permanent waxes, stripping chemicals, and harsh cleaners;
It is a green flooring material that helps preserve natural resources and reduce waste.
At Kiefer USA, we provide quality school flooring systems that not only deliver proper function and performance, but also protect the health and safety of students. You can trust us with your new sports flooring project and rest assured that you'll get the perfect athletic surface for your needs. Contact us at 800-322-5448 for more information!