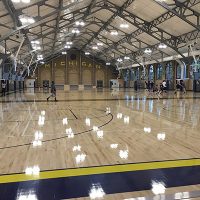 Tips on Buying Gym Flooring
The right type of flooring is key for a safe and efficient sports facility. So, when setting up a new athletic center or refurbishing an existing one, it's crucial that you choose the most suitable floor for your sports needs and purposes.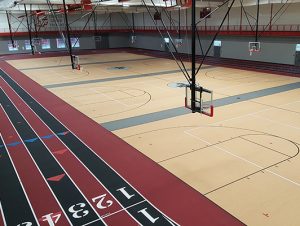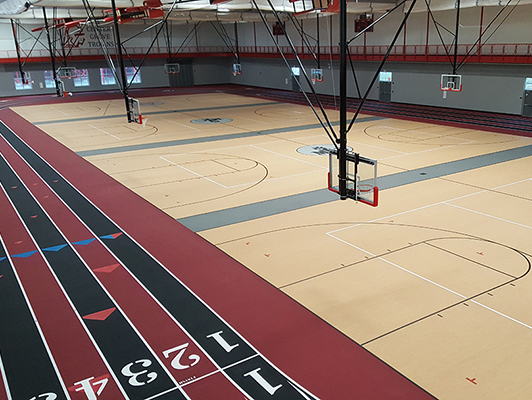 Gym flooring can be designed for a specific sport to maximize performance or for general use to accommodate different activities and events. The sub floor and top surface materials can vary to meet the needs of the users and the expectations of the proprietor. Every different flooring material comes with its own specifics in terms of safety, performance, resilience, aesthetics, maintenance, and durability, so you need to carefully assess your goals and thoroughly research the available options in order to choose the perfect floor for your facility.
Here are some insider tips on choosing and buying sports flooring to help you make an informed decision about your gym floor, save money in the long run, and ensure the high performance and great look and feel of your new sports space.
Things to Consider When Buying Gym Flooring
There are several important factors to take into consideration when looking for new gym flooring:
Intended use:
The first thing to think about when planning your sports center is how it will be used:
What activities will take place in your sports facility? Will it be a multipurpose space hosting a variety of events or a specialized arena primarily used for a certain sport?
Does the flooring need to meet any specific requirements or standards – resilience, stability, traction, slip resistance, shock absorption, etc.?
How heavy duty does the floor need to be?
How much traffic will the gym floor see?
What zones (basketball/volleyball fields, running tracks, functional training and free-weight spaces, cardiovascular fitness sections, viewing areas, etc.) do you want to include in your gym and how much space do you wish to allocate to each zone? Every different area within the sports center has its different flooring needs.
What types of equipment are you going to put into each zone?
How is the use of the space likely to evolve over time?
Installation considerations:
What is the size and shape of your flooring area?
Is there enough floor space available to carve out niche areas in the sports facility?
What surface is the new floor going over? What is the current flooring (if refurbishing an existing sports center)?
What are the sub-floor installation requirements of the new floor? What type of underlay will be required?
Will the new floor meet an existing floor? How will the two areas merge?
What kind of installation do you prefer?
Aesthetic preferences:
How will the new flooring complement the look and the feel of the sports facility?
Will the floor have painted markings on it or be plain in design?
Do you want to have your company or team logo printed on the flooring?
What color do you want the floor to be? Warm colors give off a more cheerful feel, neutral colors make it easier to redecorate and change the look of the gym, lighter colors reflect light and create an optical illusion of a larger space, darker colors absorb light, etc.;
What kind of finish do you prefer – matte or polished?
Upkeep and maintenance requirements:
How can you protect the floor from stains and scratches?
Is the floor easy to clean and keep in good condition? Does it require any specific cleaning equipment or specialized cleaning products?
Can the floor be easily repaired if damage occurs?
Life cycle:
How long do you want the flooring to last? A more durable, higher quality flooring will cost you more, but may save you money in the long run as you won't have to replace it after a couple of years;
What warranty does the floor have?
Project budget: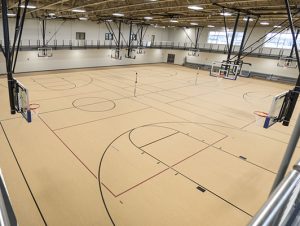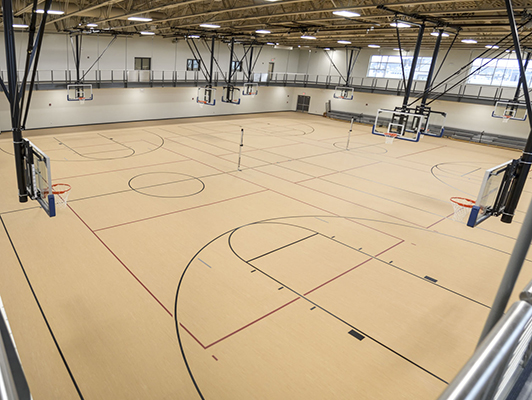 Last but not least, consider the available budget and how much money you're willing to spend on a new gym flooring.
With so many gymnasium flooring options available on the market, you will certainly be able to find a cheap solution, but it is of primary importance to weigh up quality and cost against each other – you're strongly advised go for the best you can afford. Quality flooring may be more expensive but could last twice as long, making the investment well worth it.
When considering gym flooring prices, think not only about the initial cost of the flooring, but also about long-term maintenance expenses and refitting costs. Do not forget that choosing the right type of floor will help you protect your gym equipment as well, saving you even more money in the long run.
When you take into account all of the above, you'll be able to identify the best flooring solution for your sports facility. Yet, you cannot make the right decision without knowing your flooring options.
Gym Flooring Options
The most important thing to do when thinking about buying sports flooring is to decide on the best gym flooring material for your needs and purposes. There are two main options to choose from – wooden or synthetic floors.
Hardwood floors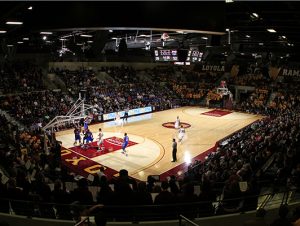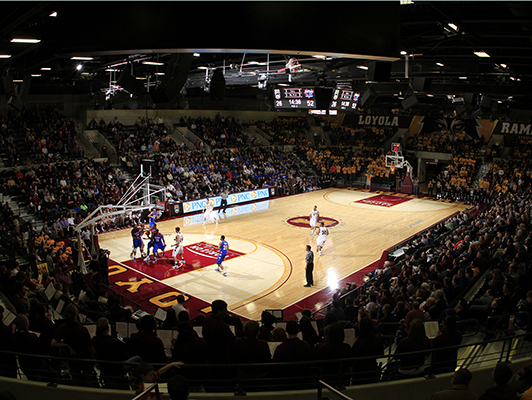 Hardwood is the traditional surface of choice for a gymnasium floor. Usually made of high quality maple, wood gym flooring is a durable, high-performing, and safe flooring solution, ideally suited for basketball and volleyball (particularly at the competitive levels of high school and college basketball).
Wood floors are reliable, cost-effective, and attractive:
Maple hardwood sports floors have an average life expectancy of 38 years;
Wood flooring provides excellent shock absorption and helps reduce injuries;
Wood surfaces ensure great ball bounce and response;
Cleaning is as simple as mopping;
A classic hardwood floor is very beautiful and has a warm, natural look and feel;
Wood floors can be resurfaced, which provides an opportunity to change the floor paint and have a new-looking surface every 8-12 years (when the floor is due for refinishing);
Hardwood flooring comes from a renewable, biodegradable resource, so it fits nicely into the ever-growing green trend in the country.
Despite all its benefits, however, wood gym flooring has several important drawbacks as well:
Wood is vulnerable to moisture and humidity and, therefore, highly susceptible to water damage;
Wood surfaces are very sensitive and can be easily scratched or dented by the wrong type of foot traffic;
Hardwood floors start showing wear and tear over time, so they need to be sanded down to the bare wood and resealed, repainted, and refinished every 8-12 years;
The floor substructure has to be perfectly even and very stable to ensure proper installation;
Sound bounces off the wood surface, amplifying the noise in the sports facility;
Quality hardwood flooring is very expensive.
Synthetic floors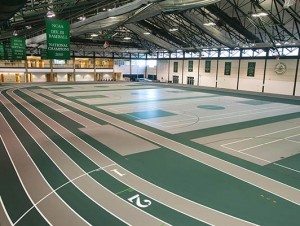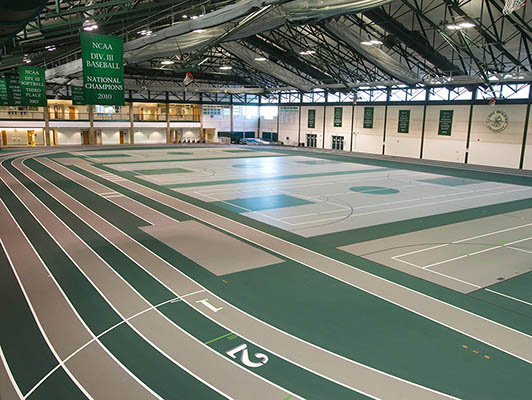 As the need for multi-use surfaces increases, synthetic flooring is becoming a more and more popular choice for sports centers across the country.
Synthetic floors provide a cost-effective alternative to wood flooring products – they are very durable, highly resilient, easy to maintain, and offer a great deal of versatility. But most importantly – synthetic flooring is quite affordable and has similar performance characteristics to wood.
Synthetic floors have the benefit of being well suited for various sports activities, like tennis, badminton, jogging, etc., while also being able to withstand the abuse of all kinds of community events. They can be designed to provide a fast, safe, resilient, high performance playing surface for typical gym sports like basketball and volleyball, with the added bonus of good track and field play.
Synthetic flooring is highly valued for its excellent shock absorption, slip resistance, resistance to heavy impact loads, energy return, water resistance, sound absorbance, and ability to last a long time – especially in areas like weight rooms and running tracks that see a lot of wear and tear. It comes in three basic forms – urethane, rubber, and vinyl:
Urethane floor systems exhibit tremendous elasticity, tensile strength, and tear strength. The seamless surface is very durable, easy to clean (damp mopping with a citrus-based cleaner is enough to keep it in excellent condition), aesthetically pleasing, and highly customizable (with game markings and intricate graphic designs);
Rubber gym flooring is highly versatile and suitable for weight rooms, fitness centers, jogging tracks, aerobics studios, and multipurpose sports facilities. It is very easy to install and maintain, can last for decades of daily use, provides excellent protection to athletes, and looks and performs great. Rubber flooring products are available in rolls and tiles and come in a stunning array of colors and styles, including a number of realistic wood-grain surface patterns that make the floor similar in appearance to maple or oak;
Vinyl gym flooring is ideal for applications that require great flexibility and ease of maintenance. It is also your most economical gym flooring option.
Mixed floors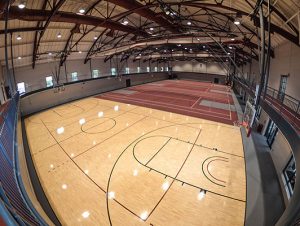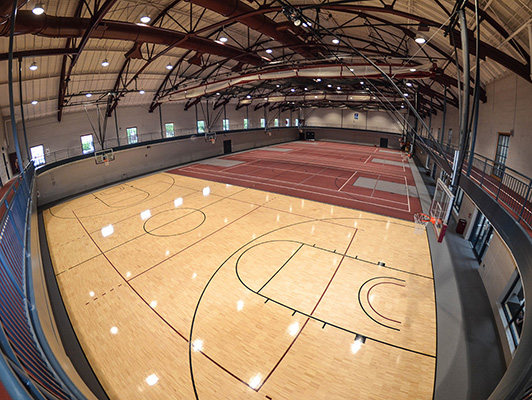 It is possible to mix and match when choosing gym flooring – have a maple competition floor for basketball and volleyball, while the rest of the gym and the tracks are made of rubber or vinyl, for example. This sensible approach allows you to meet your clients' needs and also save some money by investing in higher quality flooring for the most hard-wearing or open areas of the gym, and buying less expensive gym flooring for areas that see less traffic or don't require a high-performance play surface.
How to Buy Gym Flooring
Once you have assessed your needs and reviewed your options, you'll be able to make an informed decision and pick the best gym flooring for your facility. Just make sure you:
Carefully read the specifications of different types of flooring products that seem to meet your requirements to know what you're purchasing in terms of installation requirements, durability and comfort, maintenance and cost;
Check out customer reviews and view photos of completed projects to see what the specific type of flooring looks like after installation;
Ask for flooring samples prior to making an ordering commitment to see how different types of products actually look in your facility;
Find the answers to any questions and concerns you might have about installing and maintaining a certain type of gym flooring (including cleaning requirements, upkeep costs, and restoration possibilities);
Pick a durable, safe, high-performing, easy to maintain, and aesthetically pleasing gym flooring that will perfectly suit your and your clients' needs and expectations;
Hire well-trained, experienced, and trustworthy installers to ensure the job is done right.
KieferUSA has long had a reputation for providing top quality gym floors. We have the professional knowledge to help you pick the best sports flooring for your facility, and the expertise to install your athletic floor. Contact us at 800-322-5448 to consult with our experts, or find your local representative to schedule a visit to your facility so they can assess your situation and provide tailored professional advice about the best types of flooring for your needs.