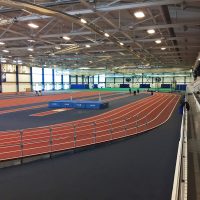 Start the School Year on Solid Ground With Your Sports Flooring
The start of the school year is the beginning of the wear and tear on the rubber sports flooring and hardwood sports flooring in your facilities. These floors experience traffic year-round, but the school year brings more students, more practices, and more time spent in the training rooms. Feet, sweat, scuffs, spills, and other daily activities will age your expensive gym flooring faster, unless you make maintenance part of your regular routine. Make sure you follow these tips based on the type of sports flooring in your facility to protect your company's investment, keep people safe, and keep the flooring looking newer longer.
Hardwood Sports Flooring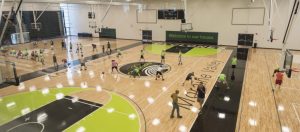 For hardwood sports flooring, dry or wet mop floors daily to remove dust and keep floors clean. Keep an eye out for any sticky spots, gum, or warped areas that need further attention.
Once a year, screen, clean, and recoat the floors. Check the facility's schedule for the best time to do this; for many, summer is an optimal time. If you outsource this work, schedule the appointment early to ensure a spot in the schedule.
PVC Sports Flooring
PVC floors should be mopped daily, using either a wet or dry method, to keep dust and dirt under control. Scrub the surfaces with a chemical cleaner every other week to ensure a thorough cleaning, and scrub them with a chemical cleaner and recoat them on a quarterly basis. One way to remember to do this quarterly is to schedule it around the changing of the seasons. PVC floors should be stripped and recoated once a year.
Poured Urethane Sports Flooring
These floors should be wet or dry mopped daily so they don't get too dirty. Use your judgement as to which method to use on any given day. Scrub floor surfaces with a chemical cleaner once a week, and scrub with a chemical cleanser and recoat quarterly. Once a year, strip the floors entirely and recoat the surface, according to manufacturer's directions.
Rubber Gym Flooring
Rubber flooring should be vacuumed daily to remove dust and dirt particles. Use a slightly damp mop with a mild cleanser if vacuuming is not practical.
Auto-scrub the floors bimonthly to deep clean and remove any ground in dirt.
Laminate Sports Flooring
Laminate floors should be dust mopped daily, or vacuumed using a soft brush or the wood floor attachment. Use a lightly damp mop for any spot cleaning, but be sure not to get the area too wet. Mop the area with a cleaning product made for laminate floors on a bimonthly basis to guarantee thorough cleaning but again, don't use too much water.
Sports Flooring Replacement
When you need high quality sports flooring for a wide variety of sports and surfaces, contact the experts at Kiefer USA. With over 40 years of experience, we have a wealth of knowledge when it comes to choosing and installing sports flooring that suits the needs of your program and your facility. We've designed and built more than 75,000 hardwood sports floors in the U.S. and abroad, and we can help design and build the perfect one for your needs, whether it's a permanent or multipurpose area. Our synthetic surfaces have been used in fieldhouses, weight rooms, dance floors, locker rooms, as ice arena flooring, and as track and field surfacing. They resist bacteria and sweat and offer increased shock absorption and protection against fatigue. The artificial turf system we use is the closest thing to real grass, and is made from recycled materials. Our commercial flooring products are used in industries ranging from healthcare to retail to transportation, and can handle high traffic areas that bring lots of dirt. Our products are no-wax, long lasting, and come in a variety of colors and styles that fit any facility's décor.