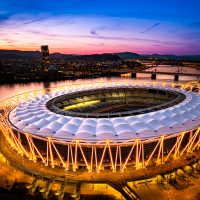 Mondo is the Official Track Supplier of the 2023 World Athletics Championships!
A BRAND-NEW ATHLETICS TRACK FOR BUDAPEST 23
From August 19-27, 2023, Budapest will host the world's third largest sporting event.
MONDO will serve the athletics community and fans again with a brand-new athletics track.
The track product installed at the National Athletics Center is MONDOTRACK WS™, the most technologically advanced athletics track in the world; it has been specifically designed for top level competition facilities.
MONDOTRACK WS™ is pre-manufactured in a controlled factory environment that is unaffected by ambient conditions and human error. Its top layer includes virgin materials only, which guarantees the highest level of consistency and control over the biomechanics of the surface; it is made of solid vulcanized rubber and is free of coatings and partially embedded microplastic granules that get loose over time, eventually contaminating water bodies and compromising grip and athletic performance.
Produced with up to 10% of natural rubber, and up to 38% of contaminant-free recycled materials, MONDOTRACK WS™ meets the strictest certification criteria for the emission of Volatile Organic Compounds, perfectly in line with the World Athletics' Air Quality project.
MONDO will supply the National Athletics Center with 14.000 sqm of MONDOTRACK WS™, which averages over 700 rolls of material; installation will require over 2,400 man-hours.
The acquisition of this prestigious contract marks the 13th time that a Local Organizing Committee selects Mondo for the World Athletics Championships since the first edition in 1983.