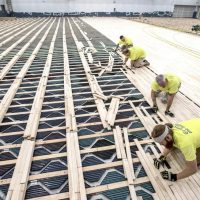 Summer renovations at the UI Recreation Center: New wood flooring installed by Kiefer USA
University of Illinois Looks Forward to the New School Year with Renovated Recreation Centers
Kiefer USA was more than happy to assist the University of Illinois in Urbana-Champaign with installing new sports flooring in their Recreation Centers during the summer.
Daily wear and tear, water damage and basketball courts with no bounce are just a few of the issues that led to this summer's renovations at the Activities and Recreation Center (ARC).
Made with fresh maple wood and recycled materials for the support beams, a new hardwood floor was installed by Kiefer USA. This installation was strategically planned while the university's Associate Director of Operations Terry Elmore and Kiefer USA coordinated the project's completion before the students had returned for the fall semester.
The replacement flooring offers durability, flexibility, and 100% satisfaction. Finally, the 4,000 students that the ARC sees on a daily basis can now look forward to a brand-new look and feel of the center, swiping their ID cards to play sports, work out, and stay healthy.
More information: www.news-gazette.com