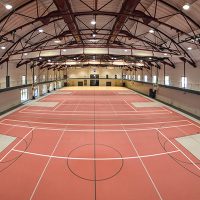 The Fieldhouse – How Its Role Is Changing
Originally designed as an indoor sports arena, primarily used for college sports events and practices, the field house of today has become a multi-purpose recreational facility and lively community center. Apart from providing an appropriate indoor space for various sports activities, a modern fieldhouse usually incorporates fitness lofts, cycling studios, group exercise rooms, locker rooms, saunas, and many other state-of-the-art recreational amenities as well. It has become an ideal venue for parties, coaching classes, yoga classes, dancing classes, dance competitions, track meets, and many other communal activities.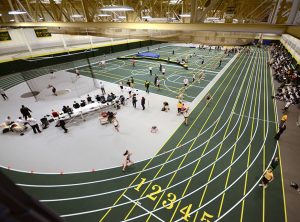 A well-equipped, multi-purpose field house serves athletes, sports enthusiasts, and citizens of all ages. It answers the needs of the community, improves the quality of life in the area, has a positive impact on the development of sports in the region, and opens up great opportunities for everyone who wants to enjoy intramural sports.
To serve all these purposes, however, a field house has to be well planned and properly equipped. The entire space – flooring, seating, equipment, etc. – needs to be designed to efficiently manage heavy traffic and different kinds of athletic and social events that the field house will hold. This is especially important in regard to the flooring, as the indoor sports arena will need a surface that will not only perform great, but will also ensure the safety of the athletes and the longevity of the investment.
So, if you're planning to design or renovate a field house, you need to be well informed and well prepared in order to make the right decisions and establish a safe, convenient, and high-performing facility that the community will flock to. Here is what you need to know:
---
What is a field house?  
A field house is a building that houses an indoor track and sports courts for a wide variety of sports, such as basketball, volleyball, soccer, badminton and tennis. Most contemporary facilities include a few recreational features as well. A typical modern-day fieldhouse consists of:
a 6-or 8-lane indoor track;
an artificial turf infield for sports such as soccer, football, baseball, field hockey, etc.;
a modular hard court flooring to cover the turf and create a playing surface for sports like basketball, tennis and badminton;
spectator seating and concession stands;
washrooms, lockers, and change rooms;
offices, classrooms, studios, and meeting spaces.
---
How to choose fieldhouse flooring?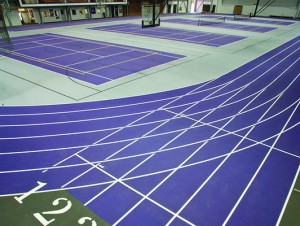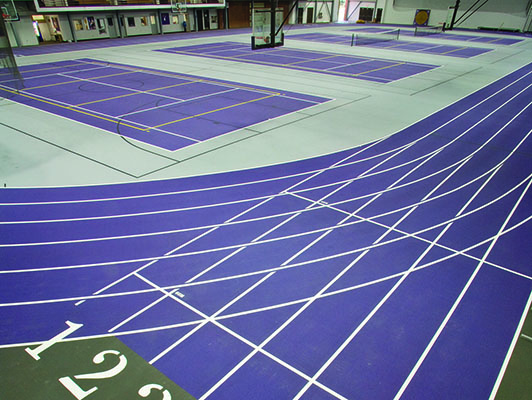 As already mentioned, the flooring is one of the most important features of a field house as it provides the right surface for sports games and social events alike. Choosing the right flooring for your facility, however, is not an easy task as different types of floors are suitable for different purposes.
How can you find the best floor for a multi-purpose field house, then? What you need to do is research your options and take several important factors into consideration before making your choice:
What will be the primary purpose of the field house – a recreation facility or a sports arena? The floor has to be appropriate for the main purpose of the facility, above all.
What activities will be held in the facility most often – games, dances, group exercises, or social gatherings? The floor you choose needs to have the right resiliency, surface friction, and hardness for the activities that will take place on it.
Will there be bleachers or heavy equipment on the floor? The field house floor will have to be strong enough to support the seating and equipment that will sit on it.
What kind of maintenance can you provide? The floor will require proper care in order to look and perform at its best. If you cannot ensure regular maintenance, it will be better to opt for a durable, easy-to-clean surface.
How long do you want the floor to last? A sports floor is a big investment, so you may want to spend a bit more for a higher quality, more durable flooring option.
Knowing the answers to the above questions is critical for making the right choice of fieldhouse flooring. It is also very important to discuss your options with people who are well familiar with the standards for surface friction, traction, slip resistance, comfort, etc. (the track coach, the campus recreation director, etc.).
All things considered, you need to look for flooring types that are renowned for their safety and longevity. When designing (or renovating) a multi-purpose field house, it is imperative that you choose a flooring texture that can accommodate multiple sport disciplines within a single facility. In most cases, a synthetic surface will be your best bet – it is easy to maintain, extremely durable, aesthetically pleasing, high-performing and, most importantly, safe.
High-end synthetic fieldhouse floors feature durable and resilient top layers with shock absorbing underlayment that enhances performance and reduces the risk of injury. They offer:
Outstanding strength and wear resistance that result in a long service life;
Seamless, non-porous, and smooth surfaces that are easy to clean, repair, or resurface, if necessary;
Polyurethane or foam padding that provides an extra layer of protection between the athletes and the concrete;
Mercury- and lead-free playing surfaces and water based finishes that contain no VOC's;
Easy customization – synthetic floors are available in a wide range of colors and measurements to satisfy any needs and demands. What's more, all kinds of custom logos and inlaid lines can be painted on the surface upon request.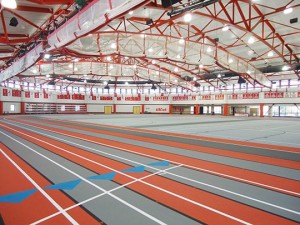 The artificial surface has exceptional footing and true ball bounce. It is comfortable enough for recreational usage and so durable that it can be easily converted from a sports floor to a communal floor.
Finding the right type of fieldhouse flooring for your needs will take some time and research, but your efforts will pay off in the end. If you're too overwhelmed with the numerous options, though, or if you're not sure that you can design your facility in the best possible way, do not hesitate to contact the professionals at KieferUSA – we'll be happy to share our rich experience and profound knowledge of sports flooring products with you and help you make an informed decision about your fieldhouse floor.