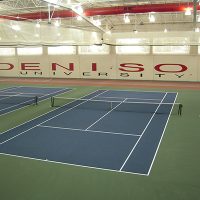 Sports Flooring Solutions for Game Courts
Sports have been a part of the human experience going back thousands of years and there are currently more than 800 sports that are actively played around the world.  It is important for athletes of all sports at the professional and amateur levels to train and practice to keep their bodies and skills in the best possible shape.  Another thing that athletes need to perform their best is quality sports flooring that provides the traction and support needed to optimize performance and reduce the risk of injuries.
At Kiefer USA, we proudly provide high quality sports flooring suitable for a wide range of sports and physical activities.  The sports flooring we offer includes wood and synthetic flooring from top brands of the industry including Mondo, Connor, Snap Sports, and flooring manufactured by Kiefer USA.  In this guide, we will discuss our sports flooring options for some of the most popular court sports played for recreation and at the high school and college levels.
Tennis/ Pickleball/ Padel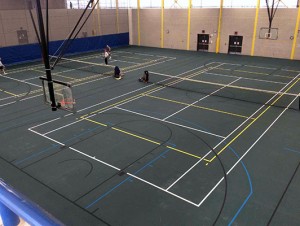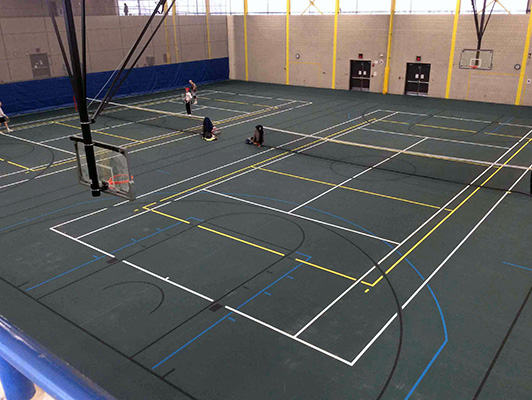 Tennis, pickleball, and padel are very popular racket sports as tennis and padel are played all over the world and pickleball has risen in popularity in the U.S. as a recreational activity.  Each of these sports requires a playing field or surface that provides a great response to the player-surface interaction and the ball-surface interaction.
There is no one preferred surface type for tennis, pickleball, and padel as each type of flooring offers slightly different performance.  It has become common for facilities to have several tennis and pickleball courts using different types of surfaces to suit various preferences.  Kiefer USA offers several flooring options for indoor and outdoor tennis, pickleball, and padel courts, including Mondo Sportflex M.  This all purpose indoor and outdoor sports flooring features a top layer that improves ball bounce for sports like tennis and pickleball and offers excellent shock absorption and energy return to support the athletes.  Mondo Sportflex M comes in multiple colors to match the colors of a school or facility.
Volleyball Wood Flooring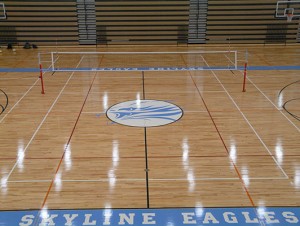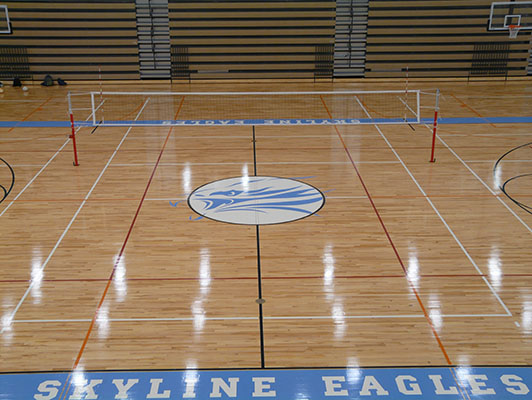 Volleyball has long been a popular sport played at all school levels from grade school up through college.  This sport is traditionally played on wood flooring which is durable and resilient while providing excellent support and ball bounce.  Wood sports flooring also has a classic aesthetic and can incorporate the colors and logos of schools and facilities.
Kiefer USA provides and installs premium hardwood flooring volleyball systems from Connor Sports, the official floor of the NCAA Men's and Women's Final Four.  Connor maple sports flooring is available in first, second, and third grade maple that each provide excellent durability.  We provide and install traditional maple sports flooring from Connor as well as fixed subfloor and floating subfloor systems.  Our experts will help you choose and design a wood sports flooring system that suits your performance needs and budget, and we can incorporate colors, logos, and fonts of the school or facility into the design.
Volleyball Synthetic Flooring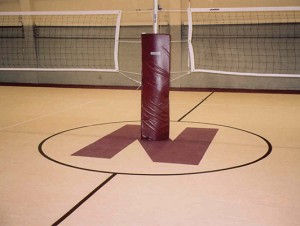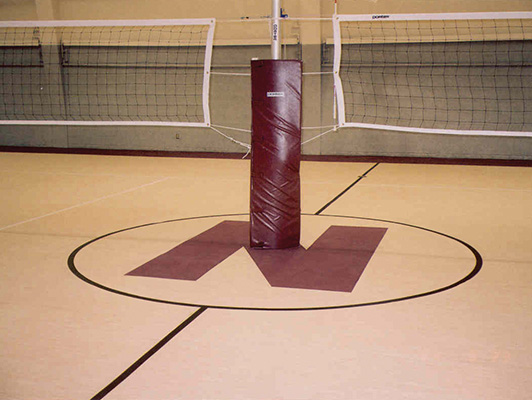 While wood sports flooring is a common choice for volleyball courts, many facilities use synthetic rubber sports flooring for volleyball.  Rubber sports flooring is manufactured with vulcanized rubber with shock absorbing and energy return properties that provide stability and support for athletes.
Kiefer USA provides and installs premium volleyball synthetic flooring from Mondo and Duraflex.  Both manufacturers offer multi-layered rubber sports flooring that is durable, resilient, and low maintenance.  The shock absorption and energy return reduce injuries while allowing for improved athletic performance.  Our experts can help you choose the right synthetic flooring system that suits your performance needs and budget, and you can choose from a wide range of colors that match the color and branding of your school or facility.
Basketball Synthetic Flooring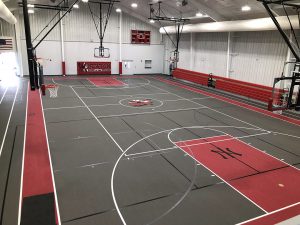 Synthetic rubber sports flooring is also commonly used for basketball courts at schools and recreational facilities.  These flooring types are among the most durable and high-performing gymnasium floors available and provide excellent shock absorption and energy return for athlete support and stability and better ball bounce.
At Keifer USA, we provide Mondo rubber sports flooring for synthetic basketball courts including Mondo Advance.  This flooring is available in a two-layer and three-layer option and has excellent shock absorption which is ideal for sports like basketball.  Mondo Advance flooring is made from vulcanized rubber and can last for more than 20 years without compressing or breaking down over time.  It also comes in a wide range of color options to match the colors of a school or facility or mimic the appearance of wood flooring.
Basketball Hardwood Flooring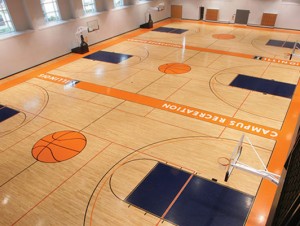 While synthetic rubber flooring is an excellent choice for basketball courts, the sport of basketball is traditionally associated with hardwood.  Basketball has been played on hardwood flooring since its invention in the 1890s and it is still the most popular flooring option for basketball due to its aesthetic and high shock resistance.  Hardwood basketball flooring is used at the highest levels of the sport all over the world including the NBA, WNBA, FIBA, and NCAA.
Kiefer USA proudly provides and installs Connor hardwood flooring which is the official flooring for the NCAA Men's and Women's Final Four.  We offer Connor maple flooring surfaces made from first grade, second grade, and third grade maple that has excellent structural integrity and durability.  We can also install fixed and floating subfloor systems from Connor as well as portable hardwood flooring systems that are used by teams in the NBA, WNBA, and NCAA.
Our professionals at Kiefer USA will help you with every step of the hardwood flooring installation process from the design to the final product.  We can help you choose the right flooring type to meet your performance needs and budget and incorporate the colors, font, and logos of your facility or school into the design.  We have installed basketball hardwood flooring for the University of Notre Dame, Northwestern University, and University of Kentucky among others.
Quality Sports Flooring from Kiefer USA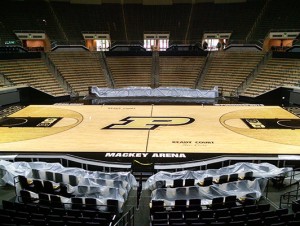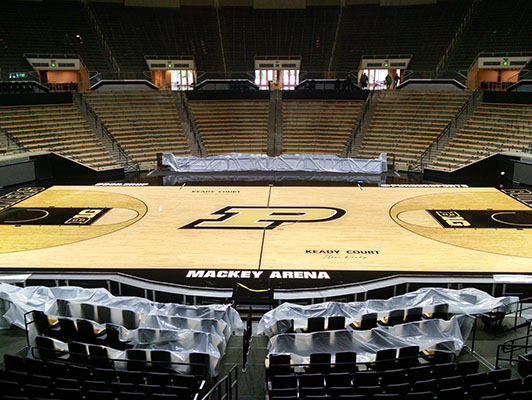 Kiefer USA has long been dedicated to serving athletes across sports by providing durable, high performing wood sports flooring, synthetic rubber flooring, and turf surfaces.  We are proud to provide and install sports flooring from the industry's top manufacturers for recreational facilities as well as schools and universities.
When you call us, we will discuss the best flooring options that suit your performance and budget needs for your intended purpose.  You can call Kiefer USA at (800) 322-5448 for more information about our wide selection of sports flooring options.