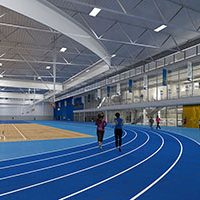 St. Ambrose University Chooses Mondo Over Urethane For New Rec Center
The new Wellness and Recreation Center at St. Ambrose University will have 80,000-square-feet of space. It will be located adjacent to, and just west of, the current Physical Education Center on the north side of the St. Ambrose campus near its Lombard Street border.
Work is scheduled to be completed in time for use by the class entering in fall 2017. The new facilities will provide exercise and activity space for the general student population, lab space for some of the University's health and wellness-related academic programs including Kinesiology, and much-needed practice space for student-athletes who participate in the University's 23 varsity sports.
The building, designed by RDG Planning and Design of Des Moines, Iowa, will have a distinctive half-barrel roof construction that is reminiscent of a 1950s-era field house; and, a largely brick exterior, in keeping with other campus facilities. The design will feature large, light-filled spaces. Numerous windows below the roof line, and some areas with glass walls, will give the interior an open feel and give students great views inside the building and out to the campus.
Among the major interior features of the Wellness and Recreation Center will be a 5,200-square-foot, two-story cardio workout and weight room with machines and weights more suited to recreational athletes. A 2,200-square-foot multipurpose group exercise room will be used by the Kinesiology Department for movement-type courses, by Campus Recreation for group exercise, and by the Athletics Department for cheerleading and dance team practices. An Exercise Physiology lab will help serve the growing student interest in Kinesiology majors and careers related to health and wellness.
A major portion of the space within the Wellness and Recreation Center will be devoted to a 56,000-square-foot field house, which will provide multipurpose areas for recreation, intramurals, athletics practices and some varsity competitions. Primary features of the field house will be a 200-meter competition track, pole vault areas, and long- and triple-jump pits; and, four basketball/volleyball courts, including two wooden floor courts and two courts made of resilient flooring.
A 1,200-square-foot Club Room will be located near the main entry lobby. This space will be used for events, as a conference room for the Kinesiology, Athletics and Campus Recreation departments, and for recruiting and advancement events. The lobby area outside of the Club Room will include pictures, trophies and memorabilia celebrating Fighting Bee athletics, and a new Hall of Fame area to honor the accomplishments of players and coaches. The St. Ambrose Athletics Hall of Fame has inducted more than 275 individuals and six teams since it was established in 1979.
The development of the new Wellness and Recreation Center will allow the University to repurpose and remodel approximately 19,000-square-feet of space in the existing, 33-year-old PE Center. That work will create space for a second weight room dedicated primarily to athletics teams use, and new offices for the Athletics Department and Campus Recreation. Varsity basketball and volleyball games will continue to be held on Leo Kilfoy Court in the PE Center.
Watch the Virtual Tour