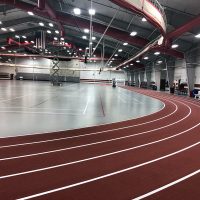 How to Select the Right Finish for Your Indoor Sports Flooring
Athletic practices, games and events are held within the walls of indoor sports facilities. Facility managers want a floor that will uphold the heavy foot traffic and weight of bleachers. Deciding on the right finish for the indoor sports flooring requires a careful evaluation of needs and the benefits of options.
Choosing the right finish for an indoor sports floor begins with an examination of various criteria, such as how the sports floor will be used and by whom, the budget for installation and operations and environmental conditions, like lack of heating or air conditioning or high moisture levels.
Option 1: Concrete
Concrete floors are useful for team and multipurpose sports. The durability and lifespan also make this type of flooring ideal for multipurpose use. No matter what type of floor surface is ultimately chosen, a concrete floor serves as the base. Be aware that concrete floors do not offer shock absorption.
Option 2: Vinyl Composite Tile
Vinyl tile, like concrete, does not provide shock absorption advantages. Although facility managers will find the low cost of installation a benefit, they will be faced with the costs of annual maintenance. A wax coating must be applied and reapplied annually after wear and tear caused by normal foot traffic.
Option 3: Maple Wood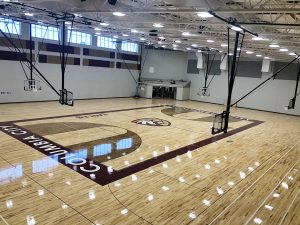 By far the most popular choice, wood flooring has dominated the gymnasium flooring market for well over 100 years. The initial installation is affordable; however, the subsequent annual or regular maintenance costs can add up. Costs aside, wood floors are known to withstand a range of uses.
Once installed, the wood flooring is sanded, sealed, and finished with an oil- or water-based finish. Once a year, the finish must be reapplied. Additional maintenance must be performed: the wood floor should be sanded, sealed, repainted, and finished every eight to 12 years.
After being sealed with two coats of a polyurethane sealant (glossy urethane provides the attractive sheen), the school or corporate logos and game lines are painted over the surface. Subsequent to this process, two to three coats of urethane are applied, making the graphics a part of the floor.
Cleaning the wood sports floor regularly is necessary, as dirt from athletic shoes acts as an abrasive against the flooring. Ideally, daily cleaning with a wet mop and floor cleaner designed for wood floor use should be scheduled. Dry mopping between activities is advisable to further protect the floor.
Maple wood is highly coveted for use in sports flooring due to its strength and durability. Maple wood consists of fine fibers that prevent the wood from splintering and allowing dirt to settle between the cracks. Consequently, maple floors are easier to clean—which lengthens their lifespans.
Option 4: Cushioned Sheet Vinyl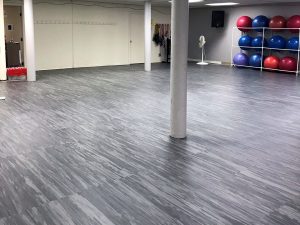 Rivaling wood floors is the cushioned sheet vinyl (or PVC) flooring. Vinyl is a sought-after synthetic sports flooring choice that mimics the appearance of traditional wood floors. A range of manufacturers produce vinyl floors in varying thicknesses, widths, colors, and designs.
Vinyl floors are premade in factories all over the world. The playing surface features pure vinyl and is prefinished prior to distribution from the factory to warehouses. A urethane prefinish is the product of choice, as it aids in maintaining the floor's cleanliness.
Useful in multipurpose areas as well as for sports of all types, vinyl floors do not stain or suffer water damage. They are commonly used in elementary and middle schools, high schools, colleges, and YMCAs. Hybrid facilities that combine gymnasiums with cafeterias (cafetoriums) often receive vinyl flooring.
Option 5: Rubber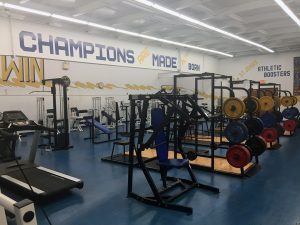 Weight rooms and gyms with a range of cardiovascular machines benefit from rubber flooring because of its ability to withstand heavy loads. Recycled rubber (made from recycled car tires) and vulcanized rubber are the two options from which facility managers may choose.
Rubber flooring comes in rolls, or it may be designed as tiles with interlocking features. While the popularity of vulcanized rubber is decreasing, the desire for recycled rubber flooring is increasing. Rubber flooring finishes are applied on the field to facilitate maintenance.
Option 6: Linoleum
Linoleum floors are rare nowadays, but they are still an option. An all-natural surface, linoleum flooring is sparsely manufactured in factories. Athletic facility managers considering linoleum floors should be aware that this type of surface offers little shock absorption, and maintenance is difficult.
Option 7: Polypropylene
A budget-conscious choice for sports flooring, polypropylene also does not provide sufficient shock absorption without a rubber pad underneath. Polypropylene floors are available as 12×12 interlocking tiles that may be used for a range of multipurpose activities in the indoor gymnasium.
Option 8: Combo Systems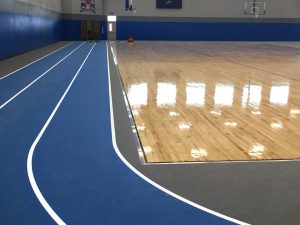 Combination systems feature several layers: a shock-absorbing pad, an engineered wood layer and a floor surface consisting of any of the seven abovementioned flooring choices. The advantageous outcome of the combination system is the very high level of force reduction.
Hybrid systems are ideal for financial reasons. Although the initial price per square foot is higher than a wooden gym floor, the synthetic option allows for greater savings over time due to lower maintenance costs. Combo systems can be substitutes when transitioning from a hardwood to synthetic gym floor.
Kiefer USA Sports Flooring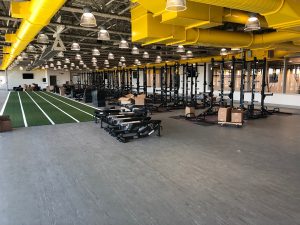 When you are considering upgrading your indoor sports flooring, choose a recognized leader in sports flooring, Kiefer USA. Our premium indoor flooring options are utilized by high schools and universities across the country.
Kiefer USA flooring products feature characteristics that are important to athletic facility owners. Our floors are known for their longevity, shock absorption rates and superior life cycles. Choose from our economical Classic Rubber Turf Infill to our Connor Maple Flooring and countless versatile options.
Whether you prefer a sports floor that requires easy maintenance or one that is capable of withstanding heavy foot traffic, Kiefer USA has gym flooring solutions to meet your needs. Contact our friendly representatives to begin the process of taking your gym flooring to the next level.