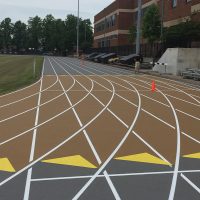 Sports Flooring Types for Indoor and Outdoor Use
The world of athletics is very diverse not only because of the many different types of sports being played, but also because of the different types of surfaces used for each sport.  All sports are physically demanding for athletes and like any physical activity, injuries are always a concern.  One of the most effective ways to prevent sports injuries is to ensure that athletes are playing on the right type of sports flooring and surfaces both indoors and outdoors.  Sports flooring types are made with special care to provide shock absorption as well as a suitable surface for each sport.
The following is a complete guide on the different types of sports flooring used for indoor and outdoor applications.  If you are still not sure what type of sports surface is best for your facility, you can talk to one of our professionals at Kiefer USA for more information.
Indoor Sports Flooring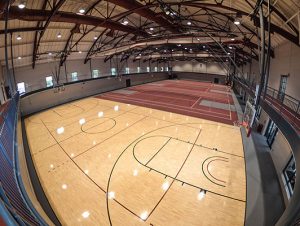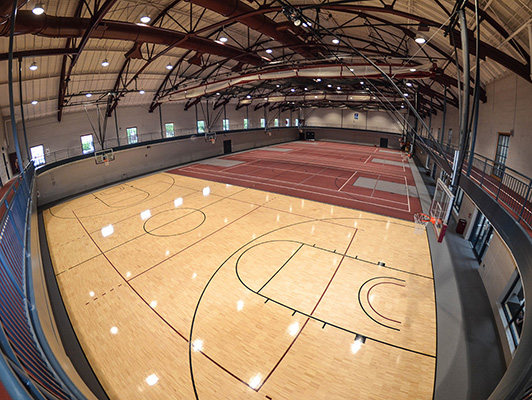 There are a variety of sports that are played indoors including basketball, volleyball, wrestling, tennis, and track among others, and several different types of indoor sports surfaces to accommodate them.  When choosing a type of sports flooring, you must consider what the facility will be used for.  Hardwood is suitable for gymnasiums that are used for basketball and volleyball, but fieldhouses in which other sports are played may be better off with rubber flooring.  The following are the most common types of indoor sports flooring and their uses.
Maple Hardwood
When many people think of gym flooring, the first thing that comes to mind is maple hardwood.  Maple hardwood flooring is the most common type of indoor sports flooring and is always the preferred flooring for basketball courts.  This flooring type is durable and aesthetically pleasing, with endless design options that include team colors and logos.  Most hardwood gym floors have subfloor systems that help with shock absorption, and it is also possible to install portable hardwood floor systems so that the flooring can be easily removed and reinstalled.  The only negative qualities of hardwood gym flooring are that it has a high cost of maintenance and it is not as versatile as other sports flooring types that can handle many different types of sports.
At Kiefer USA, we provide hardwood athletic flooring from Connor Sports Flooring which is the top manufacturer of hardwood sports flooring in the U.S.  You can choose from several different wood flooring and subfloor options.
Polyurethane Athletic Flooring
Polyurethane is one of the most durable types of indoor athletic flooring as it can handle heavy impacts from athletes and equipment, and it is the only totally seamless sports flooring type.  This flooring type is common in fieldhouses and other multi-purpose facilities in which several different sports are played.  Polyurethane floors are also highly customizable to suit any type of gym, facility, or fitness center.
Recycled Rubber Flooring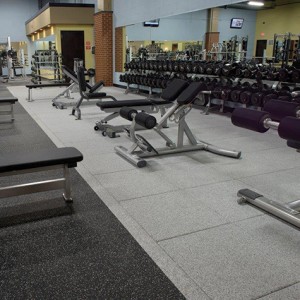 Recycled rubber flooring can be used for many different purposes, but is especially ideal as weight room flooring and flooring for training and fitness centers.  This type of flooring is one of the most economical athletic floors and it is also very durable, easy to maintain, water and stain resistant, shock absorbing, and it has a seamless appearance.
Kiefer USA provides our own brand of recycled rubber athletic flooring including ColorFlex, Tuff-Roll Tuff-Lock, and Ultraflex.  Each of these flooring types are easy to install and our Tuff-Lock flooring gives you the option of interlocking tile rubber flooring.
Vulcanized Rubber
Vulcanized rubber athletic floors are among the most durable and high performing indoor sports floors in the industry.  They may consist of multiple layers to provide maximum comfort and shock absorbency for a wide range of uses from weight room flooring to multi-purpose fieldhouses.  The top layers are highly slip resistant, anti-microbial, non-porous, and easy to maintain while the lower layers provide maximum shock absorbency and stability.  Vulcanized rubber can also resist compression and handle bleachers and other heavy equipment.
Kiefer USA provides a wide range of vulcanized rubber flooring from Mondo Athletic Flooring, the industry leading manufacturer of rubber sports flooring.  We also offer our own brand of Duraflex rubber flooring.  We can help you choose the right type of rubber flooring and sub layers to suit your specific purpose.
Outdoor Sports Surfaces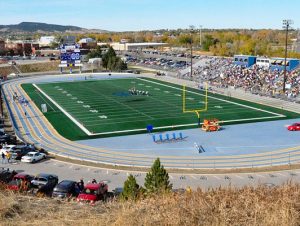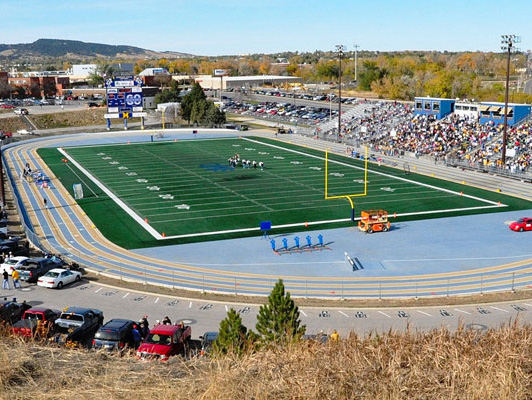 A lot of sports including baseball, football, soccer, track and field, lacrosse, tennis, and others are played outdoors and they each require the appropriate playing surface.  Outdoor sports surfaces must be durable enough to withstand the elements, as well as the activities of the sport, to continue to provide traction and shock absorbency.  The two main types of outdoor athletic surfaces in use are track and field surfaces and artificial turf.
Track and Field
Track surfaces are often made from recycled rubber materials that provide excellent traction and shock absorbency to avoid common injuries to the legs, feet, and ankles.  Track surfaces are also designed to effectively drain rainwater to keep the surface dry and safe.  The vulcanized rubber for tracks is safe, durable, consistent, and easy to maintain.  They are also eco-friendly as they are often made from recycled materials free of CFCs and other harmful substances, and these surfaces themselves are recyclable.
Keifer USA offers several different types of rubber track surfaces from Mondo Athletic Flooring for indoor and outdoor uses.  Our track surfaces have several layers for optimum performance and durability.
Artificial Turf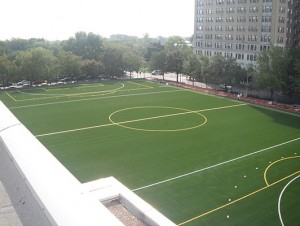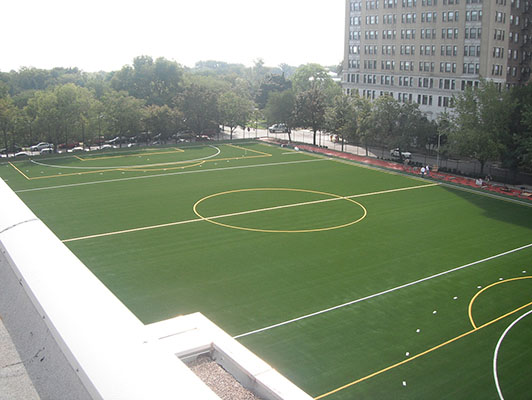 More schools and sports facilities have been using artificial turf for their surfaces because they mimic the look and feel of natural grass without the maintenance required for natural grass surfaces.  Artificial turf surfaces consist of durable filament fibers to recreate the look and feel of grass, as well as rubber infill to act as the "dirt" and provide shock absorbency and stability.  These surfaces have become very common for soccer, football, baseball, and other sports that are traditionally played on natural grass surfaces.
Keifer USA provides outdoor artificial turf from Mondo Athletic Flooring for outdoor playing fields.  Our artificial turf products are recyclable, durable, and excellent for shock absorption.
Athletics have always been a part of life from the oldest civilizations to the present day, and thanks to modern technology, manufacturers can develop high performing sports flooring and surfaces for maximum comfort and shock absorbency.  When choosing a type of playing surface for your field, court, or facility, consider what sports and activities the surface will be used for, as well as your budget.  Kiefer USA is a leading provider of sports flooring and athletic surfaces from the top manufacturers in the industry, and we can help you choose the right type of surface to suit your purposes.  We have installed sports flooring and outdoor sports surfaces for many high schools, universities, and facilities throughout the U.S.