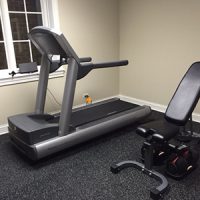 Nothing beats the convenience of exercising in a home gym. A well-designed home gym gives homeowners ample motivation to work up a sweat. Plus, homeowners have numerous advantages when they work out at home. These home gym design tips will create an inviting workout space.
What are the benefits of a home gym?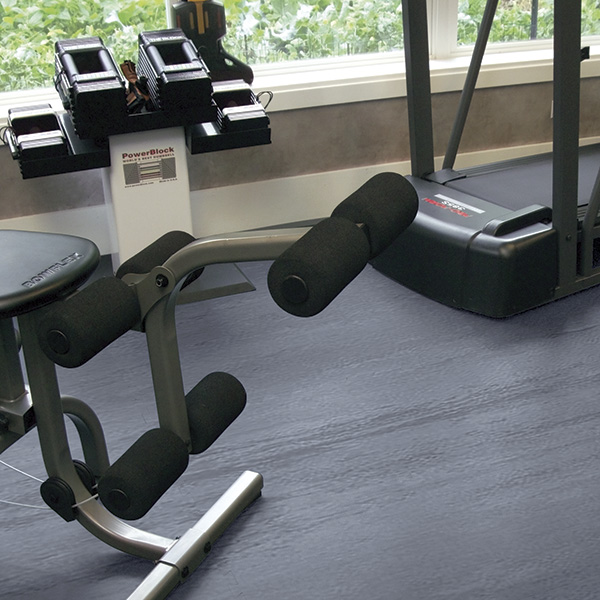 In-home training comes with a unique set of physical health benefits. Homeowners receive full-body workouts without leaving the comfort and privacy of home. In a home gym environment, they receive cardiovascular training, lose weight, build lean muscle mass and remain physically active.
A comfortable atmosphere is one of the biggest draws of a home gym. It is especially beneficial when the home gym is located in an area of the home that keeps the homeowner motivated. The environment may even be designed so the whole family can exercise and spend time together.
Another major attraction of the home gym is having the opportunity to work out according to one's own schedule. Training may be done while watching television at night or bright and early in the morning. A home gym is reliable, allowing for training sessions at any time.
Saving money on a gym membership is a huge plus. Homeowners can compare how much they'd spend on a membership over ten years with investing wisely on equipment. By gradually building up the home gym, a homeowner can potentially save thousands of dollars.
In the midst of the coronavirus health crisis, many once avid gym users are now working out at home instead. In-home training is safe during the pandemic, as homeowners do not have to worry about whether or not shared gym equipment has been disinfected prior to use.
Design Tip #1: Space
A home renovation is unnecessary to design a home gym. Any available space will do. Homeowners can outfit a home gym in a finished basement or spare bedroom. While setting up the home gym, consider space and clearance requirements around equipment for maximum safety.
When setting up a treadmill, for instance, ensure that at least six and a half feet of free space exists behind the machine and one and a half feet on either side. For space efficiency, consider a wall mount power rack, which may be folded up when not in use.
Design Tip #2: Flooring
Free weights are heavy. Without flooring support, frequently dropping the dumbbells during training will damage a hardwood and even a cement floor. Plus, a two-tiered dumbbell rack can weigh up to 705 pounds. A plywood floor will eventually warp or collapse under the massive load.
Quality rubber mats will absorb the impacts from weights and equipment — hence protecting the floor. Rubber mats are also easy to clean and provide excellent sound insulation. While rubber mats will not eliminate all the noise, they will dampen the harsh sounds.
A home gym is a worthwhile investment. One of the most important upfront considerations is protecting the flooring of the home gym, even one inside the garage. When you are ready to transition to a fully functional home gym, turn to Kiefer Home for premium gym flooring options.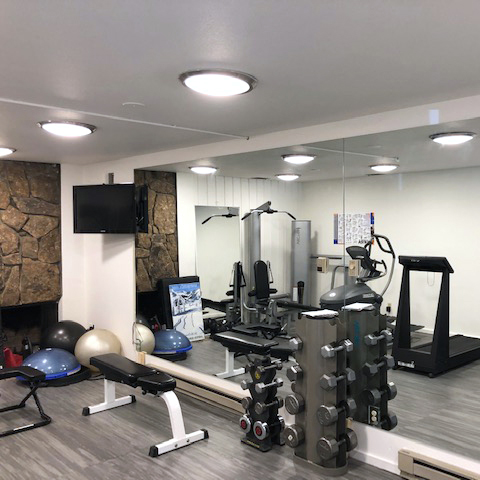 Free weights are a staple in home gyms. Protect your home's flooring from the impact of free weights by choosing Kiefer Home's FitZone Premium Home interlocking flooring system. Our quality flooring system can be cut to fit any sized space inside a home gym.
Our FitZone tiles require minimal maintenance while fully protecting your home gym floor. The tiles are 100 percent water and stain resistant and simple to clean. Installation is quick. Being virtually odorless, our FitZone tiles are perfect for home gyms located in a tightly enclosed space, like a bedroom.
When you seek a durable, recyclable and fire-resistant home gym flooring that resists bacterial and fungal growth, consider the Premium flooring systems from DIYRubberfloors.com. As a leader in gym flooring, Kiefer Home is ready to help take your workouts to the next level.
Design Tip #3: Equipment Choice
The most successful home gym is one that is fitted with equipment the homeowner uses on a consistent basis. Several types of equipment are considered essential for a total body workout. Especially in a small space like a home gym, consider the following recommended equipment.
A kettlebell is ideal for a small workout space and will not damage a floor when dropped. A classic power cage is suitable for larger spaces and budgets. Strength and conditioning workouts, like bench press, barbell squat and deadlifts can be performed using the power cage.
Smaller sized barbells are alternatives to full size Olympic barbells, and they can carry the equivalent weight. A heavy punching bag is great for those less inclined to cardiovascular workouts; home gym users build explosive power and speed as they simultaneously incinerate fat.
For those who desire a low-impact cardio workout, the lag-free rowing machine will do the trick. The rowing machine is built with customizable features, like 14 levels of calibrated resistance. Newer rowing machines may connect with apps so users can track their workouts.
Design Tip #4: Connectivity
Wi-fi connected exercise equipment has dramatically popularized the home gym. When designing the home gym with intents to install Wi-fi connected machines, it is important to make sure the gym is located in an area of the home with a good internet connection.
In order to facilitate a fast, optimum internet speed, homeowners might consider installing more wireless access points or range extenders. Without a strong internet signal in a home gym fitted with Wi-fi connected exercise equipment, training sessions can easily slow down.