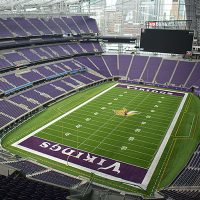 History and Safety of Artificial Sports Turf
Nowadays all kinds of sports are played at all times of the year and in all types of weather – whether in natural or controlled environments, outdoors or indoors, on grass, snow, ice or artificial fields. This is possible largely because of the advancement of modern technology that has provided creative solutions for all weather- and setting-related difficulties experienced in the past. Synthetic turf is a fine example of that:
# Outdoor natural fields – grass fields, in particular – can easily deteriorate due to adverse climatic conditions. As a result, games and matches are often cancelled or hindered.
# Indoor athletic fields are well protected from the whims of the weather but do not get enough sunlight for grass to thrive.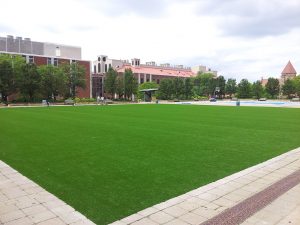 Present-day technology has provided the perfect solution – an artificial surface that looks and performs like grass, but is not vulnerable to the elements.
Synthetic sports turf, also known as artificial grass for sports, is manufactured from synthetic fibers and made to imitate natural grass. It is generally used to provide an adequate surface for sports that are normally played on grass in areas where grass cannot grow or is too difficult to maintain. Artificial turf is used mainly in sports stadiums and arenas, but can also be found on playgrounds, residential lawns, and various other spaces.
History of Artificial Turf
Artificial sports turf first gained attention in 1966, when AstroTurf – a short-pile synthetic turf – was installed in the newly-built Astrodome in Houston, Texas.
The stadium had a covered baseball field of natural grass and was built with a transparent roof in order to provide enough light for the grass to grow. The glinting of the sun on the transparent ceiling panels, however, impeded day-time games, so the roof was painted to solve the problem. This reduced the amount of sunlight the grass in the covered stadium received and it couldn't grow properly.
An alternative solution was urgently needed, so the stadium owners and engineers decided to try a new artificial playing surface called ChemGrass that was fist installed at Moses Brown School in Rhode Island in 1964. The "grass carpet" made from nylon fibers proved to be a huge success. The brand name ChemGrass was changed to AstroTurf and the product rapidly gained popularity – first in the United States and Canada, then in Europe.
In the early 1970s, AstroTurf became widespread and led to a boom in closed and domed sports arena construction around the world. The nylon fibers were replaced by polypropylene – a cheaper material that is also softer than nylon and poses a smaller risk of injury to the players. These closely packed turf systems with short-pile fibers (both nylon and polypropylene) are known as the first generation synthetic turf.
The artificial grass covering, however, was quite hard and soon became known as an unforgiving playing surface which resulted in a greater number of injuries and in more serious joint injuries than those suffered on a grass surface. Various safety and quality concerns arose:
Athletes and team doctors blamed the turf for friction burns and blisters;
Balls bounced harder and rolled faster on the artificial surface, affecting the quality of the games;
The turf wore within a short time span, seams came apart, and the top layer degraded quickly from exposure to sunlight;
Surface temperatures got very high during hot sunny days, as the artificial turf didn't have the same cooling effects as natural grass.
In response, a new generation of synthetic turf was developed – it had longer tufts that were spaced more widely apart and sand was spread between the fibers for greater firmness. This provided a flatter playing surface which gave the players better control over the ball and prevented it from shooting off in unexpected directions.
Though it was very suitable for sports like field hockey, this second generation artificial sports turf, still couldn't compare to natural grass – the playing characteristics and behavior of the ball was not "right" for football and baseball; an arm or leg driven along the unyielding surface resulted in painful abrasion injuries from the sand; etc. So, by the early 1990's many sports arenas had converted back to natural grass playing fields. The problems with natural turf systems (difficult maintenance, need for abundant sunlight, risk of deterioration in adverse weather conditions), however, remained.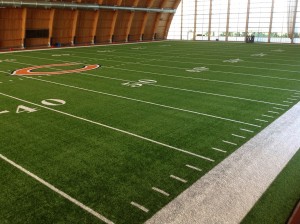 Therefore, when recent developments in the artificial turf industry allowed the creation of grass blades supported by an infill material so that the grass would not compact, artificial turf quickly regained its popularity – unlike natural grass fields, it offered a surface that was easy to maintain, did not require sunlight, and had a drainage system.
New, revolutionary improvements were implemented in the third generation of synthetic turf that is widely used today:
The grass "blades" are longer and are spaced far apart in the backing – this allows cleats to sink well into the surface (much like they do with natural grass) which results in less stress on the players joints and lets the foot easily get under the ball;
The fibers are no longer made of polypropylene but of polyethylene which is much softer and kinder to the skin, so that sliding tackles are not a problem;
The turf systems feature mixtures of sand and rubber granules – when spread between the grass blades, this infill provides stability for the players, gives better ball control, and creates cushioning for the athletes which helps prevent injuries.
As a result of these innovations, the performance of synthetic turf surfaces during play has become very similar to real-grass fields. The engineering and design of artificial turf is constantly improving and evolving, so it will certainly continue to be the surface of choice for many indoor and outdoor sports facilities in the future.
Benefits of Artificial Turf Fields
There're many reasons why artificial turf systems are so popular with sports arenas:
Easy maintenance – Artificial grass doesn't require watering, mowing, fertilizing, and other constant care to be kept in excellent condition. All you need to do is give it a brush after every game to reshape the bristles and thoroughly clean the surface once a week;
Great durability – Unlike natural grass, artificial turf won't dry up in hot weather or die if it doesn't get sufficient sunlight. Once you install it, you'll be able to use it for many years without worry – it resists heavy use and shows very little wear over time. Most importantly, artificial turf does not degrade in wind, rain or snow, which makes for a very stable and long-lasting playing surface. Therefore, opting for synthetic turf for your sports facility will save you plenty of time, money, and effort – just think about how expensive, time-consuming, and difficult re-turfing a whole natural grass field is (not to mention how often you would need to do it);
Aesthetic appeal – Synthetic grass looks green and fresh all the time, so it is very appealing to the eye. Artificial turf fields, however, are also available in white, black, blue, tan, pink, and red and all kinds of custom logos and inlaid lines can be painted on the surface upon request, so it's up to you to choose the color and style you wish for your sporting arena;
Excellent performance – Modern-day artificial grass feels just like the real thing – it is soft to the touch, has a sand-and-rubber infill that gives it the same bounce and feel as a real grass lawn, and is firm enough for athletes to run on;
More playing time – Artificial turf helps increase playing and practice time since athletes can train daily on the synthetic fields, without concern about the weather. It has been estimated that artificial turf fields can be used for about 3,000 hours a year, whereas natural fields can only be played on for 700 hours a year;
Increased safety – Artificial turf fields are designed with the safety of the athletes in mind:
The granules of recycled rubber spread between the grass blades give the artificial surface a good bounce and make it soft to fall on;
Artificial turf systems usually come with foam padding that provides an extra layer of protection between the athletes and the concrete;
Contemporary sports turf meets all the standards for traction, rotation, slip resistance, surface abrasion and stability, required by major sports leagues and federations around the world;
There have been a number of studies evaluating the risk of strains, tears, fractures, and concussion when playing on artificial sports turf. All the research concluded that the risk of injuries was the same as when playing on natural grass and confirmed the safety of synthetic grass for athletes.
All and all, sports fields are hardier and more versatile when synthetic grass is used. Artificial turf is suitable for all kinds of sports, but it is most often used for baseball, football, soccer, lacrosse and rugby. Many track and field events also take place on a synthetic grass field.
Artificial turf is the best option for covered stadiums (because of the difficulty of getting grass enough sunlight to stay healthy) and outdoor sports arenas (because it allows games to be played in any type of weather).
If you wish to take advantage of the numerous benefits of artificial turf, do not hesitate to call the professionals at Kiefer USA – we will provide you with all the necessary information and will discuss the details of your synthetic turf design and installation with you, so that you get the best artificial surface for your sporting needs at the most reasonable price!