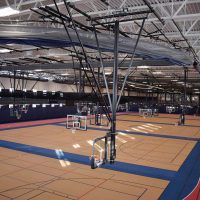 How to Buy Commercial Gym Flooring – Pros and Cons, FAQ
Whether you're opening a new gym or remodeling your existing one, it's important that you choose the best flooring for your facility – gym flooring is key for a safe and efficient workout environment, so you need to find a flooring system that perfectly suits your needs and purposes.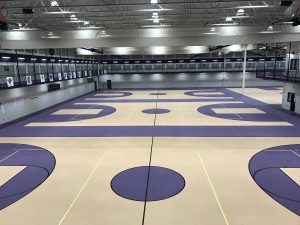 Commercial gym flooring needs to be strong and durable (to support heavy equipment and machinery), must provide excellent resilience and shock-absorbance (to protect athletes and prevent injury), and should be easy to clean and maintain (to ensure proper hygiene and user comfort). Besides, it has to be artistic and aesthetically pleasing in order to attract the public.
There are many good commercial gym flooring options available on the market, all of which have their own specific pros and cons that make them suitable for different kinds of sports. Unless you have a specific niche, however, chances are there will be a variety of workouts taking place in your gym. So, you'll most likely need to find a flooring solution that is versatile enough to handle a diverse range of activities and exercises.
To pick out the right fit for your gym, you need to be familiar with the benefits and drawbacks of each flooring option and to know the answers to the most important questions concerning commercial gym flooring.
Commercial Gym Flooring Options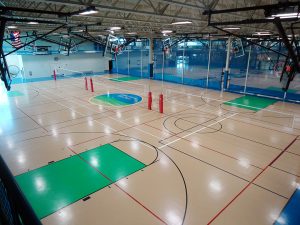 Different flooring solutions work best for different types of gyms:
School gyms will benefit the most from a traditional maple hardwood floor that is ideally suited for basketball, volleyball, and other popular school sports activities. Extremely dense and shock resistant, commercial gym wood flooring is a durable, high-performing, and safe flooring solution that can last for decades when properly cared for;
Universal gyms that offer a wide range of activities require a versatile flooring solution that can handle everything from aerobic exercises to weightlifting – the highly customizable rubber gym flooring is the most popular choice for multipurpose facilities;
High-intensity gyms that employ running, weightlifting, pull ups, push-ups, and other types of fast-paced exercises need durable flooring that is soft underfoot and can protect subfloors from heavy weights – such as turf flooring or rubber flooring;
Weight rooms require durable flooring that can withstand the impact of dropped weights and intense workouts;
Yoga studios and health clubs need a comfortable floor that will provide members with a pleasant and relaxed experience; etc.
Since commercial gyms are used for a wide range of activities and, therefore, need a great deal of versatility, the most popular flooring options for these facilities are rubber flooring products and gym turf materials.
Commercial Grade Rubber Gym Flooring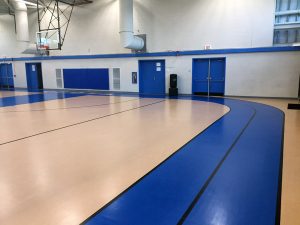 There are three types of rubber flooring products that can be used in a commercial gym:
Rubber Gym Flooring Rolls
Rubber flooring rolls are the most widely used commercial gym flooring option. They are extremely durable and very economical and offer an elegant seamless appearance (when installed correctly, it is nearly impossible to see where one roll ends and another begins).
Rubber rolls come in sheets that are four feet wide and can be twenty to fifty feet long, allowing you to completely cover a large area with just one or two rolls. They're available in a variety of thickness options to suit different needs and requirements. The thicker the material, the more expensive the flooring is going to be, but it will last longer, will be softer underfoot, and will provide better cushioning, shock absorption, and sound absorption.
Keep in mind though that rubber rolls are very heavy and cannot be installed by one person alone.
Rubber Gym Flooring Tiles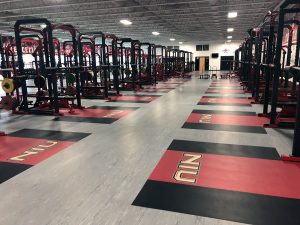 Durable, affordable, and easy to install, rubber tiles are also very popular for commercial gyms. They're available in different square sizes and can be easily cut into different shapes of varying sizes to perfectly fit the layout of the gym.
The rubber tile thickness for commercial gyms varies. When it comes to weight room flooring, for example, the 5/16" rubber floor tiles are a good choice as they provide proper protection to the subfloor from dropped dumbbells and other weights which have a small point of contact with the floor and, therefore, pose a greater risk of damage.
Most rubber tiles have puzzle-style interlocking edges that come together very easily and make installation extremely convenient and simple.
This interlocking design has several great benefits to it:
Quick and easy installation;
No adhesives required – tiles click together, so all you need to do is lock each piece into place;
If one tile is damaged, it can be easily removed and replaced.
However easy the installation may be though, covering a large space with rubber tiles is very time-consuming. Besides, tile flooring can never be quite as seamless as rolled rubber flooring.
Rubber Gym Floor Mats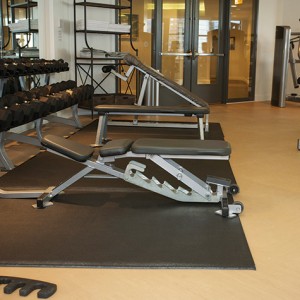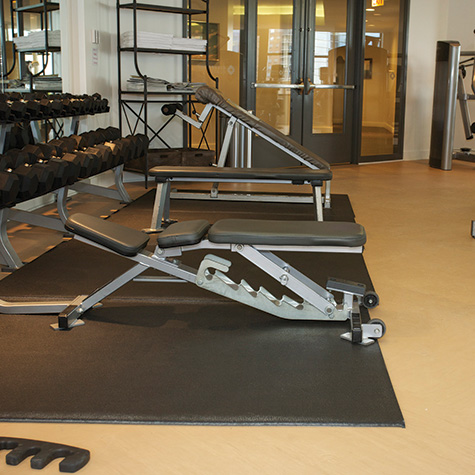 Rubber mats are extremely versatile – they can be laid on any hard, flat surface to add extra cushioning or thickness to the area, however small it may be.
Rubber floor mats come in many different sizes to fit any space – from 3"x6" to 4"x10" and more. You can choose from a variety of thicknesses as well – from thin 1/4" mats for bodyweight exercises all the way up to 3/4" mats that are specially designed to handle the impact of heavy weightlifting and dumbbell exercises.
Gym floor mats offer the best solution for small spaces like weightlifting areas or cardio areas – you don't need 1/2" or 3/4" thickness over your entire gym floor, but you can use the ultra-thick and durable mats in heavy lifting areas and underneath heavy equipment.
Rubber mats can be installed next to one another to cover larger surfaces (you may want to consider mats with interlocking edges for a more secure installation), but they're intended for smaller areas. If you have a big space to cover, it is better to go with rubber tiles or rubber rolls, both financially and time-wise.
To sum it up – rubber mats are the best flooring option for small spaces (they will save you time and money) and areas subjected to heavy impact, like weight rooms (since gym floor mats are specially designed to hold up to heavy weights). As an added bonus, you can easily change your setup by simply picking the mats up and moving them where you want.
Pros and Cons of Rubber Gym Flooring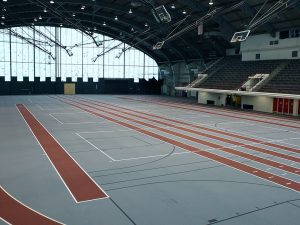 Rubber flooring has many great advantages:
Durability: Commercial rubber gym flooring is strong, tough, and long lasting. What's more, rubber surfaces are hard to gouge, scuff, or scratch, so they will look good and perform great for many years;
Resistance to heavy impact loads: Due to its resilience and high density, rubber flooring can withstand thousands of pounds of equipment, as well as high impact activity, without rips or tears. The rubber covering also offers cushioning to the equipment and protects the subfloor from damage;
Shock absorbance: Rubber is extremely resilient, so it feels soft and comfortable underfoot and, therefore, helps reduce fatigue and foot injury. Rubber gym flooring products are very suitable for tough workouts and heavy weights as they absorb the shock and reduce muscle stress, keeping both athletes' joints and the subfloor safe and sound;
Safety: The soft and resilient rubber covering allows for superb shock-absorption and cushioning and provides excellent protection to athletes, which makes rubber flooring one of the safest gym flooring options available on the market;
Sound absorbance: Rubber has the inherent ability to absorb sound and muffle the ambient noise, so it is an ideal flooring option for high-traffic areas and cavernous spaces like gyms where sound bounces off the walls;
Water and chemical resistance: Most rubber flooring products are resistant to moisture and chemical attacks, which makes them anti-bacterial and resilient to staining, mold, and mildew;
Ease of maintenance: Rubber flooring is anti-microbial, resistant to most staining agents, and invulnerable to mold and mildew. This makes cleaning quite easy – all you need to do to keep a rubber floor in pristine condition is vacuum and damp mop in the evenings after the activities are over;
Glue-free installation: Rubber flooring can be loose laid – all rubber flooring products are heavy enough to naturally stay in place without any adhesives (although some commercial gym owners prefer to glue down rubber flooring rolls to ensure no movement and no curling up at the edges). For a more secure fit, you can use double-sided carpet tape around the perimeter of the floor;
Aesthetic appeal: Contemporary rubber flooring comes in a wide array of colors and can mimic the look of natural stone and wood. Unlike other flooring options, rubber flooring has consistent coloring and texture – as a man-made product, it has a homogeneous construction and color uniformity, so rubber floors can stand up to skates, cleats, and heavy weights with no visible surface wear. What's more, rubber floors look very sleek and elegant due to their seamless appearance;
Green flooring option: Most rubber flooring products are made from recycled rubber and do not present any potential environmental or health concerns. There are plenty of FloorScore certified rubber flooring options as well;
Affordable price: Not only do rubber flooring products come at a lower cost than wood flooring, but they also have smaller maintenance requirements (and therefore, smaller maintenance costs) and a very long life-cycle that reduces the need for frequent replacement.
The main drawbacks of rubber gym flooring include:
Rubbery smell: Though it eventually goes away, rubber has a distinct odor that many people find unpleasant. The odor is more pronounced with natural rubber products than with synthetic forms of rubber;
Slip risk: Smooth, untextured rubber surfaces can be slippery when wet;
Low temperature insulation: Rubber is a bad insulator against temperature transmission;
Color instability: While rubber flooring is resistant to most staining agents, there are some products, such as grease and oil, that can discolor its surface. Also, color fleck rubber products are not UV-stable and need to be protected from direct sunlight to preserve their colors.
Gym Turf Flooring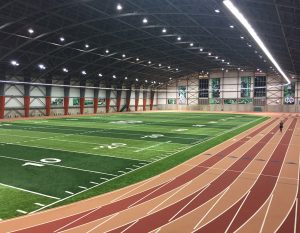 Turf is another great flooring option for commercial gyms. It gives the gym the look and feel of real grass, while increasing agility and mobility and providing a safe and resilient playing surface.
Turf Flooring Products
There two types of turf flooring options commonly used in gyms:
Gym turf rolls – Gym turf rolls are a durable flooring option that is perfect for weightlifting and high-intensity workouts. The softness and pleasant feel of the artificial grass is very inviting for yoga exercises and stretching as well. Turf rolls are great for creating lanes in the gym;
Gym turf tiles – Gym turf tiles are ideal for covering oddly shaped areas – they can be easily cut to fit any space. Just like rubber tiles, turf tiles interlock together like puzzle pieces. In terms of durability and performance, gym turf tiles are equivalent to gym turf rolls.
Pros and Cons of Gym Turf Flooring
Gym turf flooring makes a great surface for speed, strength, and agility training because it absorbs impact well and ensures the safety of athletes.
Advantages of turf flooring:
Versatility: Artificial turf is suitable for a wide variety of sports activities – running, weightlifting, stretching, etc.;
Durability: Synthetic turf can withstand heavy use and shows very little wear over time. It can last for many years and will look and perform great the entire time;
Safety: Sports turf provides a safe playing surface that is easy on the joints and allows athletes to push it to the max with less risk of injury. Artificial turf systems usually come with foam padding that provides an extra layer of protection between the athletes and the concrete. What's more, the granules of recycled rubber spread between the artificial grass blades give the surface a good bounce and make it soft to fall on;
Excellent performance – Artificial grass is soft to the touch, has a sand-and-rubber infill that gives it the same bounce and feel as a real grass lawn, and is both firm enough for athletes to run on and soft enough to prevent injuries during fall incidents;
Easy maintenance: All you need to do to keep artificial grass in excellent condition is give it a brush to reshape the bristles after every game and thoroughly clean the surface once a week;
Aesthetic appeal: Green and fresh at all times, synthetic grass is very pleasing to the eye. Turf flooring, however, is also available in white, black, blue, tan, pink, and red, so you can choose a unique color and style for your gym, giving it a sleek, modern look.
Disadvantages of turf flooring:
Little subfloor protection: Most turf flooring options require an underlayment to protect the subfloor from heavy weights;
Abrasive surface: The turf texture isn't suitable for exercises like burpees and sit-ups;
More difficult installation: Indoor sports turf flooring is not as easy to install as rubber gym flooring – the job is better left to an experienced professional;
Higher cost: Artificial turf is one of the most expensive commercial gym flooring options.
Knowing all of the above will allow you to make an informed choice and pick the best commercial gym flooring for your project. Yet, be sure to learn the answers to some of the most frequently asked questions about commercial gym flooring before making your final decision:
---
Commercial Gym Flooring FAQ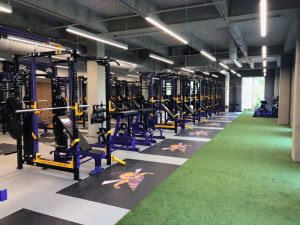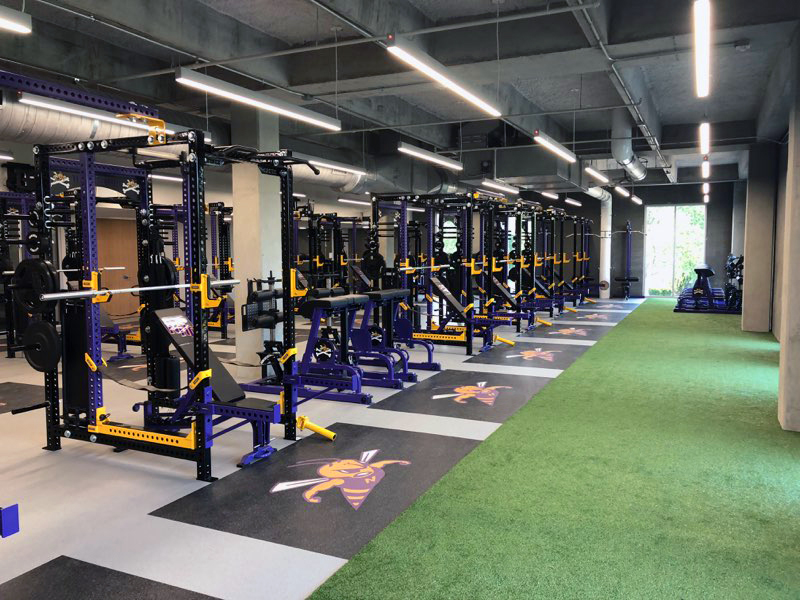 Q1. What is the most popular flooring option for commercial gyms?
Rubber gym flooring rolls are by far the most widely used commercial gym flooring option.
Q2. How thick should commercial gym flooring be?
There is a common misconception that commercial gyms require 1/2" rubber flooring, but that thickness is only recommended for parts of the gym that are subject to heavy impact activity (such as weightlifting areas). Otherwise, the standard in the industry is 3/8" thick flooring.
Q3. What type of commercial gym flooring will work best in a weight room?
Rubber flooring is the perfect option for a weight room as it is dense and sturdy enough to withhold the extra weight without bending, breaking, or denting and resilient enough to provide bounce back and cushioning for dropped weights. Rubber rolls and interlocking tiles are both suitable even for the most intense training.
Q4. What are the cleaning requirements for commercial gym flooring?
It depends on the type of flooring. Most options only require a simple cleaning solution of mild soap and water, but each flooring product comes with its own specific instructions on cleaning and maintenance.
---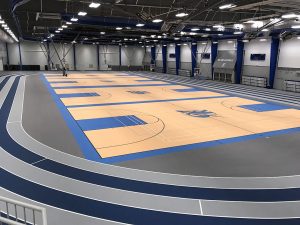 Now you're ready to make the right choice for your gym. Just make sure you:
Check out customer reviews to find out what athletes and other gym owners who have chosen the type of flooring you are considering think about this specific flooring solution;
Find photos of completed projects to see what your chosen type of gym flooring looks like after installation;
Ask for flooring samples prior to making an order to see how the product actually looks in your facility;
Discuss the installation specifics and maintenance requirements of the flooring with the sports flooring company (ask about installation procedures, cleaning requirements, upkeep costs, and restoration possibilities);
Hire experienced and trustworthy professionals to install your gym flooring.
If you have any further questions or need professional advice, do not hesitate to contact KieferUSA – we provide quality commercial gym flooring solutions at affordable prices and have the professional knowledge to help you pick the best sports flooring for your facility. You can count on us to install your chosen gym flooring as well. Just call us at 800-322-5448 to discuss your project with our experts and find the best solution for your needs.