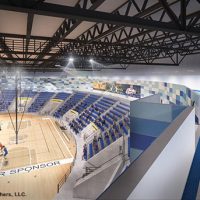 Renovated Hy-Vee Arena will feature Mondo Super X 720 and Mondo Ramflex Flooring
Set to reopen for youth and adult sports in September, venue will be home to largest indoor track in continental U.S.
It once was home to NBA and NHL teams, and it has hosted an NCAA Final Four and a Republican National Convention. But in September, the venue formerly known as Kemper Arena will reopen with a new name, a new purpose – and a new Mondo track and Mondo sports flooring.
The renovation is being led by Foutch Brothers, a Kansas City architecture and development firm. Kiefer USA, our athletic surfaces company based in Lindenhurst, Ill., will be installing the Mondo flooring.