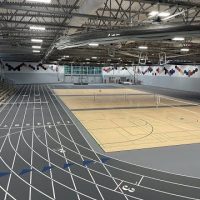 Indoor Court Flooring FAQ
The quality of the game is significantly impacted by the type of indoor court flooring on which it is played. Indoor court flooring for sports, such as basketball or volleyball, should promote the athletes' comfort and performance. Following are important considerations when evaluating court flooring.
The ideal indoor court flooring provides a range of desirable qualities, whether for volleyball or basketball. The best sports surface is built with a combination of uniform support, elasticity, and energy return. In volleyball courts, players should experience minimal abrasiveness when diving or sliding.
Q: How do indoor flooring materials differ from outdoor ones?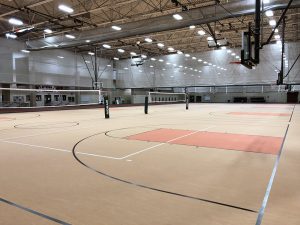 A: The designs of indoor and outdoor courts differ significantly in order to optimize their abilities to withstand various environmental conditions. Outdoor courts, for instance, are vented so that rainwater flows through the tiles, thereby creating a slip-resistant and safer playing surface.
Indoor courts, on the other hand, do not have weather-resistant features or materials, like outdoor courts do. Hard plastic, rubber, or wood may be successfully used to manufacture an indoor court floor. Indoor court floors are built as smooth, non-vented surfaces.
Q: What flooring materials are used in volleyball courts?
A: Vulcanized rubber and wood are the two most common materials used in the manufacture of indoor volleyball courts. These floors are built to be shock-absorbent and stabilizing. While the underlayment promotes shock absorption, the surface enhances the best grip for movement.
Q: What flooring materials are used in basketball courts?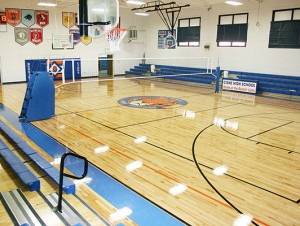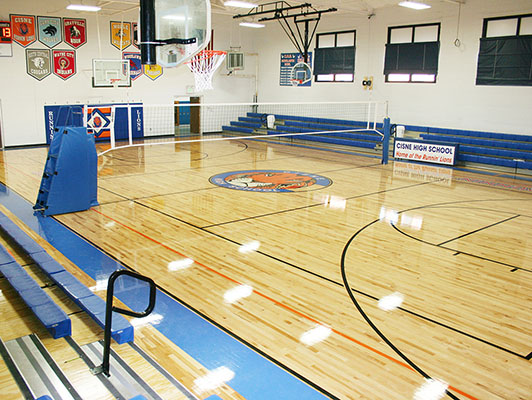 A: The typical basketball court is manufactured out of wood, rubber,  vinyl or plastic. These diverse materials provide athletes with significant shock absorption capabilities and add greater spring to the playing surface, especially in comparison to outdoor concrete basketball courts.
Q: What are the advantages of rubber floors in volleyball courts?
A: The advantages for athletes competing on vulcanized rubber floors are numerous. Courts built with this synthetic material deliver enhanced durability and increased resistance to wear and tear. Installation is easy, as is disposal, since the rubber can be safely discarded in a normal landfill.
Q: What are the advantages of wood, vinyl or plastic floors in basketball courts?
A: Wood is a material that is traditionally used in indoor basketball courts. Planks may be clipped together, then later disassembled and reinstalled in a different location. Wooden basketball courts are suitable only indoors, since excessive moisture from precipitation can warp the material.
Alternately, vinyl planks may be used to cover the floors in an indoor basketball court. Mimicking the exquisite look of wood surfaces, vinyl planks are produced from PVC materials. Plastic floors, made from polypropylene, withstand impacts, chemicals, and UV light without undergoing damage.
Q: How is volleyball court flooring installed?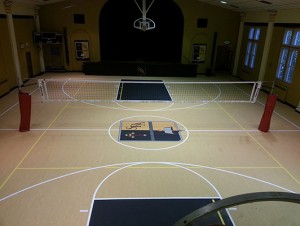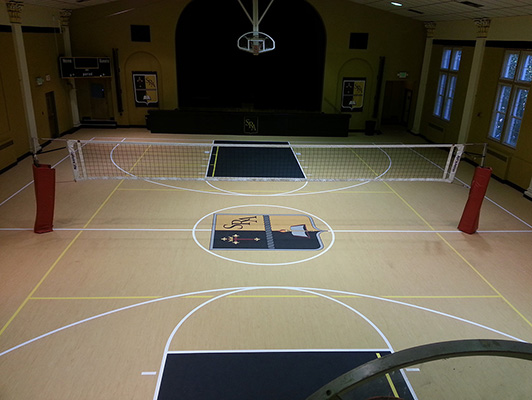 A: Whether a facility manager opts for vulcanized rubber or PVC floors for an indoor volleyball court, the installation process is the same. Both materials may be glued to the surface of the floor as a fixed solution. Or, as a removable solution, they can be installed using adhesive tape.
Permanently adhered rubber or PVC floors cannot be removed except when being replaced. This type of installation is ideal for schools, amateur sports facilities and multisport arenas. Cost-effective, fixed floors can be covered with special protective flooring to enable use for non-athletic events.
In contrast, removable volleyball court floors require a larger budget to purchase and maintain. However, they can be used for both high-level sporting events and public performances. The benefits include the ability to disassemble the floors and store them without incurring damage during events.
Q: How is basketball court flooring installed?
A: Indoor basketball court floors are available as either planks or tiles. Each option comes with a unique set of benefits and aesthetic styles. Court tiles feature interlocking edges.
Similar to the tiles, court floor planks are easy to install. Although these materials resemble hardwood floors, they are much more straightforward when it comes to installation. Nail-free clip-in installation is an option, as is the peg-and-loop installation required of the basketball court floor tiles.
Q: How is volleyball court flooring maintained?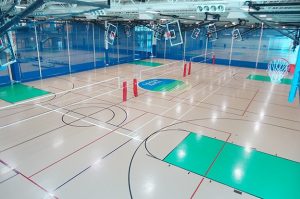 A: Regularly cleaning the rubber floor of the indoor volleyball court will uphold its performance qualities and maximize its longevity. Sweep or vacuum the floor several times per week. Deep cleanings may be accomplished with pH-neutral cleaning products appropriate for rubber surfaces.
Q: How is basketball court flooring maintained?
A: Sweep or vacuum plastic or vinyl floors to loosen dirt and debris. Mop the surface with a solution of mild soap and water, then allow it to air dry. Wooden planks can be cleaned with a damp mop or cleaned with a machine to remove tough dirt and stains.
Kiefer USA Court Flooring
Facility managers looking to upgrade or install a brand-new indoor court floor should look no further than Kiefer USA. As a national leader in high-performance sports flooring, we offer a multitude of quality options to suit every budget and need.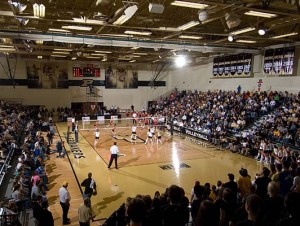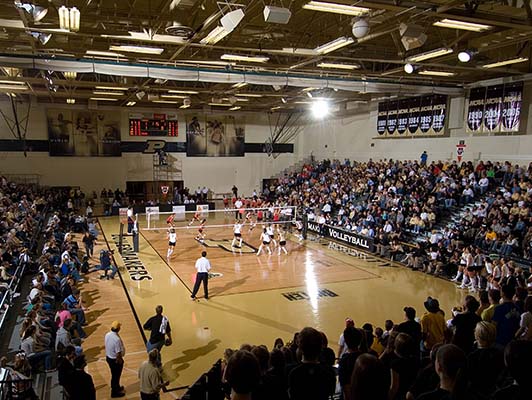 Our hardwood basketball courts are installed in all levels in the sports marketplace, from elementary schools to universities and the NBA. We provide comprehensive sports flooring services, starting with your choice of design straight through to quick and professional installation.
Kiefer USA also promotes its long line of synthetic sports flooring, ideal for basketball courts or volleyball courts, among several other athletic activities. Our Mondo synthetic flooring products consistently promote performance and safety. We'll take you from the initial concept through installation.
Similarly, our sports flooring company offers wood flooring systems suitable for the highest levels of competition and play. Kiefer USA's teams of wood experts will help you make the right decision so that you end up with a sports surface that is designed to meet your precise flooring needs.
Kiefer USA is a leader in not only hardwood flooring but synthetic sports floors. Consult our friendly representatives when you are in the market for a premium sports floor. Our high-quality floors are installed in sports facilities all across the country. Call our office today for details.