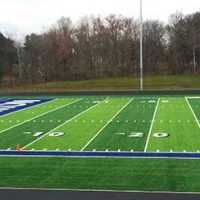 Safety of Infilled Artificial Turf Systems
There has been a preponderance of publicity recently as it relates to the safety of infilled artificial turf systems.
The crux of the concerns revolve around two primary issues:  the use of crumb rubber recycled tires and turf systems contribution to concussive related head traumas.
The bulk of the existing studies and information available indicate that existing artificial turf systems are indeed safe.
It is important as a potential user and or consumer to realize that there are viable and proven alternatives to existing turf technology.
One such proven alternative is the FTS-3 System produced by Italian manufacturer Mondo.
The Mondo FTS-3 Turf System incorporates components that alleviate concerns users may have with current turf systems.
The FTS-3 System begins with the use of a prefabricated performance underlayment.  The underlayment provides superior long term G-Max and HIC values, this helping to reduce the potential for concussive related head issues.  The fine-tuned underlayment also doubles as an effective drainage layer, enhancing water run-off.
The infill component of the system utilizes a revolutionary product called Ecofill, which is not a tire crumb byproduct.  Ecofill, which is well-proven in the U.S. market, is commonly referred to as a TPE (Thermo Plastic).  It is totally free of all heavy metals, amine aromatics and the cancer causing agents known as PAH (Polycyclic Aromatic Hydrocarbons).  Ecofill will play more like traditional earth based fields and because of its color (green) will reduce field temperatures of up to 70%
The synergy provided by the 3 elements within the Mondo FTS-3 System grants exceptional biomechanical attributes, while eliminating any ecological and health concerns users may have.
It is important for all consumers and end-users to recognize that viable alternatives currently exist within the turf industry.  Mondo's FTS-3 Turf System is one of those.