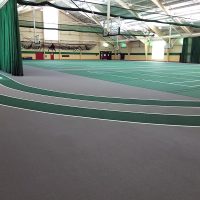 Bethany College installs Mondo at Health & Rec Center
Bethany College recently completed the installation of a new multi-purpose floor inside the Thomas Phillips Johnson Health & Recreation Center. Sandwen Arena will reopen to Bethany students, faculty, staff and the Bethany Community on Friday, January 12 in the morning.
The floor inside Sandwen Arena in the Recreation Center facility houses three courts and a three-lane Mondo track. The project was an overlay of the new surface overtop the existing floor of nearly 30,000 square feet.