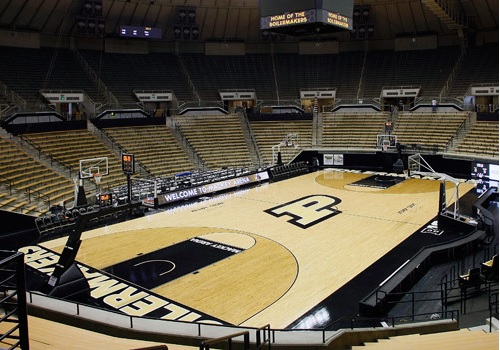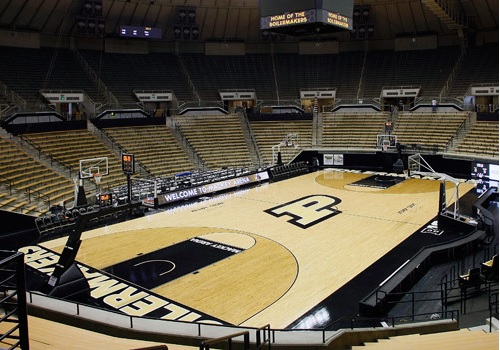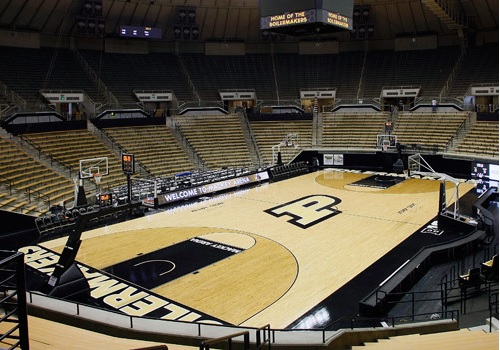 Project Details
Completed Fall 2011
Keady Court Products
Keady Court Contractor
Cardinal Court Products
Cardinal Court Contractor
Cardinal Court Architect
Kiefer Comes Through at Purdue University's Mackey Arena
About the Facility
The Boilermakers basketball season is underway with new basketball courts for Mackey Arena and the Purdue practice gym. The new Keady Court competition floor and Cardinal Court practice floor was installed in fall of 2011. The new Mackey Arena was rededicated on November 11, 2011 in front of a sell-out crowd of 14,220. Keady Court features custom staining and updated NCAA and Big 10 graphics while both courts use the RezillChannel subfloor system from Connor Sports Flooring.
What the Customer Has to Say
Steve Simmerman, Assistant Athletic Director at Purdue University said, " the team at Kiefer really came through for us in a very tight timeframe. Mackey Arena flooded and the main court needed to be replaced in a hurry. Kiefer's expertise and diligence made the renovation a huge success." Simmerman adds, "we wanted consistency and quality at Purdue between our competition and practice courts. Kiefer delivered quality systems in both Mackey Arena and our practice facility."
About the Purdue University
Founded in 1869 by the Indiana General Assembly and named after benefactor John Purdue, Purdue University is one of the top 100 universities in the United States, according to U.S. News and World Report magazine. Best known for its agricultural and biological engineering programs, Purdue University offers over 200 options for majors. The main campus is located in West Lafayette, IN with regional campuses located across the state of Indiana.