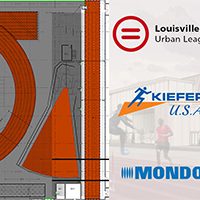 Mondo and Kiefer U.S.A. chosen to provide innovative hydraulic banked track for $30 million Heritage West project
Once again, a Mondo track has been chosen for an important track and field facility. This time, it's the Heritage West project in Louisville, Kentucky. When complete, the $30 million, 24-acre redevelopment in Louisville's Russell neighborhood will include an indoor track and field facility with a state-of-the-art Mondo hydraulic banked track.
The leader in sport track innovation and expertise, Mondo was the first company to produce a variable hydraulic banking track, and the company continues to lead this market: The innovative track going into the Heritage West venue is the evolution of a Mondo system that was installed for the first time in 1987.
The 200-meter Heritage West hydraulic banked track will have the surface of the 2020 Tokyo Olympic Games. The push of a button will raise the track's curves in minutes to the desired height for competitions or training sessions. When lowered, the track will be flush with the surrounding surface, so the entire area can be used for other sports or activities. The ease of use in setting any desired incline makes the track extremely versatile and ideal for athletes of all levels.
The Heritage West project is owned and operated by the Louisville Urban League. Louisville Mayor Greg Fischer and Sadiqa Reynolds, president and CEO of Louisville Urban League, have both spoken about the impact the new development will have on the community. "This project will activate a vacant lot, bring investment and jobs to the Russell neighborhood, and serve as a healthy outlet for youth and adults from across our country," Fischer said in a statement when the project was announced.
Slated to be completed October 2020, the facility is designed to host USA Track and Field and NCAA sporting events, as well as scholastic track and field competitions, and local and regional track teams. Kiefer U.S.A., a leader in the supply and installation of athletic surfacing, will head the team installing the Mondo track.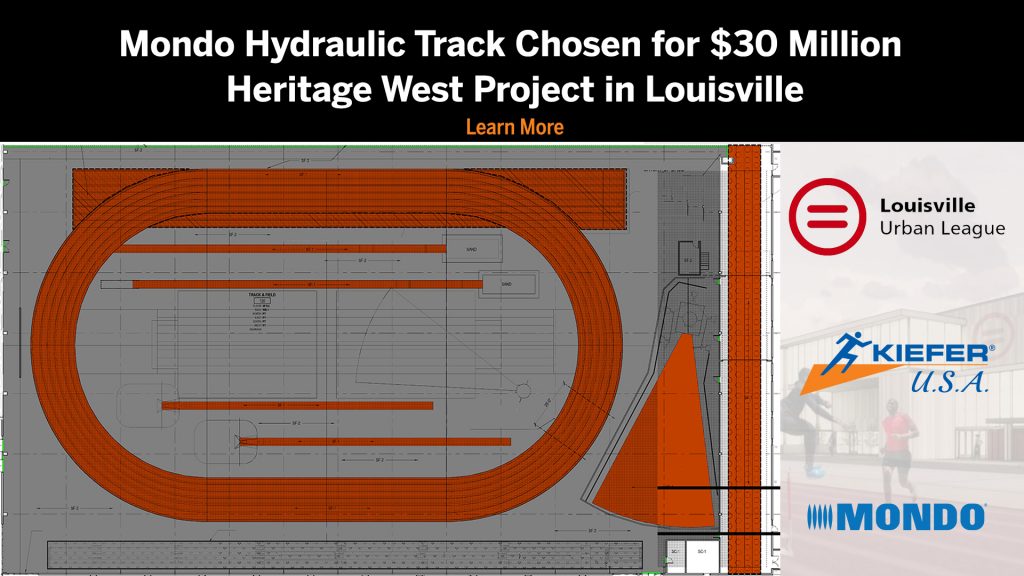 About Mondo Track Surfaces
Mondo track surfaces are made from rubber and vulcanized to produce a continuous, seamless piece of material that will not separate. Ideal for daily training and high-level competition, the surfaces provide the optimal amount of friction, energy return, and shock absorption for the long-term health and safety of those who use them. In addition, they have a life expectancy of 15 years or more, won't compress or break down over time, can withstand heavy static and rolling loads, are easy to maintain with non-porous surfaces, and have a low total cost of ownership.
Mondo's extensive research and development result in state-of-the-art systems that help athletes perform their best and set records. More than 270 world records have been set on Mondo's track surfaces.
About Kiefer U.S.A.
Kiefer U.S.A. is a family-owned company with a history steeped in sports tradition. A Mondo partner for over 40 years, Kiefer prides itself on being a worldwide leader in the supply and installation of world-class athletic surfacing. For more information, visit www.kieferusa.com and follow the company on Facebook, Twitter, Instagram, and LinkedIn.