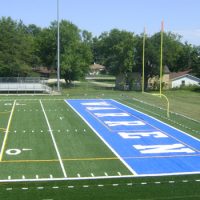 Warren Township Chooses Mondoturf
Warren Township Kicks Off 2011 With Mondoturf
When the Warren Township High School Blue Devils kick off their 2011 football season Friday against New Trier High School, a state-of-the-art field will be underfoot: a Mondoturf 3Nx thermo-bonded artificial turf system.
The Mondoturf field – which replaced a natural grass field – is the latest in a series of enhancements to WTHS' multipurpose stadium. During the past five years, the school has expanded the venue's seating capacity, added new lights, and installed a new scoreboard.
As the final improvement, school officials also wanted to upgrade the field from natural grass to a highly durable playing surface so that the stadium would be better equipped to handle the large number of events it hosts throughout the year. With a surface that can withstand heavy use – even in inclement weather – the stadium now will be home to WTHS football, boys and girls lacrosse, boys and girls soccer, physical education classes and band practices, as well as a community lacrosse club and youth football practices and games.
"Previously, the field was limited to football and boys lacrosse, and we didn't practice on it very much because we didn't want to tear up the field," said Mark Pos, Warren Township High School's athletic director. "Throw in the fact that our band uses the field a couple times a week, and during football season, the grass field would get pretty beaten up, especially if it rained before band rehearsal. Now, none of that is going to matter."
WTHS administrators chose Mondo from among the leading artificial turf suppliers based on visits to other nearby sports venues where they could evaluate the fields first-hand, as well as the Blue Devil's experience on rival high schools' fields. "From everyone we spoke with, Mondo stood out as being a quality product – we knew we would be extremely comfortable going with Mondo," Pos said.
The Mondoturf field's groundbreaking 3Nx fiber has proven core characteristics that allow it to perfectly mimic the responses of natural grass, and to do so with outstanding resilience and durability while offering superior player comfort.
Thermo-bonded, Mondo's newest artificial turf backing, provides a dimensionally stable tufted turf without needing a polyurethane secondary backing. A dual primary backing holds the turf fibers in place more securely than traditional primary backings, so the field can be handled as necessary with virtually no fiber loss.
Comprising two campuses approximately 4.5 miles apart, Warren Township High School serves more than 4,000 students and is one of the largest high schools in Illinois. The campuses are located about 40 miles northwest of downtown Chicago. A member of the Illinois High School Association, the school fields 13 boys teams and 14 girls teams and competes in the North Suburban Conference.