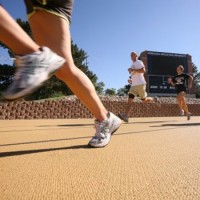 New Nebraska Wesleyan Track Has Anticipation Running High
It's difficult to overstate the magnitude of the recent renovation of Woody Greeno Track at Abel Stadium.
Simply put, Nebraska Wesleyan University went from having one of the worst outdoor tracks in the conference to having perhaps the best one in the region.
The new Mondo surface is identical to the one used at the 2008 Summer Olympics in Beijing. Fast, durable and responsive, the gold lanes represent well the university's proud tradition of excellence in track and field.
Construction began in May and the finishing touches were completed in early October. The renovation was made possible through generous donations from alumni and friends of Nebraska Wesleyan University.
"The new surface is incredible!" said sophomore sprinter and horizontal jumper John Kersenbrock of O'Neill, Neb. "Running on a brand new state-of-the-art surface feels like you are flying. It's a complete 180 from what we had in the past. The new track is huge for the future of our track and field program."
"Anticipation for this year's outdoor season is high," said Athletic Director Ira Zeff. "We're excited to once again host outdoor meets at Abel Stadium. Having a state of the art track surface as well as a top of the line event staff will provide NWU opportunities to host high profile conference and regional track meets.
"The track is just a wonderful way to showcase an excellent program and a proud university," Zeff said.
An official dedication ceremony will be held next spring.
Originally published at http://www.nebrwesleyan.edu/press-and-media/news/11779