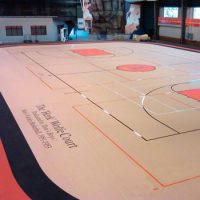 Findlay Dedicates New Court to "Herk" Wolfe
Nov. 2, 2010 – As an honor to one of it's alumni, the University of Findlay in Findlay, OH has dedicated its latest addition to the Koehler Fitness & Recreation Complex to Harold "Herk" Wolfe. The "Herk" Wolf Court and surrounding facilities feature a custom orange to match the University's colors. The surface incorporates a mix of Mondo Sportflex, Advance, and Sport Impact in order to optimize the multipurpose function of the facility.
Harold "Herk" Wolfe was a stand-out basketball player at Findlay setting records during his attendance and leading the nation in scoring in 1952. After graduating in 1954, Wolfe was honored as a Distinguished Alumnus in 1965 and inducted into the University of Findlay Athletic Hall of Fame in 1972. Later, in 1994, "Herk" was named a Distinguished Associate of the University.