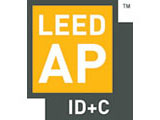 Kiefer Receives LEED AP Accreditation
Adam Taylor, Project Estimator at Kiefer USA in Lindenhurst, IL, has become the first of our talented professionals to receive LEED Accredited Professional Certification for Interior Design & Construction. LEED Professional Credentials demonstrate current knowledge of green building technologies, best practices, and the rapidly evolving LEED Rating Systems.
Adam attended Oakton Community College as a Web Development major and joined the Kiefer USA team in 2002. He brings 13 years of professional flooring planning and installation experience to our customers.
What is LEED?
LEED is an internationally recognized green building certification system,  providing third-party verification that a building or community was designed and built using strategies aimed at improving performance across all the metrics that matter most: energy savings, water efficiency, CO2 emissions reduction, improved indoor environmental quality, and stewardship of resources and sensitivity to their impacts. Developed by the U.S. Green Building Council (USGBC), LEED provides building owners and operators a concise framework for identifying and implementing practical and measurable green building design, construction, operations and maintenance solutions.
What is LEED-AP Professional Credentialing?
GBCI provides balanced, objective management of the LEED professional credentials, including the LEED Green Associate and LEED AP credentials, through structured exam development, application, registration, and delivery. GBCI also oversees the Credential Maintenance Program (CMP) for LEED professionals, which guarantees that LEED professional credentials are the industry's agreed-upon way of driving ongoing excellence in green building practice, providing certainty and relevance for the marketplace.  GBCI also develops professional certificates for those involved in the verification of green building projects.
Content courtesy of the U.S. Green Building Council
® Copyright 2010