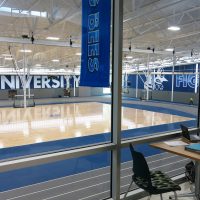 New Recreation Center Opens at St. Ambrose University
Saint Ambrose University is preparing to celebrate the latest addition to its campus in Davenport. On Friday, it will hold a blessing, dedication, and ribbon-cutting for its 20 million dollar Wellness and Recreation Center.
The new center has a 56-thousand square foot fieldhouse with four basketball courts and a 200-meter indoor track, plus classrooms and weight rooms.