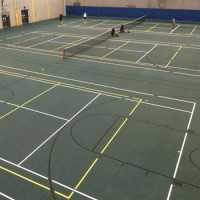 Lorain Community College Installs Mondo
Lorain County Community College Installs Mondo in the Ewing Activities Center
The Ewing Fieldhouse, located in Elyria, Ohio, had Mondo Sportflex M installed by Kiefer U.S.A. in the middle of February. With this remodeling comes the promise of more energy efficiency and a saving in costs for the main campus.
"The Field House floor enhancement project will help promote health and wellness and ensure growth and development of all our activities to better serve the LCCC students and community," stated Lisa Augustine, program coordinator for HPER.
The floor replacements began on Jan. 5 and were completed mid February. The Field House consists of four interchangeable court areas. As a whole court, it equals out to a total size of 125 by 125 feet. When divided, a single court area is 56 by 125 feet, which is used to host several indoor sports such as basketball, volleyball, soccer, golf, softball, and tennis.
"The floor replacement will allow for safer play and overall general use of the facility," stated Robert Flyer, a member of LCCC's Administrative Services. "It is part of our plan to continuously update and improve our facilities."
"The flooring material was well beyond its normal expected life due to good maintenance and stewardship, but it was in need of replacement," Flyer said. The new floor is expected to last the college 30 years.
About Lorain County Community College
Lorain County Community College, an innovative leader in education, economic, community, and cultural development, serves as a regional catalyst for change in a global environment through accessible and affordable academic and career-oriented education, lifelong learning, and community partnerships.
About Kiefer USA
Founded in 1977 and based in Lindenhurst, IL, Kiefer USA is an award-winning, athletic surface design and installation company. Kiefer USA's long list of Fieldhouses includes Tiffin University, College of Wooster, University of Akron, University of Findlay, and Otterbein just to name a few. In addition to multi-purpose fieldhouses, Kiefer USA also offers design and installation for track and field, wood courts, artificial turf, weight rooms, locker rooms, and fitness facilities.