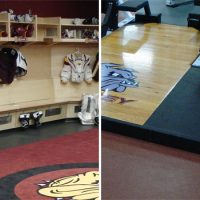 University of Minnesota – Duluth Bulldogs Win NCAA Championship with Mondo
It took a new arena and 67 years, but the University of Minnesota – Duluth men's hockey team brought home its first national championship. In a hard fought game against the University of Michigan Wolverines, the Bulldogs capped a 25-10-6 season with a 3-2 overtime win for the 2011 NCAA Frozen Four National Championship.
The journey began on December 30, 2010 when the puck dropped for the first time at the new 6,764-seat AMSOIL Arena. Kiefer's contribution to the University of Minnesota – Duluth's new arena features Mondo Sport Impact in the weight and fitness area, hallways, corridors and in the locker rooms. The resiliency of Sport Impact helps keep the facility looking new for the Bulldogs … make that the NCAA Champion Bulldogs.