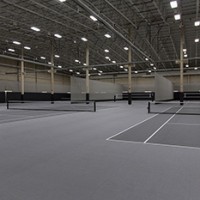 Sentryworld Recieves an Award
SentryWorld Renovations Project has been awarded Pacific Coast Builders Conference's (PCBC) 2015 Award of Merit
for Best Interior Renovations! SentryWorld was recently honored with the Pacific Coast Builders Conference's (PCBC) Award of Merit in their Gold Nugget Awards Best Interior Renovations category.
PCBC is a gathering of America's most prominent builders, developers, architects, buidling scientists, lenders, investors, marketers and product manufacturers. Their Gold Nugget Awards are the oldest and most prestigious design awards in the nation and recognize those who improve their communities through exceptional concepts in design, planning and development.
Award of Merit winners are the top vote recipients in each Gold Nugget Awards category and display excellence and innovation in addressing complex design and build issues. This year's awards competition received more than 600 U.S. and international entries.
Kiefer USA installed 6 tennis courts in the new fieldhouse there, which can also be used for volleyball and other recreational activities.