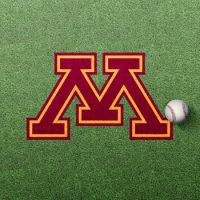 Minnesota Baseball Chooses Mondoturf
Minnesota Golden Gophers Choose Mondo for New Siebert Field
Lindenhurst, IL – June 11, 2012 – Kiefer USA has been selected to design and install artificial turf for the University of Minnesota's new baseball stadium.
The Golden Gophers will be installing a state-of-the-art artificial turf system from Mondo at Siebert Field in Minneapolis, MN. The turf system consists of Mondo's 3Nx monofilament fiber, their patented thermo-bonded backing, and the revolutionary Ecofill® infill system. Mondo's 3Nx turf fiber was engineered by Mondo as a "natural sliding feeling" fiber to resemble the characteristics of natural turf. The 3Nx fiber's semi-concave structure and unique composition create a durable turf surface with optimal dimensional memory and resistance to environmental factors. Mondo's thermo-bonded backing creates an incredibly strong bond with the fibers and is over 90% porous, improving field drainage by over 4 times that of traditional turf backing. Mondo's Ecofill® infill system possesses all the properties of natural earth in both performance and safety. The infill system is 95% recyclable, free of heavy metals and other carcinogens, is denser to ensure consistency, and reduces energy return by 70% which minimizes the impact on athlete's muscles and joints.
Mondo's artificial turf system will allow the Golden Gophers baseball team to play more games at their on-campus stadium. During the winter when the natural grass Siebert Field is unplayable, the team plays at the HHH Metrodome. The new artificial turf system will help the field to be playable sooner in the season and allow baseball fans to enjoy the Golden Gophers at their home field.
The new Siebert Field will not only host home baseball games for the Golden Gophers. The University wanted to construct a facility that would also accommodate other sports in adjacent facilities as well as amateur baseball and softball in the state of Minnesota. The field will serve as a gathering place for major University events including pregame and postgame festivities for Golden Gopher football games. The multi-use facility will also see improvements in seating, entries, concessions, and restrooms.
About University of Minnesota Baseball
The University of Minnesota has built a long-standing tradition of excellence in baseball. The Golden Gophers have made 30 NCAA Tournament appearances, the most in Big Ten history, and have won the National Championship three times. They have a combined 24 Big Ten regular season and Tournament titles and have produced 131 First-Team All Big Ten winners since 1949. Just some of the University of Minnesota alumni to make it to Major League Baseball include Hall-of-Famers Dave Winfield and Paul Molitor.
About Kiefer USA
Founded in 1977 and based in Lindenhurst, IL, Kiefer is an award-winning, athletic surface design and installation company and is an authorized dealer of Mondo sports surfaces. Kiefer's experience in artificial turf design and installation include turf fields for baseball, football, soccer, and other field sports. Their reach spans across the country including turf fields at the University of Missouri, Northern Illinois University, West Liberty University, and Siena Heights University. In addition to artificial turf surfaces, Kiefer also offers design and installation for track and field, multi-purpose facilities, gymnasiums, weight rooms, locker rooms, and fitness facilities.