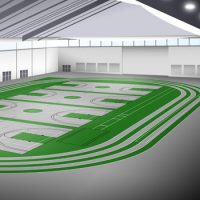 Titans Say Good-Bye to Urethane
Titans Say Good-Bye to Urethane
Lindenhurst, IL – July 12, 2012 – Work has begun for the renovation at the Shirk Center on the campus of Illinois Wesleyan University in Bloomington, IL.
Kiefer USA is supplying and installing state-of-the-art products from Mondo including Mondotrack SX, the official track surface of the 2012 Olympic Games in London. The new Mondo surface replaces an existing Martin urethane floor that had become extremely hard, making it difficult for athletes to train on.
Brion Rittenberry, President and CEO at Kiefer USA commented, "Illinois Wesleyan University is truly one of the elite athletic programs in the country. We are honored that they have placed their trust in Kiefer to complete this major renovation to the Shirk Center. We are convinced that the student-athletes at the University will find the new Mondo surface to be vastly superior to the existing Martin urethane surface."
Mike Wagner, Associate Athletic Director at Illinois Wesleyan University added, "We are very excited about the new Mondo surfaces being installed in our facility this summer. Our student-athletes, students, alumni, and users of the Shirk Center will be treated to a first-class upgrade when they get back to campus in the fall."
About Illinois Wesleyan University
Illinois Wesleyan University is a private university located in the heart of Bloomington, IL. With an enrollment of over 2,000 undergraduates, IWU offers 50 majors in liberal arts. The Illinois Wesleyan University Titans compete in the NCAA's Division III and is a member of the College Conference of Illinois & Wisconsin (CCIW). The Titans have won 101 CCIW Titles and three Division III National Championships since 1997.