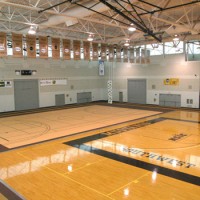 Kiefer Wins 2010 ASBA Award for Southwest Minnesota State University Renovation Project
Kiefer USA is proud to be honored with the 2010 ASBA Indoor Multi-Purpose Facility of the Year for the work done at Southwest Minnesota State University in Marshall, MN. The fieldhouse accommodates basketball, volleyball, and tennis but the existing surface was deemed unusable due to concrete moisture problems. The failed sealer was removed and Mondo PRODUCT was put in its place with custom colors to match the Mustangs' school colors.
With more than 300 member companies, ASBA is a national organization for builders, designers and suppliers of materials for tennis courts, running tracks, natural and synthetic turf fields, indoor and outdoor synthetic sports surfaces. It is recognized as a centralized source for technical information, including consumer-oriented information.