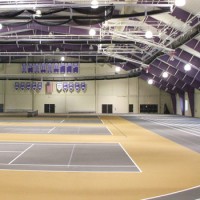 Kiefer Wins 2010 ASBA Award for Mount Union College Renovation Project
Kiefer USA is proud to be honored with the 2010 ASBA Indoor Track of the Year for the work done at Mount Union College in Alliance, OH. The Peterson Fieldhouse had a 20-year-old, 160-meter track and wanted to expand and update the facility with a new 200-meter track. Expanding the facility posed issues of matching the new flooring to the existing flooring, which necessitated grinding the surfaces to even them out. With the help of Mondo PRODUCT and skilled craftsmen, the new surface is truly outstanding.
With more than 300 member companies, ASBA is a national organization for builders, designers and suppliers of materials for tennis courts, running tracks, natural and synthetic turf fields, indoor and outdoor synthetic sports surfaces. It is recognized as a centralized source for technical information, including consumer-oriented information.